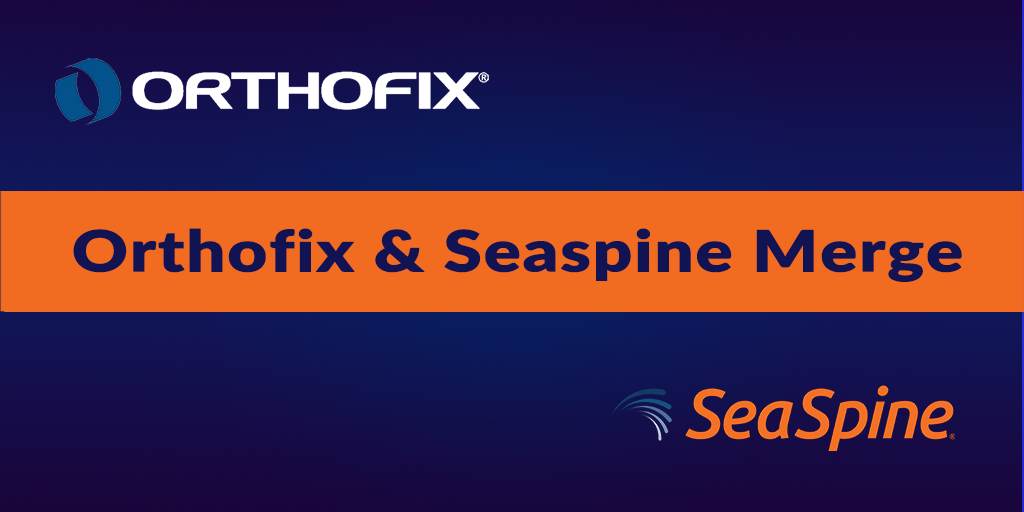 OFIX and SPNE announced a definitive agreement to combine in an all-stock merger of equals. Both companies believe there are meaninful cross-selling revenue synergies, as well as at least $40MM in YoY cost savings to capture over the 3 years following the transaction. The companies have expressed revenue goals of ~$1.0B concluding year 3 post-merger.

Looking forward, the new organization will be a spine and orthopedics company with complementary portfolios in biologics, spinal hardware, bone growth therapies, orthopedic solutions and enabling surgical technologies. SmartTRAK notes that once merged, the new company will be strategically positioned in high-growth emerging technology, including cervical disc replacement with M6-C, enabling technology with 7D's FLASH Navigation System and OrthoNext preop planning, and with focused development in spine and limb within pediatrics. Additionally, the new company will have a highly competitive offering in the spinal interbody space with its WaveForm 3D and NanoMetalene technologies. Together, the combined company's biologics portfolio will also represent one of the broadest offerings available in spine and orthopedics.


SmartTRAK believes the complimentary product portfolios provide a comprehensive offering and should provide scale to compete with larger pure-play spine players like GMED and NUVA. While there is an upside to the consolidation, from a contracting and price erosion perspective, it remains to be seen whether the tailwinds will outweigh the dis-synergies such as hardware overlap, customer consolidation and sales force disruption. Separately, both companies employ an independent distributor model for the distribution of their spinal hardware products, but with increased resources and R&D, the combined company will be able to attract larger, exclusive distribution partners, while opening possibilities for investing in direct sales representatives in certain strategic markets to engage an even broader surgeon base.
The combined company, which will be named before the closing in Q123, will be headquartered in Lewisville, Texas, but will maintain primary offices in Carlsbad, along with some others. Keith Valentine, current SeaSpine President and CEO, will serve as President, CEO and board member for the combined company and Jon Serbousek, current Orthofix President and CEO, will become executive chairman.
---
SmartTRAK is a comprehensive, easy-to-use, business intelligence solution for the Life Sciences Industry that provides breaking updates on pertinent company news, potential treatments and guidance, international survey results, statistical analysis and impact by country, studies, trial results, financial impact and more. All subscribers receive a Daily Updates email containing the latest need-to-know news curated by our expert analysts. It's the perfect way to start your day! If you would like to learn more about SmartTRAK, just here.