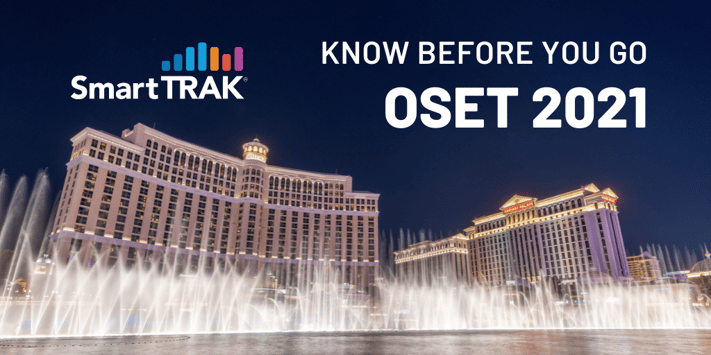 As a tumultuous year comes to a finish, the orthopedic industry prepares to gather one last time and close out the year. The Orthopedic Summit once again comes to the Bellagio in Las Vegas, Nevada to bring together the top names in the industry. SmartTRAK will be attending OSET 2021 from December the 11th through the 14th. We've put together an overview of recent Orthopedic news highlights to get you up to speed before the meeting. If you'd like to meet with us in person, please reach out.
The following is just a small sampling of recent Orthopedics related news and updates from around the world compiled, reviewed and posted in real time every day by the expert analysts at SmartTRAK.
Markets:
Needham Ortho Surgeon Expert Call Highlights
During a call co-hosted by Needham, Hip and Knee surgeon Dr. Richard Berkowitz of Tamrac, FL, noted COVID accelerated the shift of recon procedures to the outpt setting w/ ~10-20% of his procedures outpt to increase to ~40-50% over the next few yrs. Needham Ortho Expert Call


Knee Market Leaders See Share Gains in Q321
According to SmartTRAK Financial Dashboard, US knee replacement implant market leader Zimmer Biomet* saw improved market share sequentially in Q321 compared to Q221. Stryker* also experienced an increase in share compared to Q221.



OTA 2021 Updates




DePuy Synthes* showcased their long awaited 3.5/4.5 VA-LCP Periprosthetic Femur Plate*. According to SmartTRAK discussions, the periprosthetic plate spans the femur and is currently in limited launch w/ ~50 sets in the field and full set rollout to commence next year.
Revenues:
Anika* Q321 Earnings Report


Anika reported revenue from JNJ/DePuy Synthes as a percentage of total revenue was 51% and 48% for Q321 and Q320, respectively, and 46% and 52% for the nine months ended Sept 30, 2021 and 2020, respectively. ANIKA Q321 Earnings Form 10-Q

Stryker* Q321 Earnings Release


For Q321, SYK reported US Orthopaedics business was up +13.6% vs Q320 and up +22.2% vs Q319. SYK Q321 Earnings Release
New Products:
CrossRoads Extremity* First Ray System


CrossRoads Extremity Systems announced the full market launch of the First Ray System, which focuses on the DynaBunion, miniBunion, and MTP. The system will also include instrument updates to the DynaBunion system. LinkedIn

Stryker* Prophecy Infinity Resect-Through Guides
Stryker announced the launch of Prophecy* Infinity Resect-Through Guides for use in total ankle replacement surgeries. The instruments reduce the number of steps for TAR compared to the standard Prophecy pin-through technique.
Deals/Financing:
Flexion* Acquisition


Pacira completed the acquisition of Flexion Therapeutics. Pacira CEO, David Stack said, "ZILRETTA is a highly complementary commercial asset that allows us to provide physicians with another tool in their pain management armamentarium to tackle OA earlier in the patient journey".

Globus* and Nuvasive*


GMED has had preliminary discussions to

acquire

NUVA, w/ an indicative cash-and-stock offer for NuVasive made in recent weeks.




Zimmer Biomet* Tender Offers


Zimmer Biomet

announced

the commencement of tender offers to purchase for cash its 3.7% Senior Notes due 2023 and up to $1.5B aggregate price of Senior Notes due through 2039 in an effort to reduce the principal amount of its outstanding debt securities.
Clinical/Regulatory:
Nailing vs Plating of Ankle Fxs in Elderly Pts




A study

began

in Nov 2021 to compare outcomes between ankle arthrodesis w/ a calcaneal nail vs ORIF w/ plating in the fixation of fragility fxs around the ankle in elderly pts. The study is slated for completion in Dec 2026 & will include 88 participants.

clinicaltrials.gov



Arthroscopic Management of Giant Cell Tumor of the Calcaneus




Arthroscopic procedure was performed for both diagnostic and curative procedures addressing a giant cell tumor of the calcaneal bone where all lesions were removed arthroscopically w/ direct lateral portals & the suspected reactive zones debrided using high-speed burr. F&A Spec

Pacira
Pacira's 160-pt Phase III study plans to compare the effect of single-dose bupivacaine liposome inj via adductor canal block in pts undergoing primary unilateral total knee arthroplasty. Est study completion 08/22. clinicalrials.gov
Patents:
Arthrex* Arthroscopic Anterior Glenoid Guide


Arthrex's US Patent Application "ARTHROSCOPIC ANTERIOR GLENOID GUIDE" was published describing an anterior glenoid guide which is a cuboid block configured to be introduced via the rotator interval to lie on the anterior glenoid. 20210369469

Paragon 28* Intramedullary Nail Fixation Guides
Paragon 28 was granted US Patent "Intramedullary nail fixation guides, devices, and methods of use" describing an IMN device for use in the surgical fixation of such things like a proximal tarsal-metatarsal joint. 11,179,166

Smith+Nephew* Computer-Assisted Navigation System


SNN was issued US Patent "Method for registering articulated anatomical structures" regarding a computer-assisted navigation system w/ hip surgery applications and several embodiments, including an augmented reality glasses display. 11,172,995
*These links can only be viewed by SmartTRAK subscribers. For more information on SmartTRAK, including how to receive a demo and subscribe, please click here.

Are you going to OSET? If you would like to meet with us while in Las Vegas and find out what SmartTRAK can do for you, just click the button below.
---
SmartTRAK
is a comprehensive, easy-to-use, business intelligence solution for the Life Sciences Industry that provides breaking updates on pertinent company news, potential treatments and guidance, international survey results, statistical analysis by country, studies, trial results, financial impact and more. All subscribers receive a Daily Updates email containing the latest need-to-know news curated by our expert analysts. It's the perfect way to start your day! If you would like to learn more about SmartTRAK, just click
here
.