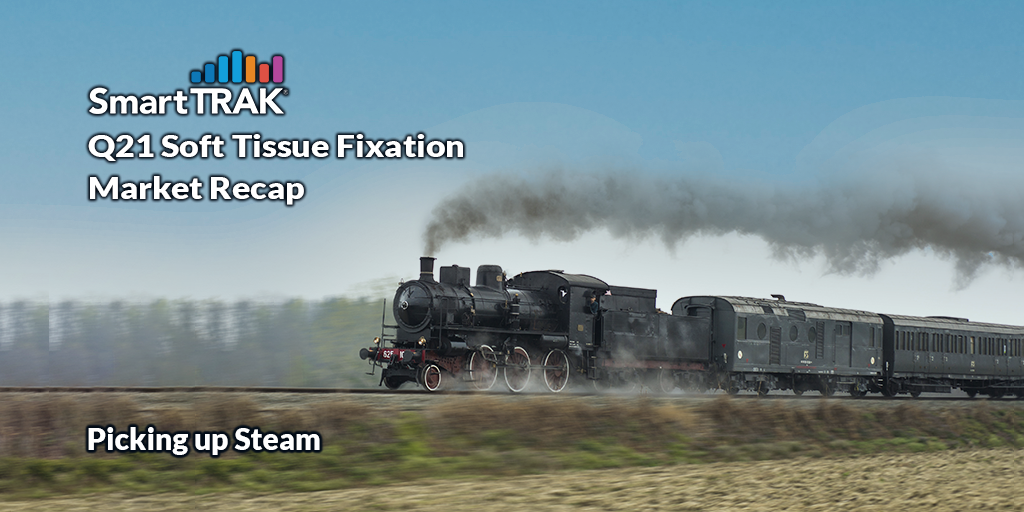 Soft Tissue Fixation Continues to Pick Up Steam in Q2 2021
With the world trying to move past the negative impacts of COVID-19, the Soft Tissue Fixation market continued to make significant advancements in the second quarter of 2021. The quarter saw a continued rise in case volumes for elective sports medicine procedures worldwide driven primarily through market recovery in the wake of the COVID-19 pandemic.
Among the many topics covered in detail in our comprehensive Q221 Soft Tissue Fixation Market Recap* are:
Complete Q221 Soft Tissue Fixation Market Overview
SmartTRAK's Expert Analysis and Insights
Market News including Revenues, Data, Charts and Shares
All STF Competitor Results
Clinical/Regulatory Highlights
Important Q221 Market Events
With the increase in case volumes in 2021 and with Q2 being the hardest hit quarter from 2020, the growth of Soft Tissue Fixation in Q221 was significant, growing at an estimated ...
Read the entire Q221 Soft Tissue Fixation Market Recap, including news, data, charts, company revenues, shares and our expert analysis*
---
SmartTRAK
,the leading provider of market data, analysis and advisory services for the orthopedic, wound, regenerative medicine and neuro therapies markets, has recently expanded it's comprehensive industry coverage. Click
here
to see details of all the new modules recently added to the SmartTRAK platform.