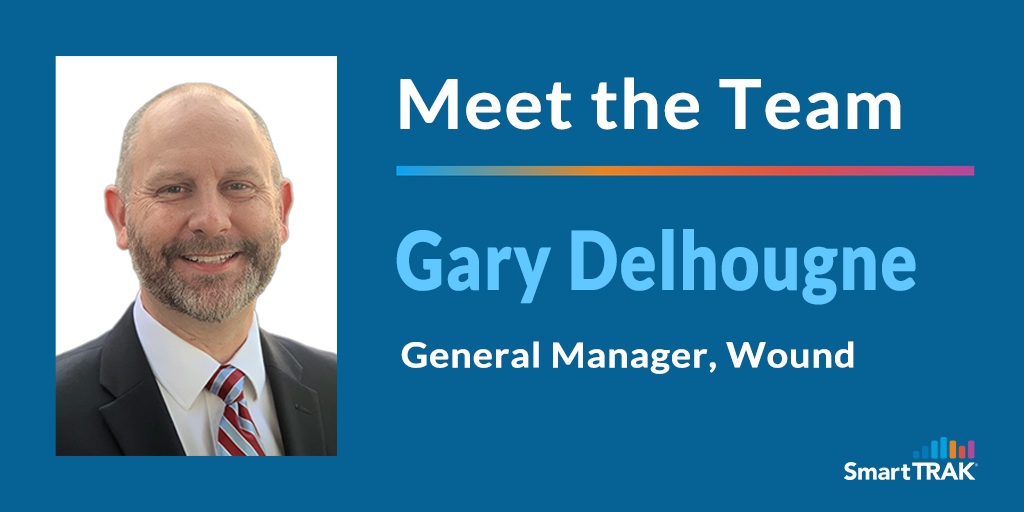 We are pleased to announce that Gary Delhougne has joined the team at SmartTRAK as General Manager, Wound. Gary is a licensed attorney with 20 years' medical device and consulting experience in market access, health economics and policy roles at Smith & Nephew, Covidien, Avalere Health and Ernst & Young.
Gary will be taking over for Susan Paquette, who is retiring at the end of the year. For the past 10 years, Susan has been the face of SmartTRAK Wound Care at industry meetings and has become a trusted advisor to many of our subscribers.
Gary will be representing SmartTRAK at SAWC Fall in Las Vegas, October 28-31. If you would like to meet with him to discuss the exciting new innovations ahead and learn how to network your entire organization with SmartTRAK, click the link below. To learn more about Gary, just keep reading!
Meet Gary Delhougne:
What is your role with SmartTRAK? As the General Manager of SmartTRAK's Wound business, it is my role to lead the wound care team in delivering actionable business intelligence and decision-making tools to help our customers better serve patients and providers.
What do you like about SmartTRAK? The SmartTRAK team! The team is passionate about wound care and enjoys sharing their knowledge with our industry partners.
What is something special or unique that you bring to SmartTRAK subscribers? One of the greatest skills I have developed over the years is understanding what value means to patients, providers and payers. To fully understand a market or an opportunity I can help companies go deeper than the numbers and help develop competitive advantage by understanding what motivates their customers.
What do you think the biggest promise of medical technology (in your area) is? When it comes to wound care technology the promise is more than wound closure or symptom improvement but a patient's return to normal life.
How will it change everything? Too many patients suffer with wounds for far too long. Pairing the right medical technology at the right time on the right wound with sound clinical management is critical to returning patients to the active life they long to live.

What are your favorite online websites or resources that you check every day? I try to focus on information sources that provide unique and actionable content. LinkedIn is a great source for keeping up with my network, making new connections and seeing what else is going on in the industry. SmartTRAK gives me the latest targeted and in-depth industry trends about companies and markets.
How do you keep your medical device research skills sharp? I keep my research skills sharp by going deeper than the surface level to understand why the request is meaningful. Staying focused on what matters most helps me ask better questions and be able to interpret the results in a way that provides more value to our customers.

What was the last presentation you gave and to who, about what? Over the past couple of years, I have had the opportunity to present at several wound care conferences including the annual Boswick Wound & Burn Symposium and the Symposium on Advanced Wound Care (SAWC). At both conferences I was able to present on the economic impact of wound care and the patient journey. While the attendees learned the latest clinical and product trends in wound care, I had the opportunity to shed light on the incredible burden wounds place on society.

What was the last show you binge-watched? Ted Lasso. Though it is a comedy, the leadership, humility and patience displayed by the coach is a worthy lesson for anyone who aspires to lead teams.
What is your life like outside of SmartTRAK? When I am not on the job, I enjoy spending time outdoors with my wife, kids and chocolate Labrador, Lucy. We enjoy swimming in the Texas heat, riding bikes, fishing and spending time at the beach.
If you would like to meet Gary at SAWC Fall in Las Vegas, please click the button below to schedule a meeting.
---
SmartTRAK is the leading source of competitive intelligence used by the top ten global wound care & orthopedics companies. If you would like a demo of what SmartTRAK has to offer and how we can help increase proficiency, improve productivity and reduce costs for your company, just click here.