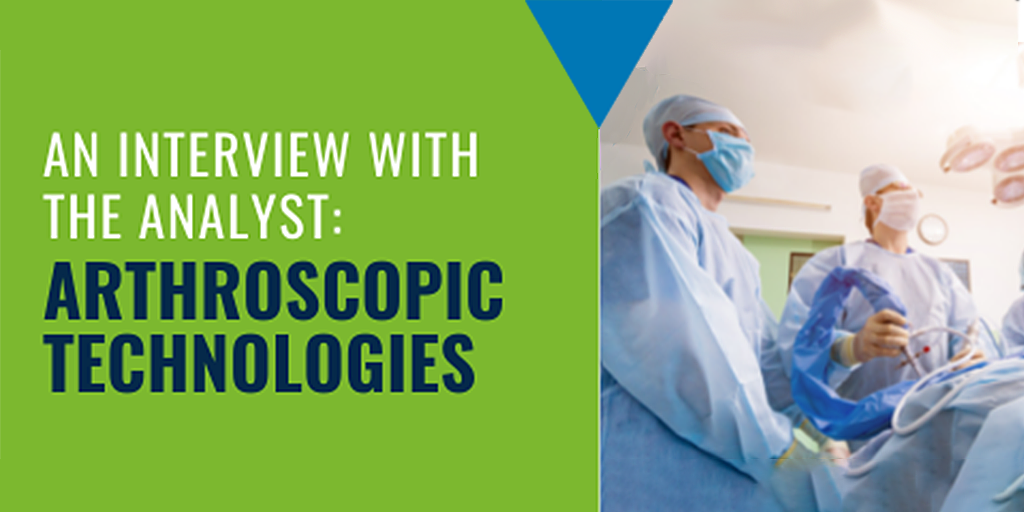 Our Arthroscopic Technologies module launched earlier this year with a big splash. We interviewed SmartTRAK's Sr. Analyst for Arthroscopic Technologies, Andy Knapik, to learn more about this new offering.
In the following video, Andy discusses what's included in the module and why we're so excited about this addition to the SmartTRAK platform. To request more information, please click here.

"It is my goal to provide detailed and unrivaled data that will allow SmartTRAK's subscribing partners to better understand the Arthroscopic Technologies market; helping them make informed decisions on resource allocation and innovation that will ultimately lead to more effective and advanced patient care." Andy Knapik
Products & Technologies Covered:
Arthroscopic/Endoscopic Video
Mechanical Resection
Radio Frequency Ablation
Fluid Management
Arthroscopic Procedures Included:
Shoulder
Knee
Small Joint/Extremities
Hip
Vital information on every part of the Arthroscopic Technologies Market!
Market Overview
Company & Product Profiles
Procedure Volumes
Financials and Shares
Analysis including Insights and Trends
Latest Industry and Market News
To learn more about SmartTRAK's new Arthroscopic Technologies module, or to request a demo, please click the button below.
---
SmartTRAK is a comprehensive, easy-to-use, business intelligence solution for the Life Sciences Industry that provides breaking updates on pertinent company news, potential treatments and guidance, international survey results, statistical analysis by country, studies, trial results, financial impact and more. All subscribers receive a Daily Updates email containing the latest need-to-know news curated by our expert analysts. It's the perfect way to start your day! If you would like to learn more about SmartTRAK, just click here.