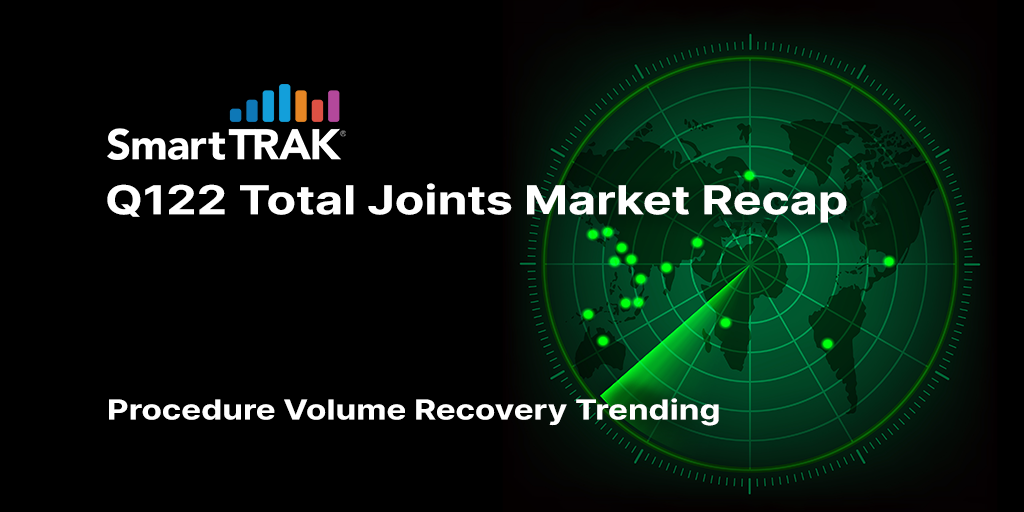 Procedure volume recovery is not the only trend on SmartTRAK's radar
Procedure volume recovery continues to be a trend on everyone's radar from industry execs to healthcare providers. In Q122, the Knee Replacement Market in the US seemed to experience a much stronger recovery than Hips based on YoY growth rates, according to SmartTRAK Financial Dashboard. However, Knees faced a much easier YoY comp as more knee procedures were postponed in Q121 compared to hips due to their more elective nature. Putting this into perspective, US Hip Market growth along with Knees reinforced the feeling that 2022 procedures will be closer to "normal" as the Total Joints Market recovers from the downsizing caused by COVID. And, as the industry's bandwidth for focusing on the pandemic decreases, the emphasis on other trends grows.
Among the many topics covered in detail in our comprehensive Q122 Total Joints Market Recap* are:
Complete Q122 Total Joints Market Overview and Highlights
SmartTRAK's Expert Analysis and Insights
Total Joints News including Revenues, Data, Charts and Shares
Targeting the ASC Site of Care
Cementless Knees Picking Up Speed
Hips Focusing on Anterior Approach
New Products in the Market
Q122 Regulatory Highlights
All eyes seem to be on the ambulatory surgery center (ASC) site of care for joint replacement. Most companies are investing resources to target the ASC market and some are already seeing results from these strategies.
Enovis* − formerly known as DJO Global prior to its split out from Colfax Corporation − plans to aggressively invest in its recon business including acquisitions focused on delivering outcomes that are a significant improvement over what's currently available. No doubt their investment will also be used to support its growing presence in the ASC setting. During its Q122 earnings call, Enovis noted that ...
Read the entire Q122 Total Joints Market Recap including news, data, charts, company revenues, shares and our expert analysis*
*The entire unedited article and these links can only be viewed by SmartTRAK subscribers to this module. For more information on SmartTRAK, including how to receive a demo and subscribe, please click the button below.
---
SmartTRAK
has expanded it's coverage to include five new modules, including
Pediatric Extremities
and
Trauma
.
Click
to see details of all the exciting new additions to the
SmartTRAK
platform.