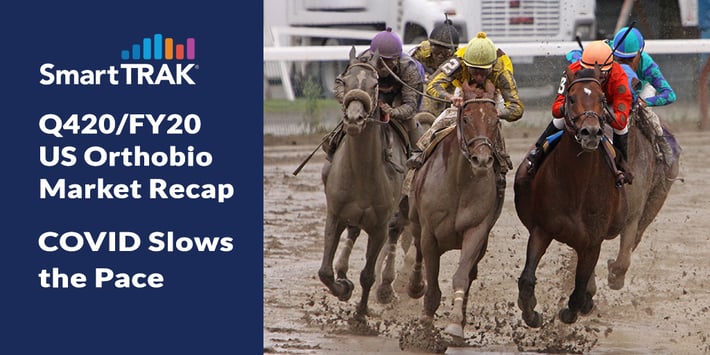 With jockeys and their racehorses out of the gates to make up for the losses during H120, a resurge of COVID cases muddied the track again, slowing the finish to the 2020 Derby.
If the US Orthobio Market was off racing again in Q320, the racetrack got a bit muddy with a resurgence of positive COVID-19 cases, which halted or placed restrictions on elective procedures in some US states. Spine procedure volumes were particularly affected by the renewed restrictions in Q420, which had a domino effect of negatively impacting the Bone Replacement segment for Q4 and FY20, respectively.

Among the many topics covered in the comprehensive Q420/FY20 US Orthobio Market Recap* are:
Complete US Orthobio Market Overview
Companies' Financials, Revenues and Market Share
Segment Results and Key Competitors
US Bone Replacement
US Cartilage Replacement
US Soft Tissue Replacement
US Meniscus Replacement
Notable Developments in Q420
The other segments of the US Orthobio Market, Cartilage Replacement, Soft Tissue Replacement and Meniscus, each helped pull aggregate growth into the green and total positive growth Q420. Even if several competitors experienced an uptake in product demand and finished with positive results in Q420, overall, 2020 was a tough year, with ...
Read the entire Q420/FY20 US Orthobio Market Recap including news, data, charts, company revenues, shares and analysis*
*The entire article and the links can only be viewed by SmartTRAK subscribers to this module. For more information on how to receive a demo and subscribe, please click here.
---
SmartTRAK is kicking off 2021 with some exciting new product launches, including Arthroscopic Technologies, Deep Brain Stimulation, Pediatric Extremities, Trauma and Spine. Click the button below to see what we have on tap in the coming months.