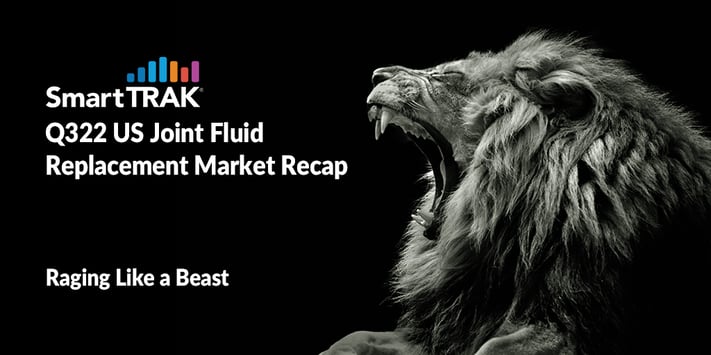 CMS Reimbursement changes raging like a beast to belabor several HA market players

For Q322, the true impact of CMS reimbursement changes was blatantly apparent, with the US Joint Fluid Replacement Market showing an overall lackluster revenue performance, with a YoY decline of -4.7% vs Q321, according to

SmartTRAK Financial Dashboard

. As if the new CMS regulations were not enough, the swing toward negative growth was also driven by hyaluronic (HA) companies battling for product placement, preferred formulary status with private payers, overall inflation, and still to a certain degree, supply chain-related issues stemming from COVID-19 and subsequent waves of the different variants. Aggregate revenue being in the red for the third quarter of 2022 was mainly the result of negative YoY growth across three of the four HA segments. Still, with an anticipated hard push to more positive year-end results, the US Joint Fluid Replacement Market is trending toward achieving on or ever so slightly above

SmartTRAK's US Joint Fluid Replacement Market Overview

revenue projections



Among the many topics covered in detail in our comprehensive Q322 US Joint Fluid Replacement Market Recap* are:
Complete Q322 US Joint Fluid Replacement Market Overview and Highlights
SmartTRAK's Expert Analysis and Insights
All Company News, Revenues, Data, Charts and Shares
Headwinds and Increasing Competition
CMS' ASP Regulations Affecting Market Leaders
On the outlook for the rest of 2022, SmartTRAK anticipates seeing more reimbursement-related headwinds, along with tough competition, rising inflation rates, and ...

Read the entire Q322 Total Joints Market Recap, including SmartTRAK's expert analysis, news, data, charts, company revenues and shares*
*The complete unedited article can only be viewed by SmartTRAK subscribers to this module. For more information on SmartTRAK, including how to receive a demo and subscribe, please click the button below.
---
SmartTRAK is a comprehensive, easy-to-use, business intelligence solution for the Life Sciences Industry that provides breaking updates on pertinent company news, potential treatments and guidance, international survey results, statistical analysis by country, studies, trial results, financial impact and more. All subscribers receive a Daily Updates email containing the latest need-to-know news curated by our expert analysts. It's the perfect way to start your day! If you would like to learn more about SmartTRAK, just click here.