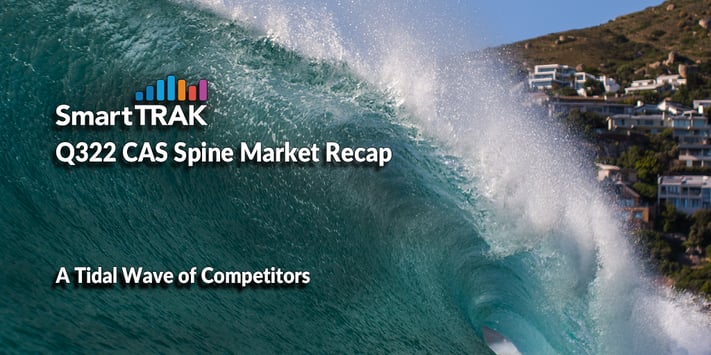 Q322 sees a tidal wave of new robotic spine surgery competitors as well as data-driven initiatives under development by a host of companies in the market for spine enabling tech.

Q322 was nothing short of a tidal wave of competitive entrants to the US Spine Robotic Surgery space. Medtronic* (MDT) and Globus* remain top players as OUS companies like France's eCential Robotics* and Taiwan's Point Robotics MedTech* set their sights on the US market. The Q322 WW CAS Spine Market was up, according to

SmartTRAK Financial Dashboard

. MDT remained the market leader with 49.0% share, followed by Globus and other enabling tech competitors like Brainlab* and Stryker* (SYK).



Among the many topics covered in detail in our comprehensive Q322 CAS Spine Market Recap* are:
Complete Q322 CAS Spine Market Overview and Highlights
SmartTRAK's Expert Analysis and Insights
All Company News, Revenues, Data, Charts and Shares
A Wave of New Players in Spine Robotics
Smart Drills and Pedicle Screw Systems
Data Takes Center Stage in Spine Enabling Tech
SeaSpine and Orthofix Join Forces
Q322 CAS Spine Regulatory Highlights
In July, the European Spine Journal published 20 articles on AI, computer-aided surgery, bioinformatics and other emerging technology in a devoted issue concluding that current evidence implies that AI, big data and precision spine care are more likely to be "embraced" than forgotten. This certainly seems to be true, with more data-driven initiatives entering the spine space and nearly every player with a robotic and/or navigation system currently on the market developing ...
Read the entire Q322 CAS Spine Market Recap, including SmartTRAK's expert analysis, news, data, charts, company revenues and shares*
*These links and the complete unedited article can only be viewed by SmartTRAK subscribers to this module. For more information on SmartTRAK, including how to receive a demo and subscribe, please click the button below.
SmartTRAK is a comprehensive, easy-to-use, business intelligence solution for the Life Sciences Industry that provides breaking updates on pertinent company news, potential treatments and guidance, international survey results, statistical analysis by country, studies, trial results, financial impact and more. All subscribers receive a Daily Updates email containing the latest need-to-know news curated by our expert analysts. It's the perfect way to start your day! If you would like to learn more about SmartTRAK, just click here

.