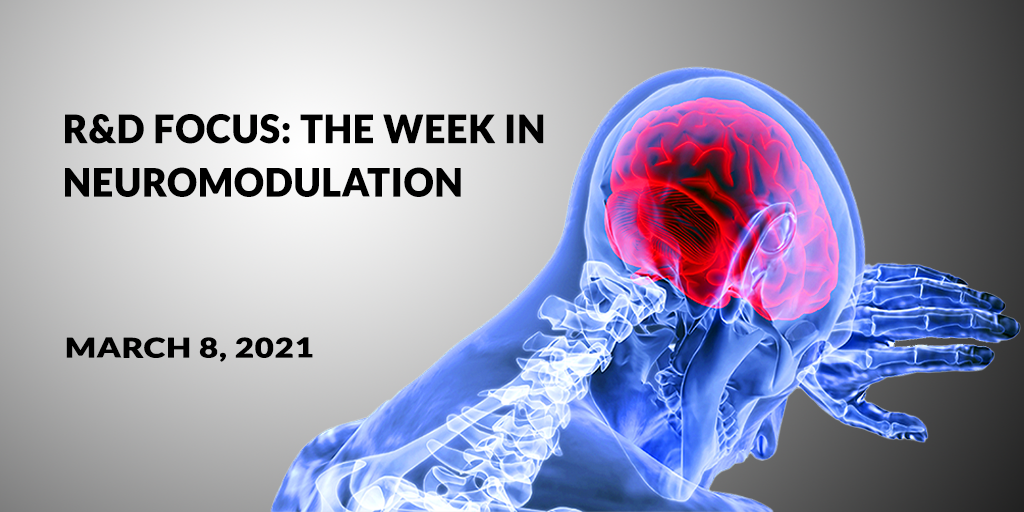 Despite the continuing challenges posed by the pandemic, the MedTech industry presses on with product innovation and plans for the future. SmartTRAK reports daily on the challenges still ahead, covering all aspects of the Neuromodulation market.

The following is just a small sampling of recent Neuromodulation updates from around the world compiled, reviewed and posted in real time by our SmartTRAK analysts. We constantly monitor the worldwide MedTech industry, sifting through the noise to present to our subscribers the most relevant international news, patents, trends, new products, financial data and competitor developments in the global Life Sciences industry.

As part of SmartTRAK's R&D appreciation month, Research & Development professionals can now sign up for a Complimentary Month of Daily Updates delivered straight to your inbox. Just let us show you SmartTRAK and we'll give you a month of Daily Updates for FREE!
Patents:
Boston Scientific*
BSX's US Patent Application "NEUROSTIMULATION SYSTEM WITH NEURODEGENERATIVE DISEASE DETECTION" was

published

describing a system with a sensing circuit and signal processing circuit configured to detect neural signals/responses indicated a neurodegenerative disease.

20210031043
Medtronic*
MDT was

granted

US Patent "Sensing temperature within medical devices" describing indirect ways to monitor the temperature of devices used to charge a rechargeable power source to ensure patient tissue is not exposed to harmful temperatures. 10,862,328


Pacesetter IP for Alzheimer's DBS
Pacesetter was

granted

US Patent "Systems and method for deep brain stimulation therapy" describing a DBS system that targets the brain's nucleus basalis of Meynert, which is involved with the neurotransmitter acetylcholine, in patients with Alzheimer's disease.

10,806,929


New Products
:
Boston Scientific
BSX

launched

the 4th

gen Vercise Genus DBS System in Europe in Sept 2020 and expects to begin a controlled US launch in the coming months. BSX continues its strategic collaboration with the Brainlab platform to provide enhanced visualization for lead placement in targeted anatomy.


Abbott
Abbott

announced

upcoming launch of digital app NeuroSphere myPath for use with

Proclaim XR

SCS &

Proclaim DRG

devices. Patients use app to track pain & well-being during device trialing. Physicians have real-time data access. Available soon in Apple App store; Android-available

Q221.



WaveWriter Alpha

-

Boston Scientific
BSX announced a limited US market release of the WaveWriter Alpha SCS portfolio with Fast Acting Sub-perception Therapy for quick paresthesia-free relief, an SCS 1st. FDA-approved in Dec 2020, it has 4 MRI-conditional, Bluetooth-enabled RC/PC IPGs supported by Cognita digital tools.
Studies:

Intellis*

-

Medtronic*
Provenzano et. al.'s poster about

VECTORS

trial evaluating MDT's Evolve workflow (n=103 implanted)

showed

71.4% had ≤ 3 unscheduled visits by 12 months. For programming changes, 79.1% needed ≤ 6, and 4.4% needed ≥ 10. Most changes were to the electrodes only (69.2%).

NANS 2021


Abbott*
In post hoc analysis of

SUNBURST

RCT of burst stimulation SCS with

PRODIGY*, authors

assessed

69 patients using baseline opioids. Group's opioid use fell at 12 months vs baseline (53.94 vs. 79.19  morphine equivs, P=.008). Percent of patients in the highest-use category fell by 62%.

Neuromodulation


SPR Therapeutics: Temporary Percutaneous PNS Literature Review
Gulati et. al.'s literature review of studies of temporary percutaneous PNS (12 studies, of which 3 were RCTs; n=98)

found

77% of patients were responders at end of treatment. Average pain reduction 81%, pain interference reduction 90%. At 1 yr, 35/46 (75%) were still responders.

NANS 2021
Deals/Financing:
Axonics Acquires Contura Ltd, Bulking Agent for SUI
AXNX acquired London-based Contura Ltd & its flagship product Bulkamid for total consideration of $200MM in cash/stock & a potential future milestone of $35MM. Bulkamid is a best-in-class, next-gen hydrogel urethral bulking agent for women with stress urinary incontinence (SUI).


GaitQ Raises Pre-Seed Capital for Wearable Parkinson's Device
GaitQ, a spin-out from the Univ of Oxford UK, announced ~$864K in pre-seed capital from both the Univ of Oxford and Innovation Fund V to advance early testing and development of its wearable, smart device designed to help Parkinson's patients overcome gait freezing episodes.


New Financing Supports Digital Pen to Diagnose Parkinson's
Manus Neurodynamics raised $1.6MM to launch NeuroMotor, a digital pen with a sensor to diagnose patients with Parkinson's & other movement disorders. The financing will allow the NeuroMotor Pen to be launched in the UK/EU in 2021 and to work toward regulatory approval in the US. PD News Today
Clinical/Regulatory:
Stroke Rehab With Functional Electrical Stimulation
A 4-week randomized crossover trial (n=20) will compare stroke rehab with vs without functional electrical stimulation delivered by Bioness L300. Primary outcome: improved somatosensory evoked potentials. Primary completion 8/2022, study completion 12/2022. clinicaltrials.gov


DBS For Severe Intractable Epilepsy
A retrospective 10-pt cohort study is assessing DBS for the anterior thalamic nucleus via microendoscopy in patients with severe intractable epilepsy. Primary outcome: Absence of hemorrhagic complication on postop MRI. Study completion 12/21.

clinicaltrials.gov




Noninvasive VNS for Patients with Sepsis
A randomized pilot study (n=30) will evaluate noninvasive VNS with TENS eco Plus (made by German company schwa-medico) as adjuvant treatment for critically ill patients with sepsis. Control group will receive earlobe stim. Primary outcome: 90-day mortality. Completion 2/23. clinicaltrials.gov

Markets:
Nevro*
For FY21, NVRO guided to $430-450MM in revenue (19-24% YoY growth and 10-15% growth over 2019). NVRO's guidance assumes ongoing and steady recovery and more normal elective procedure levels beginning in Q221.

WFS




Medtronic*
MDT said that with regard to neuromodulation, its products are getting a disproportionate share versus the competition, and that COVID may have slowed but has not stopped hospitals from adopting its technology.

MDT Q3FY21 Earnings Transcript on Seeking Alpha




Virility Medical's Raises $8MM for Neuromod Patch to Delay Ejaculation
Virility Medical is raising $8MM to fund FDA approval of its single-use patch that uses transcutaneous neuromodulation to stimulate nerves & muscles to delay ejaculation. Round led by Arkin Investments & includes Almeda Ventures Limited Partnership & other investors. Globes


Revenues:
Axonics Modulation Technologies
AXNX reported Q420 net revenue of $34.8MM vs $9.9MM in Q419. US net revenue was $33.7MM, with select international markets accounting for $1.1MM. Management estimates ~320 confirmed and scheduled implants were cancelled due to COVID-19, resulting in ~$5MM in unrecognized revenue in the quarter.


Nevro*
For Q420, Nevro reported WW revenue of $109.7MM, -4.1% vs Q419. For FY20, the Company revenue of $362.0MM, -7.2% YoY, with US revenue of $311.9MM, -4.3%, and Int'l revenue of $50.2MM, -21.8% YoY.


Medtronic*
For Q3FY21 ending Dec 2020 Medtronic reported WW revenue of $7.78B, +0.8% (-1.0% CC) YoY. Cranial & Spinal Technologies revenue was $1.08B, -3.2% (-4.5% CC) and Neuromodulation was $426MM, +4.9% (+3.4% CC).


*These links can only be viewed by SmartTRAK subscribers. If you would like to receive a FREE month of R&D Daily Updates from SmartTRAK just click the button below.
---
SmartTRAK is a comprehensive, easy-to-use, business intelligence solution for the Life Sciences Industry that provides breaking updates on pertinent company news, potential treatments and guidance, international survey results, statistical analysis by country, studies, trial results, financial impact and more. All subscribers receive a Daily Updates email containing the latest need-to-know news curated by our expert analysts. It's the perfect way to start your day! If you would like to learn more about SmartTRAK, just click here.