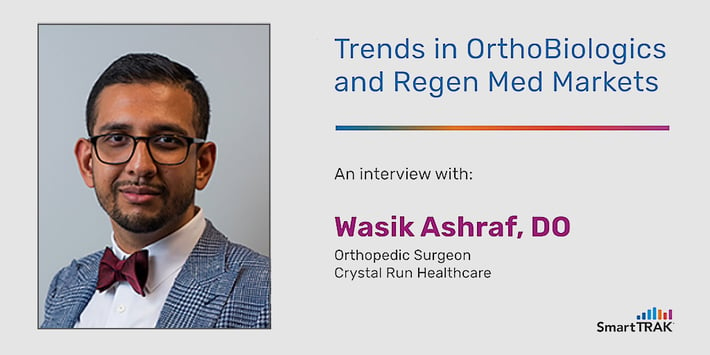 Dr. Wasik Ashraf, an Orthopaedic Surgeon specializing in Sports Medicine, discusses trends and innovation in Orthobiologics and Regenerative Medicine in an interview with SmartTRAK.

In this wide-ranging interview, Dr. Ashraf gives his view of CMS' FY21 OPPS-ASC Final Rulemaking, and discusses emerging trends and innovation in OrthoBiologics and Regenerative Medicine

. As a Board-certified and fellowship-trained physician specializing in sports medicine, joint preservation and cartilage restoration, Dr. Ashraf offers his unique view and perspective on some of the newest technologies he is using, as well as those to look out for in the coming years.



To listen to the interview, recorded live via Uberconference, click on the following video (41:37 min). A transcript of the interview is also available below.
Freddy Buntoum here with BioMedGPS. I am speaking with Dr. Wasik Ashraf. Dr. Ashraf is a Board Certified fellowship-trained orthopedic surgeon specializing in sports medicine, joint preservation, and cartilage restoration. Dr. Ashraf completed his residency in orthopedic surgery at the Northwell Hospital system, and his fellowship in sports medicine at the Houston clinic in Columbus, Georgia. Currently, he practices in Orange County, New York and provides sports coverage to several local schools. He's also very involved in the opioid-sparing program at St. Luke's Cornwall Hospital.
So, while COVID-19 has accelerated the interest in ambulatory surgical centers, ASC for short, and the overall health care market has recognized the importance of this fast-growing segment. From your perspective, what do you think is driving this trend?
Wasik Ashraf, DO: Well, I think ambulatory surgery centers overall have seen an increase in patient volume and patients wanting to get their surgeries done at a hotel-like environment. But with COVID-19, what we have noticed is patients who would have done surgeries in the past in hospitals, they're a little bit more hesitant to go into an inpatient hospital setting. So with the ambulatory surgery centers being open and patients being not as comfortable with hospitals, we're finding that the patients feel safer in ambulatory setting for their surgeries. And also for physicians, we are finding that in ambulatory surgery setting, we're able to do a lot of the same surgeries that we were used to doing at the hospital in a much more efficient manner.
And who or what in your opinion is pushing the growth in outpatient care versus the more traditional inpatient care? And can you explain?
WA: So I think this multifactorial of why we're seeing a big push towards ambulatory surgery center setting, number one, we talked about the patient factor, the patients want surgery at the Centers and so, the fact that the patients are safer, feel better at the ambulatory surgery center, we're able to see that the physician surgeons want to provide that to our patients. And so we go to the ASC.
Physician surgeons perspective why an ASC is also multifactorial. Number one is ...
To download a complete transcript of the "Trends in Orthobiologics and Regenerative Medicine: A Surgeon's Perspective" interview with Washik Ashraf, just click the button below.
---
SmartTRAK is a comprehensive, easy-to-use, business intelligence solution for the Life Sciences Industry that provides breaking updates on pertinent company news, potential treatments and guidance, international survey results, statistical analysis by country, studies, trial results, financial impact and more. All subscribers receive a Daily Updates email containing the latest need-to-know news curated by our expert analysts. It's the perfect way to start your day! If you would like to learn more about SmartTRAK, just click here.