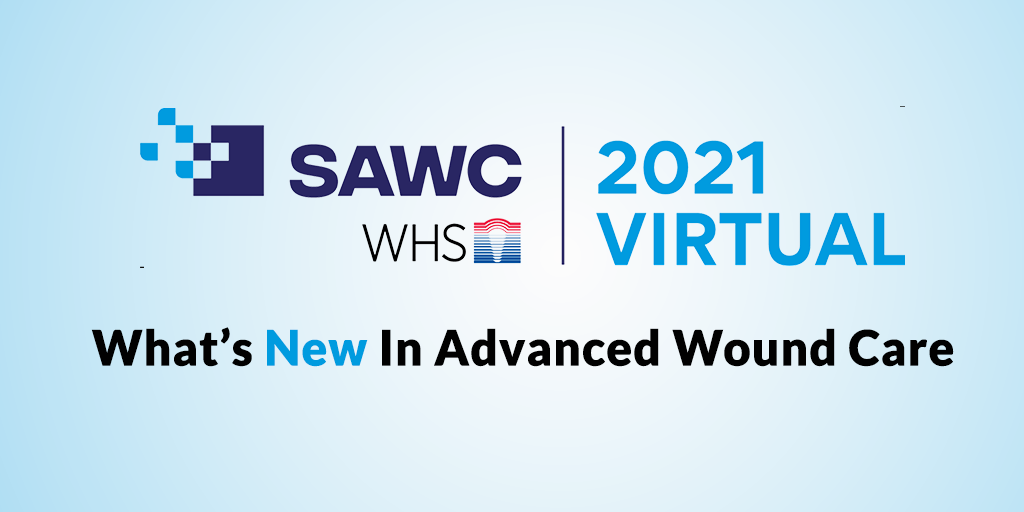 The Symposium on Advanced Wound Care, SAWC, the official meeting of the Wound Healing Society, was held virtually May 10-14 and SmartTRAK attended.
Following is a sampling of some of the takeaways from the meeting that were gathered and curated by our expert analysts and sent out to subscribers in our Daily Updates.
S&N featured a session introducing STRAVIX PL, lyopreserved umbilical tissue w/ room temperature storage, while also highlighting GRAFIX PL, GRAFIX and STRAVIX. SAWC Virtual 2021
A 981-pt (1,111-VLUs) non-inferiority, comparative effectiveness study of PuraPly AM (collagen matrix plus PHMB) antimicrobial and Theraskin (cryopreserved cadaveric skin allograft) for use in VLUs found wound closure comparable at 8, 12, 18 and 24 wks. SAWC Virtual 2021 CR-17
LifeNet*
LifeNet featured Dermacell AWM and recently launched Matrion at SAWC. Matrion is a human placental allograft used as a barrier membrane to treat chronic and acute wounds – a naturally intact placental membrane to incorporate the full trophoblast layer. SAWC Virtual 2021
S&N presented data on the "New Science of Santyl" describing bioactive collagen byproducts created by the use of Santyl and their role in inducing a cellular response in the wound bed to help advance the wound healing process. SAWC Virtual 2021
UrgoKTwo*
-
Urgo Medical*
A 174-pt study evaluated compliance with wearing UrgoK2 compression system in pts with lower extremity edema. The study found 94% compliance rates with UrgoK2 and no differences were found between compliance and age, diagnosis and laterality. SAWC Virtual 2021 PI-06
Mortality Rate after LEA
A systematic review and meta-analysis of chronic wound mediated lower limb amputations that included over 36,000 pts found the 1-yr and 5-yr pooled mortality rates to be 33.7% and 64.4%, respectively with diabetes mellitus being significant for both yrs. SAWC Virtual 2021 CR-14
A study evaluated the effect of routine imaging on diabetic foot ulcer healing rates vs standard of care (SOC). The study found 25% of wounds healed in the SOC arm while 60% of wounds in the fluorescence informed group healed. SAWC Virtual 2021 CR-06
3M featured a session on transitioning NPWT patients to the post-acute care setting, highlighting the challenges associated with discharging a NPWT patient to the post-acute care setting and the steps to develop a comprehensive discharge plan. SAWC Virtual 2021
A HE study evaluated clinical outcomes and cost savings of a new dressing combination and a two-layer compression system vs SOC for the treatment of heavily draining VLUs. The study found that the therapy combination facilitated healing and reduced cost. SAWC Virtual 2021 HE-02
NPWT w/ Instillation - Normal Saline (NS) vs Antimicrobial Solution (AS)
An 83-pt study analyzed long-term outcomes between NS vs AS in treating infected wounds by NPWTi. The study concluded the clinical efficacy, accessibility and cost advantage of NS can potentially expand the utilization for larger pt populations. SAWC Virtual 2021 CR-13
Sanara MedTech held a session on biofilm formation and the benefits associated with its BIAKŌS Antimicrobial Skin & Wound Cleanser and Irrigation Solution and BIAKŌS Antimicrobial Wound Gel in combatting mature biofilm. SAWC Virtual 2021
*These links can only be viewed by SmartTRAK subscribers. For more information on how to receive a demo and subscribe, please click.
---
SmartTRAK is a comprehensive, easy-to-use, business intelligence solution for the Life Sciences Industry that provides breaking updates on pertinent company news, potential treatments and guidance, international survey results, statistical analysis by country, studies, trial results, financial impact and more. All subscribers receive a Daily Updates email containing the latest need-to-know news curated by our expert analysts. It's the perfect way to start your day! If you would like to learn more about SmartTRAK, just click the button below.