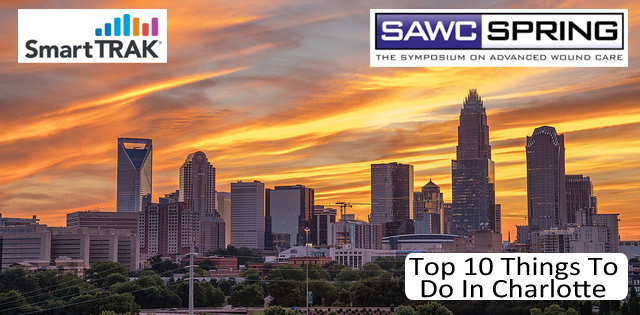 By all accounts, Charlotte, the Queen City, is one of the South's largest and most successful cities, having retained its Southern charm and friendliness despite its rapid growth in the past 20 years.
While attending SAWC Spring 2018, here are SmartTRAK's Top 10 Picks for places to eat, interesting things to do and places to visit while in Charlotte.
Farm-to-table dining at Halcyon-Flavors From The Earth
Catch a Charlotte Knights Game at BB&T Ballpark
Incredible North Carolina BBQ at Charlotte's Best Barbecue Joints
Burgers and Beer at the Moo & Brew Craft Beer & Burger Festival
Relive the 1960's Motown Sound with The Four Tops and The Temptations
Start your Engines at the NASCAR Hall of Fame
Experience Charlotte's Craft Beer Culture during April's NC Beer Month
Discover Post Civil War Southern history at the Levine Museum of the New South
Free Golf Lessons on National Golf Day, Wednesday at Top Golf
International Art and Live Performances at the Mint Museum
SmartTRAK will be hosting an Executive Briefing and Reception titled "Advanced Wound Care: Trends, Opportunities & Innovation" at the 2018 SAWC Spring on Wednesday, April 25th at 5pm in the Westin Charlotte Hotel, Uptown Room.
Moderated by Don Urbanowicz, Principal, Urbanowicz Consulting, the panel will include Susan Paquette, VP & GM Wound, BioMedGPS and Lennart Stadler, SmartTRAK's Senior Analyst, Wound Care. The discussion will focus on the latest trends and technologies impacting the Global Advanced Wound Care Market.
Space is limited, so if you would like to attend, please RSVP by April 20, 2018.
Social Media Links for SAWC Attendees:
Hashtags: #SAWC #WOUNDCARE #SAWCSpring #SAWCSpring2018 #Charlotte