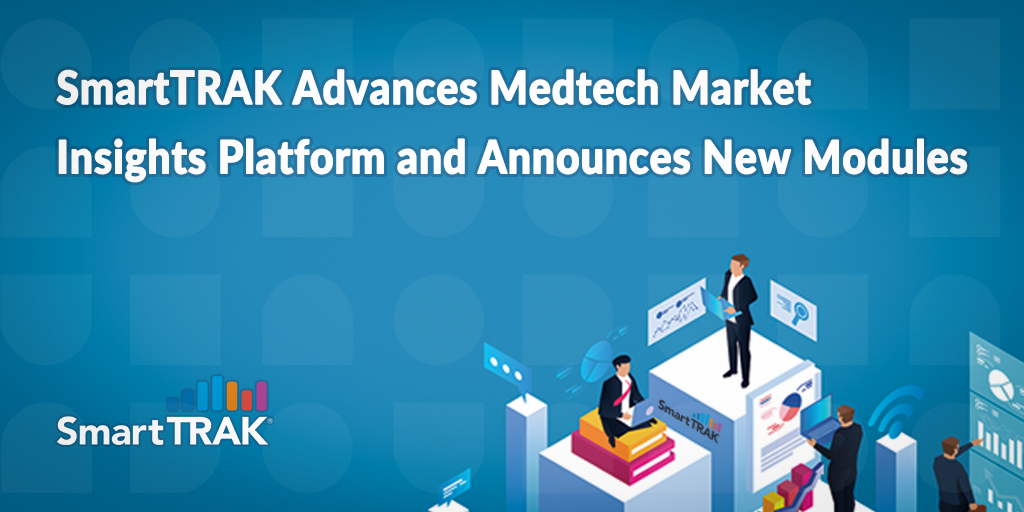 SmartTRAK, the leading global Medtech business and market insights platform in the Orthopedics, Wound Care, Regenerative Medicine and Neuro Therapy markets, announces the expansion of its solutions portfolio focused on new market coverage for Wound Debridement and Injectables for spinal disc degeneration and osteoarthritis (OA) of the knee.
SmartTRAK is an Insights-as-a-Service platform that equips customers with real-time, accurate market, company and product insights from hundreds of carefully curated data sources. The solution includes rich content provided through a SaaS platform and includes daily updates, tools and dashboards along with direct access to market analysts and expert advisory services.
Wound Debridement, a newly covered segment offered on the SmartTRAK platform, is foundational to wound healing and the success of every advanced wound care product. According to Wound Care market expert and General Manager Gary Delhougne, "our new module will cover the full scope of the debridement market opportunity and will be beneficial to companies directly participating or contemplating entering into the debridement space." The Wound Debridement module is now widely available to customers.

SmartTRAK is addressing the explosive growth in the Injectables arena, specifically in the areas of osteoarthritic knee pain, discogenic back pain and degenerative disc disease. According to Elise Wolf, General Manager of Orthopedics and Enabling Technologies, "the potential US market for Disc Injectables is over $50B annually, while the next generation OA Injectables exceeds $10B annually. Our market experts have been keeping a finger on the pulse of this dynamic growth sector and clients can now leverage the SmartTRAK platform for strategic planning and product development related to injectable technologies." The Disc Injectables module is currently available and the Knee OA module will be launched by the end of 2022.
"SmartTRAK has a long history of being the trusted source for our clients for relevant, up-to-date and comprehensive market coverage and critical insights for strategic decision-making," says CEO Sharon O'Reilly. "We are continuously expanding the SmartTRAK platform to cover new and emerging markets of high value to our subscribers and offer unique and differentiated analytical tools that help our customers innovate while achieving economies of scale with one comprehensive solution. The Debridement and Injectables market expansions are examples of how SmartTRAK helps our customers stay on the forefront of market advancements."
SmartTRAK is innovating to serve the business intelligence needs for more than 75 global Medtech customers, which include most of the leading Orthopedic and Wound Care companies. "We have an aggressive product roadmap that includes further expansion into new markets as well as significant investment in developing a new suite of Data Insights tools for product, procedure, pricing and sales targeting built off of granular data sources," shares Chief Growth Officer Linda Bernier. "Our customers are drowning in clunky data files and consistently look to SmartTRAK as their primary source for meaningful insights and real-time tools that can be accessed 24x7 by leaders across their enterprise."
Starting in 2023, SmartTRAK will also be offering customers new capabilities for tracking and analyzing the Ambulatory Surgical Center (ASC) market along with other tools that offer strategic insights from CMS and other publicly available and commercial data sources.
---
About SmartTRAK
SmartTRAK is the Medtech industry's only global Insights-as-a-Service solution for the Orthopedics, Wound Care, Regenerative Medicine and Neuro Therapy markets. SmartTRAK's propriety methodology turns disparate data from hundreds of sources into powerful insights customers can rely on as the trusted source for strategic decision-making. The SmartTRAK enterprise platform includes rich daily updates, comprehensive market coverage and simple-to-use tools and dashboards for market, product and financial analysis. Customers leveraging the SmartTRAK platform also have direct access to market experts for inquiries and advisory services. For more information visit SmartTRAK.com and follow us on LinkedIn.