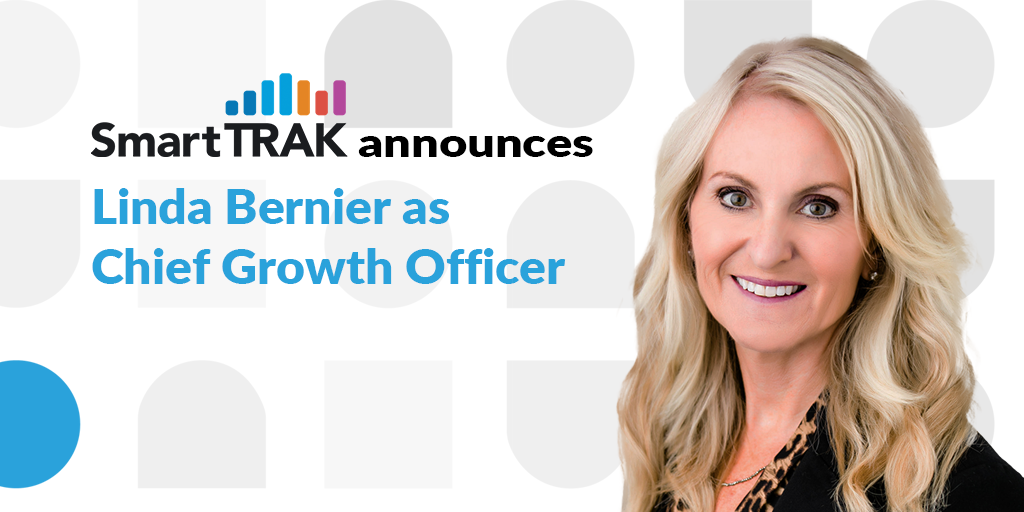 SmartTRAK is pleased to announce that Linda Bernier has been named new Chief Growth Officer (CGO). Linda will oversee Sales, Customer Success and Marketing. She will be involved with projects ranging from customer retention and satisfaction, licensing new tools and data sources, new products and strategy, marketing and new messaging, among others. She comes with a depth of experience in the healthcare and SaaS world, having held CEO and Chief Marketing Officer positions during her career
"Linda has great leadership and interpersonal skills (positivity, woo and communication are among her top strengths), and she likes to put ideas into action and get things done (achiever and strategic also in her top 5). Above all, she brings the experience, knowledge and confidence we have needed to successfully make the pivot to becoming a SaaS company with our new SmartTRAK Enterprise offering." SmartTRAK CEO Sharon O'Reilly
Meet Linda Bernier, SmartTRAK's new Chief Growth Officer:
What is your role with SmartTRAK? As Chief Growth Officer, my main objectives are to execute our founder and CEO Sharon O'Reilly's vision for SmartTRAK and to achieve the company's full potential as the leading market insights solution for the MedTech industry. In my role, I'll be working with the sales, marketing and customer success teams to execute key initiatives to profitably grow the company. These initiatives include increasing client engagement, continuing our stellar > 95% retention rate through voice of client, acquiring new clients, elevating the SmartTRAK brand and expanding SmartTRAK's portfolio of products and services, including the potential entry into new markets.

What do you like about SmartTRAK? When I listen to customers, they consistently say SmartTRAK is their trusted source for market, company and product insights. This says a great deal about the quality of solutions the company delivers to its customers. Our employees care deeply about customers and the importance of SmartTRAK for their strategic decision-making, and that really resonated with me and is a big reason why I joined the team. There is a tremendous amount of effort that goes into distilling meaningful insights from hundreds of data sources that are carefully curated by our industry experts and data analysts and delivered via our robust software platform. It's exciting to be the only true "insights-as-a-service" solutions provider serving over 75 of the most esteemed medical device companies in the world.

What is something special or unique that you bring to SmartTRAK subscribers? My entire 30+ year career has been in healthcare, mostly in technology and tech-enabled services offering solutions for multiple healthcare sectors. I hope to bring to SmartTRAK a greater focus on voice of customer to accelerate product innovation. As a software and content provider, SmartTRAK is continuously listening to customers' input on ways we can further solve their data and information problems and ultimately deliver greater insights and value. Recently, we launched a Client User Group and are formalizing other client forums to prioritize SmartTRAK enhancements and accelerate our product roadmap.

How/why did you get into the life sciences industry? Working for SmartTRAK allows me to see yet another part of the complex healthcare ecosystem. The technology companies I've worked for provided solutions for health plans, benefit administrators, employers, and providers across all the markets from government funded programs to ancillary benefits like vision and dental. I also did an internship in pharma. It's a bit like the parable of the blind men and an elephant when it comes to healthcare, as I've been able to "touch" different parts of the industry throughout my career. What I've learned is that, regardless of sector, organizations are focused on many of the same things, primarily how to create solutions that improve the health of the population while finding ways to lower costs. SmartTRAK's business insights ultimately help our MedTech customers innovate so they can offer products that not only improve peoples' health, but also save lives.
What are your favorite online websites or resources that you check every day and how do you stay current on what's going on in the industry It goes without saying that SmartTRAK's Daily Updates are the best resource for anyone seeking to stay on top of the MedTech industry trends. Executives tell us that it's their go-to resource to keep a finger on the pulse on the market landscape, including company news, product updates, trends and more. Outside of SmartTRAK, I have multiple feeds that cover overall healthcare market trends including what's going on with venture capital and private equity. When I walk the dogs, I listen to news and several technology and health and wellness-focused podcasts.
If you could have one super power what would it be? I have to say, I would love to teleport and snap my fingers and be where I want to be in an instant. I have traveled a lot for my various roles, and as we all know, traveling is less fun these days. I'd definitely like to meet more customers regularly and see the amazing SmartTRAK team members in person! My family and I love to travel, and we have extended family on the East Coast, so it would be great be able to teleport to visit them more often.
What was the last show you binge-watched?
I'm more of a Kindle book worm, but if I'm going to binge anything it will be HGTV House Hunters International. I am the daughter of a homebuilder, so I like to see interesting houses and how other people live across the globe. Plus, it's most always a happy ending!

What is your life like outside of SmartTRAK? (family, kids, pets? What can we find you doing when you're not working?)
I live in Denver, Colorado with my husband, 14-year-old daughter and two adorable dogs. We have twin college seniors and one daughter working in healthcare in Chicago, so our house can get busy during the holidays. When I'm not driving around our teenager to her various activities (which is often!), I am doing some kind of fitness activity, which is an important part of my day and keeps me energized. I used to train for marathons and triathlons, but now I focus more on riding my new gravel bike or the Peloton, or doing yoga, weight training, running or power walking. Tennis is also big in our family. We love the spending time in the beautiful Colorado mountains, so you can often find us hiking or skiing on the weekends.

What are you the most excited about for your upcoming year at SmartTRAK? This is an exciting time for SmartTRAK as we are rolling out our Enterprise solution with clients, which provides integration, data automation, open access across functions and customization. The response has been very positive, as MedTech companies want more real time access to SmartTRAK's expert insights so they can be more efficient while accelerating their innovations. We have several new products being launched in January, which expand solutions across our orthopedic and wound markets.
But I'm MOST excited about executing our strategic roadmap, which includes the rollout of a portfolio of valuable tools that provide more granular data and insights for our customers. We are also looking at how Artificial Intelligence can accelerate how we deliver insights on the platform, and enable us to more rapidly and efficiently expand into new markets. It's going to be an exciting year ahead!
---
SmartTRAK is the leading source of competitive intelligence used by the top ten global orthopedic & wound care companies. If you would like a demo of what SmartTRAK has to offer and how we can help increase proficiency, improve productivity and reduce costs for your company, just click the button below.