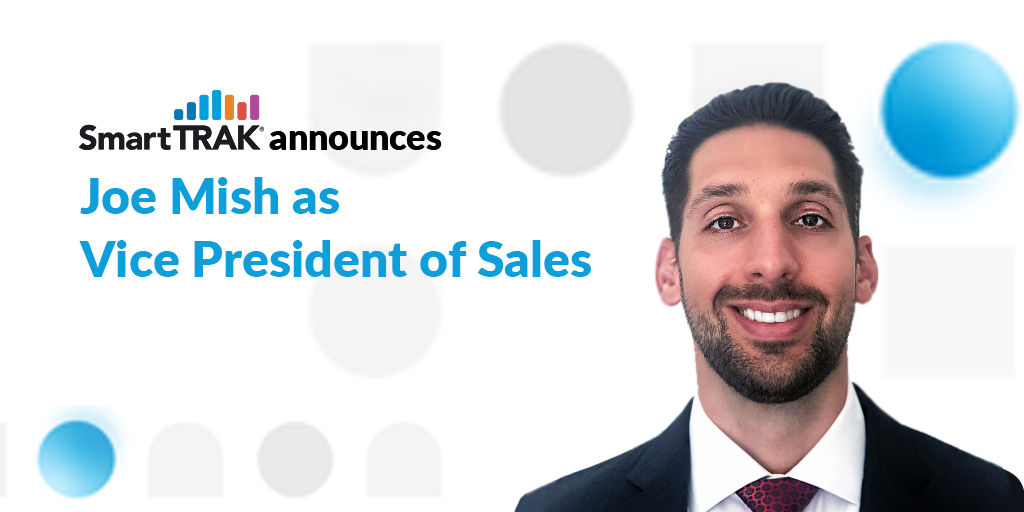 SmartTRAK is pleased to announce that Joe Mish has been named new VP of Sales and will lead our commercial team. Before joining SmartTRAK two years ago, originally as Director of Sales, Joe had 10+ years experience in medical device sales, with a concentration on Joint Replacement and Spine & Robotic Technologies. Joe sold and implemented analytic software to manage value-based care and bundled payment, working with Stryker, LDR/ZimmerBiomet and Stryker Performance Solutions.
"I couldn't be more pleased to have a true professional with data analytics/IT/SaaS plus medical device background like Joe in this position. I think you will agree that he is the right person to bring SmartTRAK to the next level." - SmartTRAK CEO Sharon O'Reilly

Meet Joe Mish, SmartTRAK's new VP of Sales:
What do you like about SmartTRAK? I truly love the value we bring to our customers. With the world being so volatile and medical device markets still being disrupted in so many ways, we offer clients a predictable way to stay ahead of their competition. This is extremely rare. There is no better feeling than standing behind a company and product that you really believe in…we are focused and committed to building long term relationships and strategic partnerships with our customers, and it shows.
What is something special or unique that you bring to SmartTRAK subscribers? I think having a diverse background always sits well with customers. I have extensive experience in multiple device markets like total joints, trauma, spine, biologics and enabling technologies, which allows me to share strategies and insights with customers across quite a broad spectrum. Outside of that, I am wired to be a people-person. Simply being able to connect with different types of people and understand their needs while always maintaining respect and transparency goes a really long way and has brought me to this stage of my career.
How/why did you get into the life sciences industry? I have always had a passion for healthcare and my original plan was to attend PA school. I met a Stryker sales rep while doing some pre-med shadowing hours and was completely blown away with his role during surgery. We had a coffee after the case and when I learned about the sales side of the business on top of the surgical aspect, I knew exactly where I was going after I graduated!
Years later a manager and business mentor gave me an opportunity to change paths to the data and software side of medical devices. I learned a whole new side of enterprise sales, finance and executive partnerships and that SaaS connection tied to medical devices was what eventually brought me to SmartTRAK.
What are your favorite online websites or resources that you check every day? I love sports so I check the ESPN app daily. I follow the real estate market pretty close so a quick Realtor or Zillow search usually finds its way into my day as well.
How do you stay current on what's going on in the industry? Well of course I read my SmartTRAK Daily Updates every morning with my coffee!!! I stay in touch with a lot of people I have worked with in the past which is always the best way to get a pulse on the market and I get the biggest downloads by attending A LOT of industry conferences. I am actually doing this blog while on an Acela to Boston for an Orthopedic Summit.
Request a Demo of the SmartTRAK Business Intelligence Portal!
If you could have one superpower what would it be? I think the last time I did a SmartTRAK Blog I went with mind reading…while that is still on my list, I have to say that some sort of time travel would be pretty unbelievable. Not in the sense of going back in time, but to be in multiple places at the same time. That would make my professional life quite a bit easier and I am sure my family wouldn't mind it either!
What is your life like outside of SmartTRAK? Honestly, my family is everything. My wife and I are coming up on 9 years of marriage and we have a 16-month-old daughter, Evvie. Life has changed pretty drastically the past year and a half, so now anything the three of us are doing together is good by me! I still love to golf and ski but I can't say I have gotten in nearly as many rounds this summer as I hoped…but Evvie and I are already working on her swing with some plastic clubs which is much more important!
We still love to travel so it is amazing that we are finally able to enjoy that passion again. We want the baby to get used to it as well so we aren't shy to bring her along for an adventure!
---
SmartTRAK is the leading source of competitive intelligence used by the top ten global orthopedic & wound care companies. If you would like a demo of what SmartTRAK has to offer and how we can help increase proficiency, improve productivity and reduce costs for your company, just click the button below.