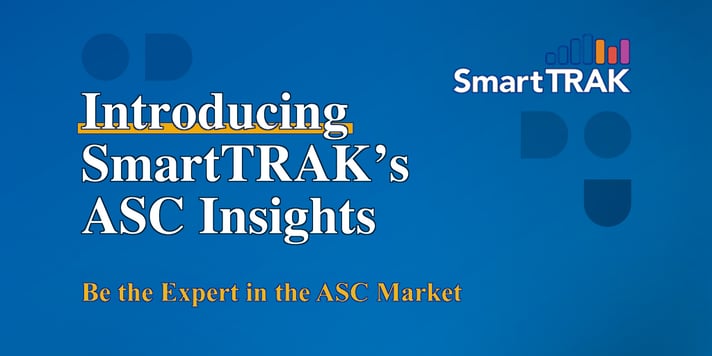 New SaaS technology offering delivers competitive advantage in rapidly changing Ambulatory Surgery Center market.
SmartTRAK, the leading global Medtech business and market software intelligence solution in the Orthopedics, Wound Care, Regenerative Medicine and Neuro Therapy markets, is pleased to announce the release of ASC Insights, the industry's first-ever commercially available platform-based solution for the growing Ambulatory Surgery Center (ASC) market. ASC Insights provides real-time insights and rich data to help clients better understand market trends and accelerate commercial growth strategies.
In recent years, the Orthopedic ASC market, valued at over $10 billion, has undergone a significant transition as surgeries increasingly shift from traditional inpatient settings to outpatient ASCs. This shift necessitates that Medtech companies explore new ways to stay informed about myriad data sources and market shifts to drive their commercial growth strategies.

The ASC Insights offering is an extension of the SmartTRAK platform, encompassing comprehensive market analyses and proprietary qualitative insights on trends, as well as readily extractable quantitative metrics. Alternatively, enterprise customers can seamlessly integrate these metrics into their business intelligence platforms. Subscribers to SmartTRAK ASC Insights gain access to a historical news archive, recaps of changes in key facility ownership and information on technologies and reimbursement. Furthermore, customers receive valuable Daily Updates, ensuring up-to-date and timely coverage of noteworthy ASC industry developments. They also enjoy on-demand, direct access to SmartTRAK expert analysts.
Powered by industry experts and data analysts, SmartTRAK's Insights-as-a-Service platform is the Medtech industry's only comprehensive solution, delivering market insights and business intelligence through an intuitive SaaS platform. Designed to streamline market research redundancies, SmartTRAK compiles and curates deep insights from hundreds of disparate information sources, offering highly valued SmartTRAK Daily Updates, comprehensive market overviews, and user-friendly tools and dashboards for market, competitive and financial analysis.

"Medtech companies in the Orthopedic market are suffering from data overload and are starving for organized, easily accessible insights related to the transition of orthopedic procedures to the ASC setting to drive their growth strategies," says Elise Wolf, VP/GM Orthopedics. "With the current economic headwinds and layoffs in the industry, having a tool like ASC Insights can power market research and deliver critical speed to insights for a competitive advantage."
"The ASC Insights solution is an example of how we are continuously expanding the SmartTRAK platform to offer unique and differentiated analytical tools that help our customers innovate while achieving economies of scale with one comprehensive solution," shared CEO Sharon O'Reilly. "We are continuing to invest in developing solutions that turn clunky and costly data into powerful insights allowing our customers to focus on product advancement and sales so they can win in their markets."
To discover how SmartTRAK's Data-Backed Expert Services can help you grow your business, Identify new market opportunities, uncover product innovations and advise on strategic partnership opportunities, just click the button below.
---
SmartTRAK is the MedTech industry's only global Insights-as-a-Service solution for the Orthopedics, Wound Care, Regenerative Medicine and Neuro Therapy markets. SmartTRAK's proprietary methodology turns disparate data from hundreds of sources into powerful insights customers can rely on as the trusted source for strategic decision-making. The SmartTRAK enterprise platform includes rich daily updates, comprehensive market coverage and simple-to-use tools and dashboards for market, product, and financial analysis. Customers leveraging the SmartTRAK platform also have direct access to market experts for inquiries and advisory services. For more information visit SmartTRAK and follow us on LinkedIn.