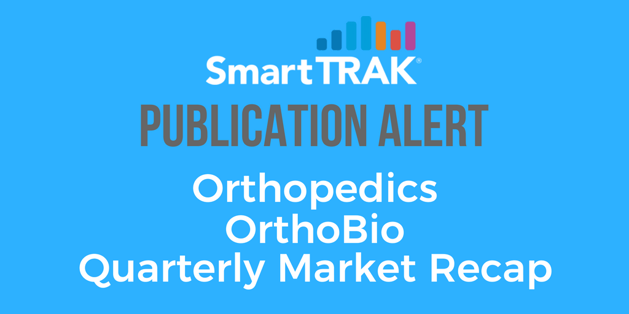 Q317 OrthoBio Market: Hurricane related disruptions
Hurricane related disruptions, competition and sales force dynamics impacts third quarter results
By Kim French, Senior Analyst, SmartTRAK OrthoBio
For Q317, the US OrthoBio Market grew substantially, compared to Q316. Both positive and negative developments are impacting company results. Positive happenings include increased revenue generation from synergistic sales strategies, market share capture and expansion of new users or new products. Companies experiencing lower than expected performance report hurricane related disruptions, slow ramp-up of sales force expansion, product portfolio gaps and market share loss due to increased competition.
Mixed Results for US Bone Replacement Market
US Stem Cells Segment
In addition to push back from payors, the fastest growing segment, US Stem Cells, is facing newer issues, which is shaping the market landscape. Although companies are starting to provide clinical evidence for cellular allografts, some are predicting that it may be too late. Needham's 2017 NASS Annual Meeting Highlights reports that there is a growing backlash against stem cell allografts combined with intensifying competition, causing sales of these products to...
Read entire Market Recap including news, data and analysis*...
*This article can only be viewed by SmartTRAK subscribers to this module.