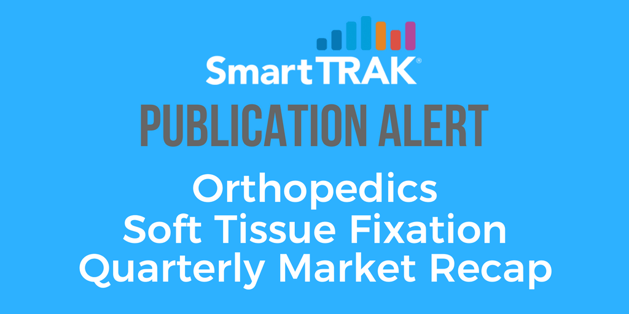 Q317 Soft Tissue Fixation Market: Flat Growth vs Q217
The Soft Tissue Fixation Market saw flat QoQ growth in Q317, as a mix of supply chain issues, increasing competition, specialized sales forces and seasonality caused the major players to take one step forward and one step backward during the quarter.
By Kristina Meyer, Sr Analyst, Sports Medicine
Although soft tissue fixation growth in the US was up YoY, growth was nearly flat as compared with Q217. In a specialty where many surgeries are elective, seasonality plays a part. Case volumes often dip during summer months as both surgeons and patients take vacations. In contrast, case volumes typically rebound heavily in Q4 as deductibles renew the first of each year. Most of the major players in the soft tissue fixation market, including Arthrex, Smith & Nephew (SNN), Zimmer Biomet (ZBH) and CONMED Linvatec (CNMD) took one step forward in Q317 and one step back.
From continued supply chain issues at ZBH to the launch of competitive products beginning to affect Arthrex's market share, companies did not report bounding growth in Q317 as they had in Q217. While SNN remains the industry leader in meniscal repair devices, acquisitions and competitive focus is beginning to shift market share. On the opposite side, specialized sales forces seem to be driving growth as they focus on the sports medicine products exclusively...
Read entire Market Recap including news, data and analysis*...
*This article can only be viewed by SmartTRAK subscribers to this module.