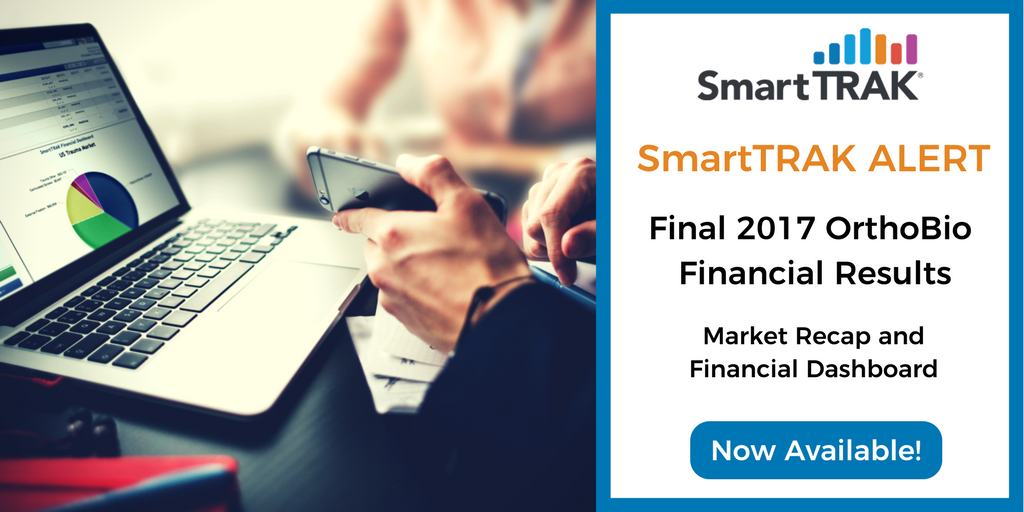 Gains in sports medicine, extremities, advanced biologics and joint fluid offset softening spine market
SmartTRAK, the leading source of competitive life sciences intelligence used by the top ten global orthopedic & wound care companies, has published its 2017 OrthoBio Market Recap and Financial Dashboard.
Despite some challenges in 2017, the US OrthoBio market finished strong, growing 5.3% to $3.46B. Gains in Sports Medicine, Extremities, Advanced Biologics and Joint Fluid countered the softening Spine market and lower growth rates of core biologics. Positive results stemmed from incremental pull through revenue from synergistic sales strategies, entry of new companies, introduction of new products, growth in new surgeon users and use of biologics in non-traditional applications ...
Among the topics covered in the Q417, FY17 OrthoBio Market Recap are:
US Stem Cells
US Bone Growth Factors
US Synthetics
US DBM
Reimbursement, Clinical Evidence Factors in Cartilage Replacement
ASPs and New Indications Boosts Soft Tissue Replacement Segment
Strong Q417 for US Meniscal Implant Market
Q417 Regulatory Highlights

Read the entire Market Recap including the news, data and analysis *...
*This article can only be viewed by SmartTRAK subscribers to this module. For information on how to subscribe, please click the button below.