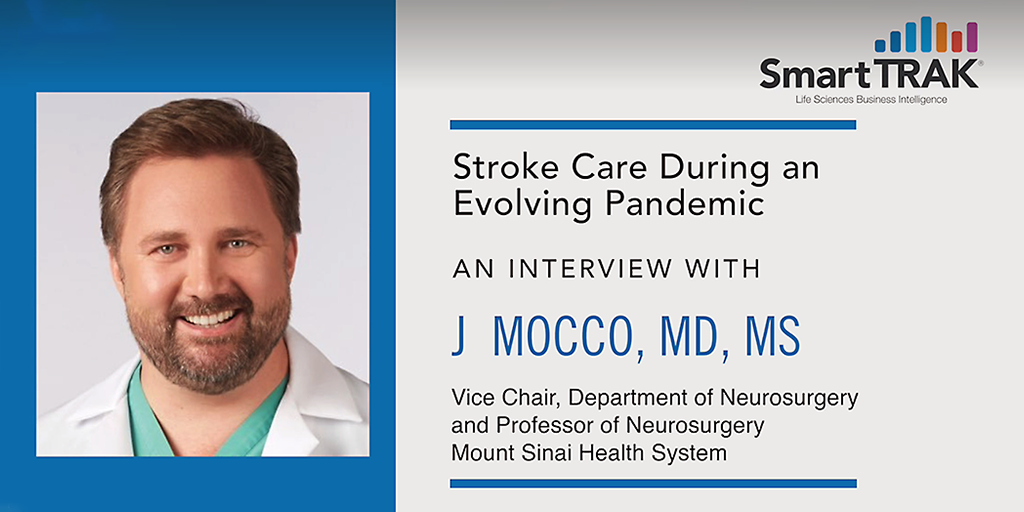 J Mocco, MD, MS discusses how an evolving pandemic is affecting stroke care in an interview with SmartTRAK
The COVID-19 pandemic has dramatically disrupted health care around the world and is wreaking havoc on medical device markets. In the US, social distancing and other mitigation efforts have helped flatten the curve and many states are now working toward reopening their economies.
The pandemic continues to evolve and its impact on healthcare delivery systems is rapidly changing. Elective surgery has re-started again in many states and hard-hit places like New York City have seen COVID-19 cases peak and start to trend downward. So how are these trends affecting stroke care? Why are strokes up in some regions but down in others? When will neurointerventional procedure volumes return to pre-COVID levels? To find out the answers to these questions and more, SmartTRAK talked with J Mocco, MD, MS, Vice Chair, Department of Neurosurgery and Professor of Neurosurgery at Mount Sinai Health System in New York City.
To listen to the interview recorded via Uberconference on Monday May 11, click on the following video. A transcript of the interview can be downloaded here.
SmartTRAK: Thank you so much for talking to me today. You have been quite busy and thank you for all that you're doing for everyone on the whole COVID-19 front. I've talked to a lot of physicians and asked them about how COVID-19 has impacted neurovascular. And shockingly, people aren't going in from what I understand. They're putting off and delaying seeking treatment for a stroke. A lot of physicians I've talked to in New York and in New Orleans and different areas of the country said that their neurovascular volumes have dropped. A lot. That was in April.
But I hear mixed things. I've heard it's a prothrombotic condition; therefore, people are seeing more cases. In Miami, when I talked to a doctor there, he said they were seeing more cases in April. And then when I talked to someone else again in New Orleans, he said they were down 30 to 50%, but now they're kind of trending back up to the pre-COVID levels. What is your experience in New York or where do you see all that?
J Mocco, MD: Well, it's a fantastic question. I think there's no question that over all neurovascular procedures, the numbers went substantially down, but that's because all elective procedures were halted. When you're just talking about neurovascular procedures and the relative impact that physicians realize and see to their daily lives, not doing elective treatment of aneurysms and AVMs and other neurovascular diseases certainly is significant. And as elective procedures have been halted in most parts of the country for the last number of weeks, that's a real effect ...
If you would like to download the complete transcript of the interview with Dr. Mocca, please click the button below.
---
SmartTRAK is a comprehensive, easy-to-use, business intelligence solution that networks an entire organization with real-time market data and analysis. Used by the 8 of the top 10 orthopedic companies and by 15 of the top 15 advanced wound care companies, SmartTRAK transforms the delivery of healthcare business information into a cost-effective solution for life science corporations to increase proficiency, improve productivity and reduce cost.