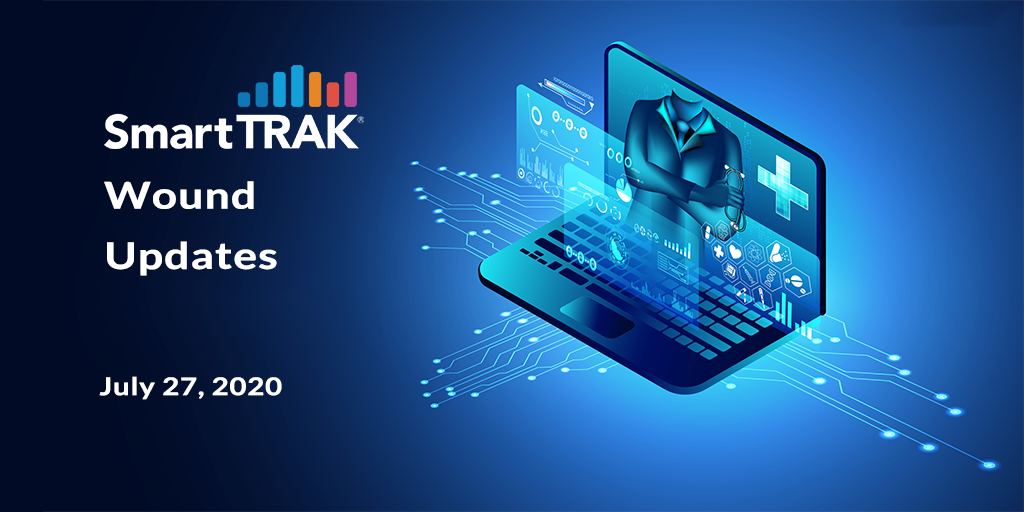 As the COVID-19 continues to affect every aspect of life, the MedTech industry perseveres in its attempt to adapt and continue moving forward. SAWC and the Wound Healing Society held the SAWC Spring 2020 as a virtual experience on July 24-26. In their words "At a time when so much else is canceled, the work to treat, manage, and prevent chronic wounds and improve patient care cannot stop. Hope must go on."
The following is a small sampling of the updates compiled, reviewed and posted in real time last week by our SmartTRAK analysts, including many from SAWC 2020. We constantly monitor the worldwide MedTech industry, sifting through the noise to present to our subscribers the most relevant international news, trends, financial data and competitor developments in the global Life Sciences industry.
COVID-19 and Chronic Wound Patients
Dr. Margaret A Liu, an expert in vaccines and immunotherapies, provided an excellent presentation on the intersection of vaccine technologies for COVID-19, disease pathology for pts w/ chronic wounds, and how it fits together with a global pandemic. SAWC 2020 Virtual
NPWT Innovation and Research
At SAWC Spring 2020 Virtual, a session titled "NPWT: Getting The Most Out" noted that more innovation and research is needed on dressing instillate monitoring, how often to change a canister, identifying infection w/in wound exudate and whether to use wound cleanser vs saline.
Aroa Biosurgery
*
Aroa Biosurgery introduced Myriad, an engineered extracellular matrix for soft tissue repair, reinforcement and complex wounds – primarily to be used in the OR - in a presentation at SAWC 2020 Virtual.
NPWT w/ Irrigation or Instillation (NPWT-I)
At SAWC Spring 2020 Virtual, a session on new technologies for the management of diabetic foot (DF) discussed studies comparing NPWT-I vs NPWT alone. The presenters concluded there is no difference in clinical outcomes in DF infections or in wounds at various anatomical sites.
Vacuum-Assisted Closure w/ Continuous Mesh-Mediated Fascial Traction (VACM)
A 676-pt study examined the risk factors associated w/ failed delayed primary fascial closure and for mortality in pts treated w/ open abdomen (OA). superior role for VACM methodology in terms of successful primary fascial closure and increased survival in pts with OA. JTACS
PI During COVID-19
In the opening session at SAWC Spring 2020 Virtual, during COVID-19 to prevent pressure injury (PI) silicone foam dressings are being applied for PI prevention for pts in the prone position and thin, silicone foam dressings are being hand-cut for clinicians to place under PPE.
Establishing CVC teams during COVID-19
A plan for CVC line team implementation should be established for future healthcare emergencies including staffing, a dedicated line cart, recommendations on the optimal anatomic site and technique, as well as a method to track complications. J Vasc Surgv
Tele Wound Care
At SAWC Spring 2020 Virtual, a session on Tele Wound Care reported that Medicare pays the same amount for telehealth services as it would if the service were furnished in person, however, the presenter noted that this will probably not continue as CMS considers the fiscal impact.
SAWC Spring 2020
At SAWC Spring 2020 Virtual, a session titled Assessment and Differential Diagnosis of Lower Extremity (LE) Wounds noted that 45–75% of LE wounds are venous ulcers, 4–20% are arterial ulcers, up to 26% are mixed, 7–14% are atypical and 15-25% are diabetic ulcers.
Low-Level Laser Treatment (LLLT) in Head and Neck Lymphedema
A 30-pt study will evaluate the impact of LLLT vs wait-list control on changes in severity of lymphedema. The primary outcome measure is % of pts w/ reduced severity of lymphedema and fibrosis. The est study completion date is Mar 31, 2022. clinicaltrials.gov
Apligraf* - Organogenesis*
A retrospective analysis of data from the US Wound Registry on 1,296 refractory PrUs comparing Apligraf (BLCC) to PriMatrix (FBCD) in the tx of these ulcers found a significantly reduced closure rate for Apligraf over PriMatrix at 12, 18 and 24 weeks. SAWC 2020 Virtual CR-004
*These links can only be viewed by SmartTRAK subscribers. For more information on how to receive a demo and subscribe, please click.
---
SmartTRAK is a comprehensive, easy-to-use, business intelligence solution for the Life Sciences Industry that provides breaking updates on pertinent company news, potential treatments and guidance, international survey results, statistical analysis and impact by country, studies, trial results, financial impact and more. All subscribers receive a Daily Updates email containing the latest need-to-know news curated by our expert analysts. It's the perfect way to start your day! If you would like to see our latest information and analysis regarding COVID-19 or request a demo to see all SmartTRAK has to offer, just click the button below.