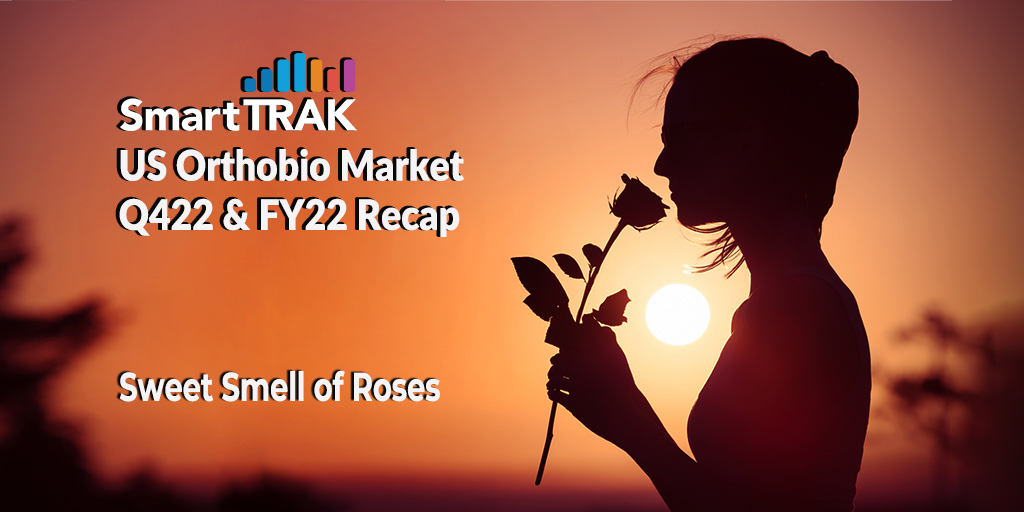 Total Orthobio market bouncing back and coming through 2022 smelling like a rose for the 2nd year in a row.
The US Orthobiologics (Orthobio) market performed well during Q4 and for FY22, and the sweet smell of roses seemed to celebrate a rebound to the market, with elective procedure recovery, new product launches, and pull-through from enabling technologies as drivers to growth and positive momentum. Q422 saw growth in all but one segment of the US Orthobio market, which somewhat offset a stronger finish of the quarter and of the year 2022. Nevertheless, Q422 and FY22 closed on high notes.
Among the many topics covered in detail in our comprehensive Q422/FY22 OrthoBio Recap* are:
Complete Q422 Trauma Market Overview and Highlights
SmartTRAK's Expert Market Analysis and Insights
All Company News, Revenues, Data, Charts and Shares
US Bone Replacement

Good Momentum as Spine Rebounds and Products Launch

US Cartilage Replacement

Procedure Volumes Stabilizing

US Soft Tissue Replacement


Winter Months More Like a Sunny Day Rose Parade

US Meniscus Replacement

Growth Dampened by a Non-Blooming Group of Small Players
In addition to the previously mentioned market growth drivers, and as SmartTRAK highlighted in its latest trends article, "What Lies Ahead for Orthobiologics in 2023 and Beyond",* other contributing factors of growth in 2022 and indicators of future growth in the US Orthobio market, included a tremendous level of M&As, strategic alliances and investments in new technologies. Overall, the US Orthobio market performed above expectations and ...
Read the entire Q422 Orthobio Market Recap, including SmartTRAK's expert analysis, news, data, charts, company revenues and shares.*

*These links and the complete unedited article can only be viewed by SmartTRAK subscribers to this module. For more information on SmartTRAK, including how to receive a demo and subscribe, please click the button below.
---
SmartTRAK is the Medtech industry's only global Insights-as-a-Service solution for the Orthopedics, Wound Care, Regenerative Medicine and Neuro Therapy markets. SmartTRAK's propriety methodology turns disparate data from hundreds of sources into powerful insights customers can rely on as the trusted source for strategic decision-making. The SmartTRAK enterprise platform includes rich daily updates, comprehensive market coverage and simple-to-use tools and dashboards for market, product and financial analysis. Customers leveraging the SmartTRAK platform also have direct access to market experts for inquiries and advisory services. If you would like a demo of what SmartTRAK has to offer and see how we can help increase proficiency, improve productivity and reduce costs for your company, just click here.