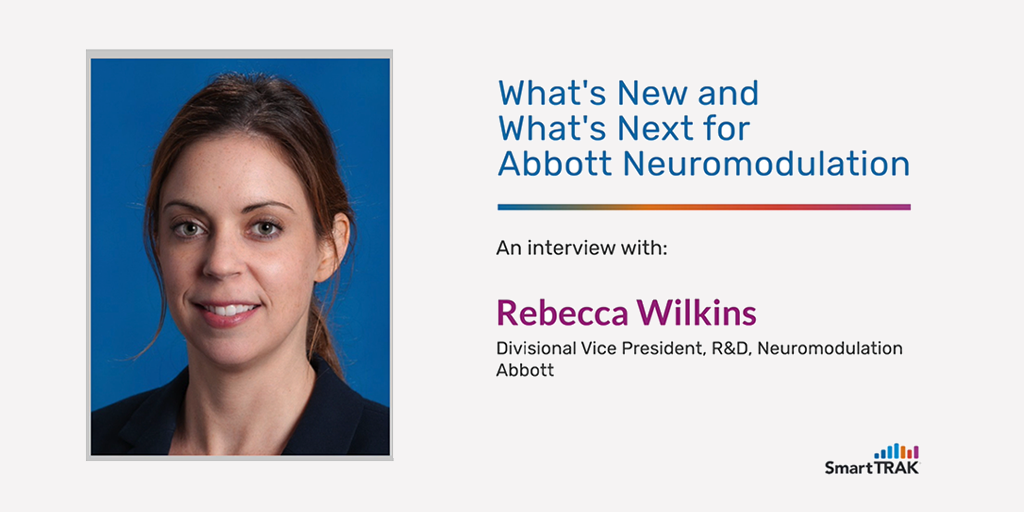 Rebecca Wilkins, DVP R&D Neuromodulation for Abbott, discusses the Eterna SCS, strategies for penetrating the market for PDN, the latest initiatives for DBS and DRG and what's next for the Company in an interview with SmartTRAK.
Rebecca Wilkins, Divisional Vice President, Research and Development, Neuromodulation at Abbott, discusses Eterna, the Company's newest rechargeable spinal cord stimulator, strategies for penetrating the market for painful diabetic neuropathy (PDN), the latest initiatives in deep brain stimulation and what's next in terms of research and innovation an interview with SmartTRAK.
To find out more, listen to the interview by clicking on the following video (19:41 min). A link to download a complete transcript of the interview is also provided below...just click Continue Reading.


SmartTRAK: Anne Staylor here with BioMedGPS. Today, I have the pleasure of speaking with Rebecca Wilkins, Divisional Vice President, R&D Neuromodulation at Abbott. Rebecca, thank you for talking to me today.
Rebecca Wilkins: Hi, Anne. It's great to be here.

So, I know we came off of NANS recently and before we get into the research on that, you have a couple of news items I think we should address. We want to talk a little bit about the Eterna SCS system, your newest rechargeable offering for spinal cord stimulation, and also you received approval for diabetic painful neuropathy indication for the Proclaim XR. So, let's start with Eterna SCS system. Can you discuss the technology itself and where you're at in the product launch?
RW: I would love to. Eterna, we've been working on that for a while and we're really, really proud of Eterna. Just before the end of 2022, we announced FDA approval for this new spinal cord stimulator. It is the world's smallest implantable rechargeable system to treat chronic pain. It's got a few key features that I think are really unique in the market. One, of course, is that includes our proprietary BurstDR waveform, which mimics natural firing patterns found in the brain, but also it has really great low recharge requirements.
We spent a lot of time working with physicians, patients, customers to understand what the unmet needs were around charging and this is very unique. You will only need to recharge as few as five times a year under standard stimulation settings. So, it's really great technology with very little charging burden for our patients. It also includes our TotalScan MRI technology, which allows for full-body MRI scans. Obviously, that's really important for our chronic pain patients and their diagnostics and it's an upgradable platform so we can adapt future innovation without replacing the implant, which we always believe is important because we're obviously committed to continuing to innovate. And then, we're building off of our digital leadership. And so, you get real-time status of your implant and your charging system through a kind of patient-focused mobile app on an Apple device.
Eterna is quite the name, of course. It sounds eternal. How many years is it at standard use?

RW: It's 10-plus years and it can run all the way down to zero volts and be recharged again. So, it's really the latest in battery charging technology.

This is new. I know you've had an approach where you wanted the patient not to have to think about their device and all that. So if this is a rechargeable, I know five times a year doesn't seem like very much, but how do you think this will impact your other product lines?

RW: This is a comprehensive portfolio and I think they allow for different options for our patients. For instance ...
To download and read the complete transcript of the "What's New and What's Next for Abbott Neuromodulation" interview with Rebecca Wilkins, Divisional Vice President, R&D Neuromodulation at Abbott, just click the button below.
---
SmartTRAK is the Medtech industry's only global Insights-as-a-Service solution for the Orthopedics, Wound Care, Regenerative Medicine and Neuro Therapy markets. SmartTRAK's propriety methodology turns disparate data from hundreds of sources into powerful insights customers can rely on as the trusted source for strategic decision-making. The

SmartTRAK

enterprise platform includes rich daily updates, comprehensive market coverage and simple-to-use tools and dashboards for market, product and financial analysis. Customers leveraging the

SmartTRAK

platform also have direct access to market experts for inquiries and advisory services. If you would like a demo of what

SmartTRAK

has to offer and see how we can help increase proficiency, improve productivity and reduce costs for your company, just click here.