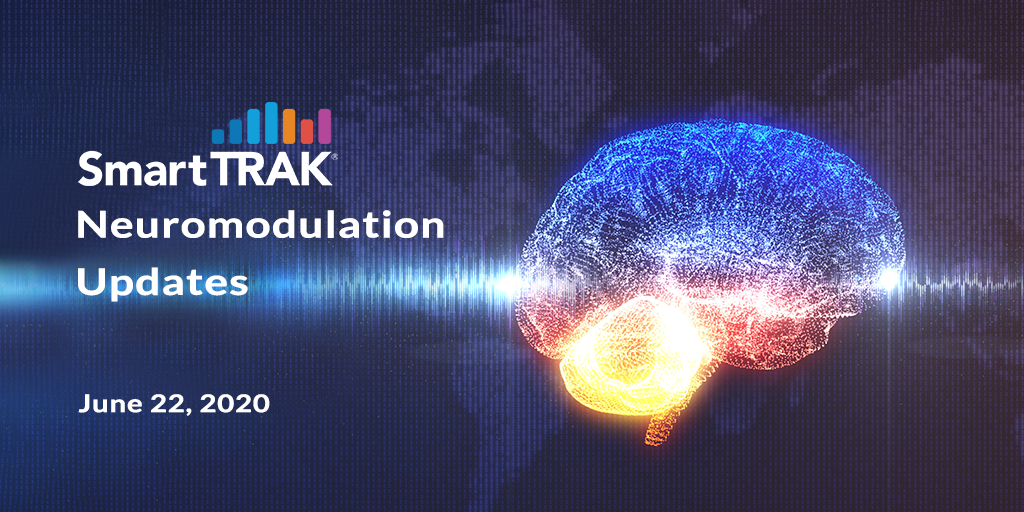 This week, our expert analysts have sifted through the noise to present some of the latest product developments and clinical trials from the Neuromodulation industry. At SmartTRAK, our analysts constantly monitor the worldwide MedTech industry to present real-time news, analysis and financial data. All of our analysts are experts in their field, having worked in business development, marketing and competitive intelligence roles at leading medical device companies.
The following is a small sampling of Neuromodulation segment updates from the past week that were compiled, reviewed and posted throughout the day by the industry-experienced analysts at SmartTRAK:
Mainstay Medical Receives FDA Approval for ReActiv8 System
Mainstay Medical rec'd FDA approval 6/16/20 for the ReActiv8 System indicated for stimulation of the L2 medial branch of the dorsal ramus for intractable CLBP assoc. w/ multifidus muscle dysfunction. Chris Gilligan, MD-INS Webinar: Novel Stimulation Technologies-Recent Research.
Non-Invasive VNS for PTSD and Mild TBI
The VA is sponsoring a 100-pt, double-blinded study evaluating the effect of non-invasive VNS (nVNS) vs sham on memory and symptoms of PTSD and mild TBI (mTBI) as well as brain and physiology in veterans w/ mTBI and PTSD. The study starts 8/1/2020. clinicaltrials.gov
Rice-Sized Neural Stimulator for DBS
Rice University researchers demonstrated that a miniature, wireless magnetically powered neural stimulator (> 100 Hz) can provide DBS in a rodent model for Parkinson's disease and that these devices can be miniaturized to millimeter-scale and fully implanted. Neuron
Neuromodulation of Vagal and Carotid Sinus Nerves
LivaNova's US Patent Application "NEUROMODULATION THERAPY FOR AUTO-IMMUNE AND INFLAMMATORY DISORDERS" was published re stimulating multiple locations (VNS, carotid sinus nerve) to treat inflammation, sleep quality issues and symptoms of cardiovascular disease. 20200188671
Combined Spinal Fixation and Neuromodulation Procedure
SynerFuse Inc was issued US Patent "Methods and systems for implanting a neuromodulation system and a spinal fixation system at a surgically open spinal treatment site" re treating both back stabilization issues and neuropathic pain issues in a single procedure. 10,675,458
Nevro announced the Company received TGA approval and upcoming July 1, 2020 Prosthesis Listing for the Senza Omnia SCS System, allowing the Company to launch the device in Australia.
Axonics Modulation Technologies
Axonics Modulation Technologies was issued US Patent "Attachment devices and associated methods of use with a nerve stimulation charging device" related to affixing a portable charging device to the skin of a pt to align over an IMD to facilitate charging. 10,682,521
Temporally Optimized Patterned DBS
A 36-pt, randomized, crossover study sponsored by Deep Brain Innovations is evaluating new Temporally Optimized Patterned Stimulation (TOPS) in implanted DBS pts to determine if it improve Parkinson's symptoms vs standard DBS. The study starts in 6/2020. clinicaltrials.gov
Effect of Peripheral Neuromodulation on Vaginal Blood Flow
A 40-pt, randomized, crossover study is evaluating the effect of tibial e-stim followed by genital e-stim on vaginal blood flow compared btwn women w/ neurogenic (SCI) or non-neurogenic sexual dysfunction and healthy women. The study starts in August 2020. clinicaltrials.gov
Micron Medical Appoints New CMO
Micron Medical appointed Matthew Kemp as CMO. Kemp will be responsible for building Micron's commercial organization to support the intro/launch of its Protect PNS, an implantable, office-based, TNS for OAB. Prior to joining Micron, Kemp was CMO at PolarityTE and Dendreon.
---
SmartTRAK is a comprehensive, easy-to-use, business intelligence solution for the Life Sciences Industry that provides breaking updates on pertinent company news, potential treatments and guidance, international survey results, statistical analysis and impact by country, studies, trial results, financial impact and more. All subscribers receive a Daily Updates email containing the latest need-to-know news curated by our expert analysts. It's the perfect way to start your day! If you would like to learn more about SmartTRAK, just click the button below.