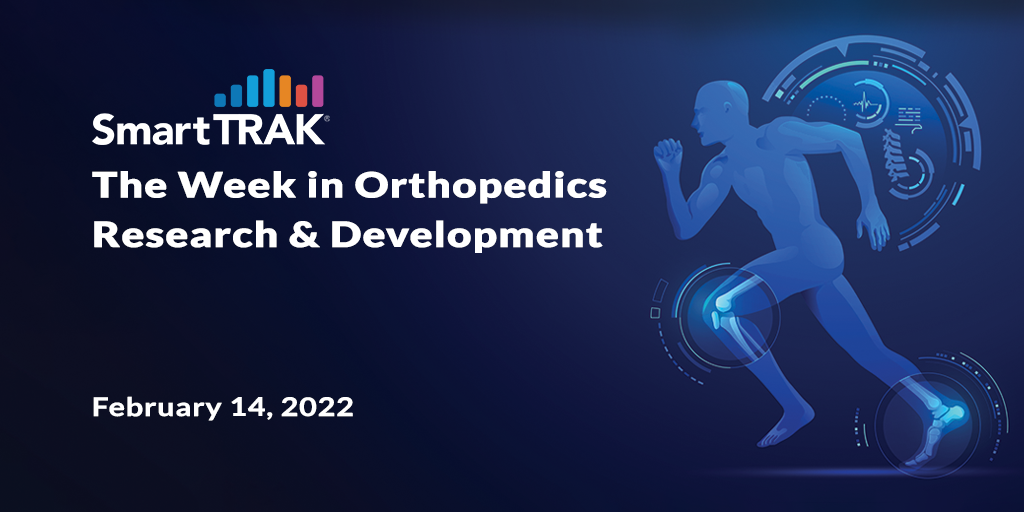 As the world slowly adapts to the "new normal", SmartTRAK continues to report daily on the challenges still ahead, covering all aspects of the Orthopedic market: Extremities, OrthoBio, Spine, Computer Assisted Surgery, Total Joints, Trauma, Soft Tissue Fixation and EU Extremities and Trauma. And, if you are going to Chicago for the big Orthopedics conference in March, visit us at Booth #4350 or you can schedule a meeting with us...just click here.
SmartTRAK features curated content by our team of industry experts, bringing the most relevant information and insight directly to you in real time. Learn about the latest news, emerging technologies or start-ups to watch, conference happenings and more via articles, videos and interviews.
The following is just a small sampling of recent Orthopedic updates from around the world compiled, reviewed and posted daily by our SmartTRAK analysts.
New Products:
Journey ll* - Smith+Nephew*




Smith+Nephew announced the first completed surgery using its JOURNEY II Medial Dished (MD) System for total knee arthroplasty. The procedure was performed by Dr. Ran Schwarzkopf, Orthopedic Adult Hip and Knee Reconstruction at NYU Langone Health.

Zimmer Biomet is anticipating the launch of Persona* cementless knees later in 2022 incorporating a design for improved press-fit fixation. The Company has < 10% penetration in cementless w/ runway ahead for the new knee to take off. ZBH Q421 Earnings Transcript on Unhedged.com

On FY21 performance, Biogennix's CEO Chris MacDuff also mentioned the Company saw increasing sales for its newest product, Agilon Moldable, esp in the F&A surgery market. The company also continued to see consistently strong growth of Agilon Moldable in the spine market segment.
Patents:
CONMED*

Conmed's US Patent Application "Dual Expansion Anchor" was published describing a suture anchor with an expanding function for biceps tenodesis. 20220039792

Expandable Intervertebral Device


A US Patent Application "EXPANDABLE INTERVERTEBRAL DEVICE," submitted by the Moskowitz Family, LLC of Rockville, MD was published describing a universal zero-profile expandable intervertebral spacer device for fusion & distraction throughout the entire spine. 20220039963

Howmedica Osteonics' US Patent Application "ORTHOPEDIC SURGICAL PLANNING BASED ON SOFT TISSUE AND BONE DENSITY MODELING" was published describing virtual surgery planning using a mixed-reality headset display. 20220039868
Studies:
Plate Fixation of Distal 1/3 Clavicle Fxs
Patients w/ displaced distal third clavicle fxs made a quicker recovery when treated w/ an anatomically contoured locking plate compared to a hook plate, although, both had similar functional outcomes & union rates at 12 mos reported a study of 30 pts. J Shoulder Elbow Surg



Midterm Outcomes And Survivorship Of Arthroscopic Elbow Debridement
The purpose of this study was to identify and compare the midterm outcomes and survivorship of arthroscopic debridement of elbow posttraumatic arthritis (PTA) and degenerative osteoarthritis (DOA).


Screw vs Plate in PCL Tibial Avulsion Fxs
A homemade hook plate is a safe & effective form of treatment for PCL tibial avulsion fxs & may have advantages over treatment w/ a hollow lag screw combined w/ a gasket according to a study of 64 pts. BMC Musculoskelet Disord
Deals/Financing:
JNJ/DePuy Synthes*




JNJ announced that DePuy Synthes acquired CrossRoads Extremity Systems for an undisclosed amount. The acquisition comes shortly after JNJ's Q421 Earnings Call during which SmartTRAK noted that JNJ's mgmt commented the Company would be more aggressive on M&A going forward.

Surgalign (fka RTI)*




SRGA

announced

that it make a $20MM public offering of its common stock & warrants to purchase common stock in an underwritten public offering & use the net proceeds for working capital and preparation for approval, utilization & development of its digital health products.




Ortho RTi*


OrthoRTI

entered

into a Material Transfer Agreement (MTA) with an undisclosed third party, which will exclusively supply a PRP system for its Phase I/II clinical trial in rotator cuff repair. The MTA also provides the third party a right of first offer for product distribution.
Clinical/Regulatory:
Episealer Talus*

-

Episurf*




Episurf Medical announced 50% of pts have been recruited to a prospective study of the Episealer Talus implant in 15 pts for osteochondral defects. The study lead is Prof Zaffagnini, from the Rizzoli Orthopaedic Institute in Bologna, Italy, supported by Dr Massimiliano Mosca.

IA Implantation of Amniotic Tissue Allograft


The Stone Research Foundation for Sports Medicine and Arthritis completed an 88-pt study, w/ the purpose to learn more info about the impact of amniotic tissue allografts on inflammatory markers and growth factors in the knee joint. No results were posted. Clinicaltrials.gov

ExactechGPS* - Exactech*
Blue Ortho received FDA 510(k) clearance for Exactech GPS Total Shoulder Application, Equinoxe Planning Software to add the humeral component for visualization, measurement and reconstruction of anatomical structures to plan glenoid & humeral components.
Markets:
TSolution One*

-

THINK Surgical*


THINK Surgical announced the completion of the first TKA on the US East Coast using the 2nd-gen TSolution One robot at Hackensack University Medical Center.

Implanet*


Implanet

announces

the first US cases with JAZZ PF, a system that allows surgeons to create custom adjacent constructs comprised of connectors, screws, tethers and buckles aiming to prevent proximal junctional kyphosis (PJK), a common condition resulting from deformity surgery.




Revenues:
Anika

*

Anika announced that the Company plans to issue its Q4 & YE21 financial results after the close of the market on March 8, 2022, and hold its investor conference call on the same day, at 5:00 p.m. EST to discuss its financial results and business highlights.

Zimmer Biomet*


Suky Upadhyay EVP and CFO of ZBH reported on the Q4 2021 earning call that excluding the impact of trauma VBP in Q4, the S.E.T. segment was growing low single digits versus 2020 and nearly flat versus 2019 on an underlying basis. Seeking Alpha

Seikagaku
Seikagaku highlighted that for the first nine months of FY21 (ended Dec 31, 2021), Supartz FX sales volume increased due to the market rebounding from the impact of COVID-19 in the previous year. Seikagaku exports increased as a result of earlier than-planned shipment of product.
* These links can only be viewed by SmartTRAK subscribers. For more information on SmartTRAK, including how to receive a demo and subscribe, please click here.

Are you going to the big Orthopedics conference in March? You can find us at Booth #4350 or you can schedule a meeting with us to find out what SmartTRAK can do for you...just click the button below.

---
SmartTRAK is a comprehensive, easy-to-use, business intelligence solution for the Life Sciences Industry that provides breaking updates on pertinent company news, potential treatments and guidance, international survey results, statistical analysis by country, studies, trial results, financial impact and more. All subscribers receive a Daily Updates email containing the latest need-to-know news curated by our expert analysts. It's the perfect way to start your day! If you would like to learn more about SmartTRAK, just click here.
---