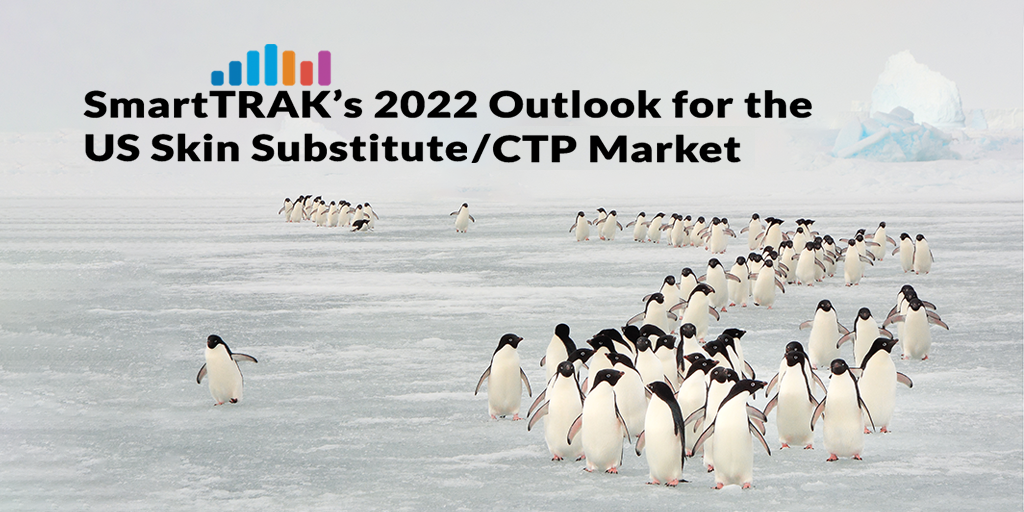 From Site of Care Migration to the Impact of Reimbursement Changes SmartTRAK evaluates market trends to watch for in 2022.
by Gary Delhougne, GM Wound

The Skin Substitute/CTP (Cellular and/or Tissue-based Products) market is undergoing significant growth and change. Reimbursement motives, COVID-19 and clinician site of care decisions had a profound impact on the market in 2020 and 2021. The growth outlook for 2022 remains strong as providers and industry adapt to unique market conditions.
SmartTRAK estimates the 5-year CAGR (compound annual growth rate) through 2025 for Skin Substitutes/CTP products to be in the mid to high single digits. In 2020, industry revenue surpassed $1B and SmartTRAK expects the market to pass $1.5B by 2025.
To better understand the impact of site of care changes, SmartTRAK launched a new subscription module specifically covering site of care changes occurring in the Skin Substitute/CTP market. It's SmartTRAK's fastest-growing new product offering and you can learn more by clicking here.
As SmartTRAK looks to 2022, we see three trends to consider for the Skin Substitute/CTP market – procedures continue to shift in the site of care, the growing market continues to attract new entrants and this could be the year that CMS changes its hospital outpatient reimbursement policy.
Trend #1: Skin Substitute/CTP Site of Care Shifts
While the market continues to grow, the sites of care where procedures are performed and company revenue obtained is changing rapidly. Skin Substitute/CTPs are primarily used in the hospital surgical suite or operating room, hospital outpatient departments (Wound Clinics), physician offices, and in distinct locations like burn units or burn hospitals and government-run entities like the VA. The shift in Skin Substitute/CTP procedures away from traditional hospital-based clinics to the physician office accelerated in the past year and SmartTRAK expects this trend to continue in 2022.
For those patients in whom an office-based procedure is appropriate, clinicians are retaining more of those patients in their office. The physician office can be a lower-cost site of care to payers because the traditional costs of a hospital-based procedure are reduced in the office while allowing the physician to retain more reimbursement and control of the patient's treatment.
Growth in revenue for physician office (especially podiatry, dermatology and plastic surgeon offices) procedures are captured by companies with a commercial channel specifically directed to the office setting. As SmartTRAK previously reported, organizations like Organogenesis* reaped the reward in 2020 and 2021. Other companies with a significant focus on the physician office setting are MiMedx* and Smith+Nephew* (SNN) and smaller revenue competitors like StimLabs*, Tides Medical* and others.
Trend #2: New Market Entrants
In 2014, when CMS initiated its HOPD (hospital outpatient departments) payment methodology of high and low buckets, there were under 50 CTP products with a HCPCS code. In the 2022 HOPD payment rule, CMS listed 110 CTP products assigned to a low or high-cost bucket. While SmartTRAK expects the CTP market leaders to remain mostly the same, we do expect growth from new competitors like PolyMedics Innovations* and its Supra SDRM* product, Omeza and its Omeza Collagen Matrix and the introduction of competing products like Nanomedic Technologies' Spincare Wound Care system.
The successful introduction of new Skin Substitute/CTP products is often determined by reimbursement. The inpatient hospital surgical suite's DRG reimbursement system is an attractive market for new products as they develop evidence, pursue HCPCS codes or target more complex wound types. PolyNovo Biomaterials* and its synthetic product NovoSorb BTM* is a good example of a new, growing product leveraging inpatient reimbursement for early success.
Trend #3: Reimbursement Changes
If death and taxes are a constant in life, so too is the discussion of whether CMS will change its reimbursement methodologies in HOPDs. Despite not making a change for the current year's payment methodology, CMS has routinely discussed and then shelved ideas to reform the low-cost and high-cost payment buckets.
As each year goes by with no CMS action, the likelihood of this being the year increases. Though SmartTRAK believes current site of care treatment trends are moving cases to the physician office, there is still a sizeable amount of manufacturer revenue derived from the HOPD. (To learn more about the shift in CTP site of care revenue click here).
Companies and products in the high-cost bucket that could be affected by a payment policy change include Organogenesis with PuraPly* and Affinity*, MiMedx with EpiFix*, SNN with Grafix* and Integra LifeSciences* with PriMatrix8. Conversely, SNN could benefit from a reimbursement change for its xenograft Oasis*.
Finally, though CMS routinely discusses HOPD payment policy changes some suggest that changes could be coming to the Medicare Physician Fee Schedule. As more Skin Substitute/CTP cases move to the physician office, it is possible CMS evaluates its payment policy within a burgeoning payment category.
*These links can only be viewed by SmartTRAK subscribers. For more information on SmartTRAK, including how to receive a demo and subscribe, please click here.
---
SmartTRAK now offers Skin Substitutes (CTP) Site of Care. This module will make you an expert in Site of Care information for the Skin Substitutes market. Receive market shares, 5-Year Growth Projections and Company & Product Performance across multiple sites of care. Download our PDF to get a preview of what's available!
---