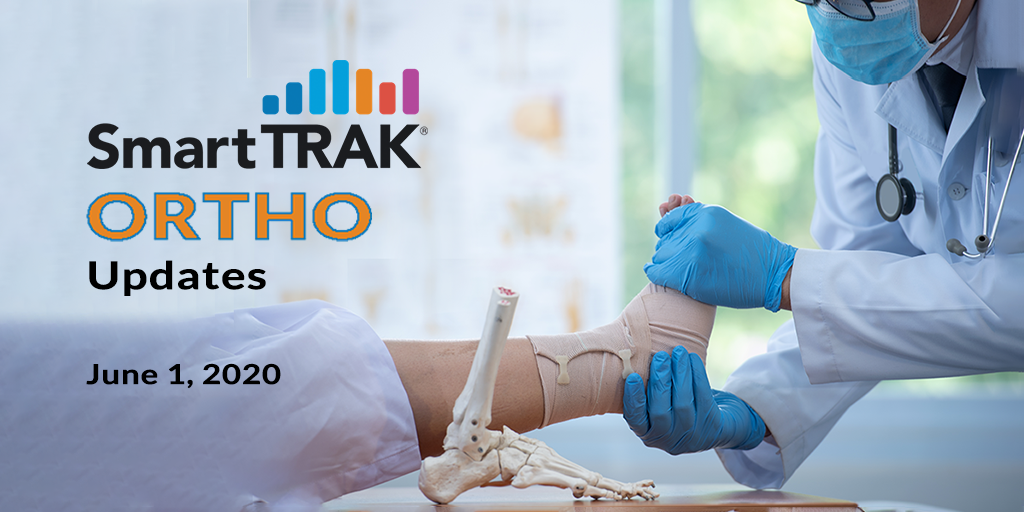 As access to healthcare continues to open up, the orthopedic industry is taking significant precautions to insure the health, safety and piece of mind of patients and caregivers and balance that with its attempt to ramp up services and procedures. The following is a small sampling of the orthopedic updates compiled, reviewed and posted in real-time by our SmartTRAK analysts, who are constantly monitoring the situation and sifting through the noise to present the most relevant news to our subscribers:
Updated Survey Data Points to Recovery by Q420
WFS' new survey of 623 US-based physicians (15 specialties) shows that in orthopedic, the % of procedures expected to be postponed due to COVID-19 for both TKR and THR declined from 94% (Wave 1) to 85% (Wave 2). WFS MedTec: Updated Survey Data Points to Recovery by Q420
Impact of COVID-19 on the Spine Market
Of deferred spinal fusion procedures, surveyed surgeons now expect 74% of cases to be performed at a later date w/ 26% cancelling. Reasons for cancellation include pt seeking treatment w/ a different surgeon (26%) and underlying condition improving (23%). WFS MedTech Survey
Robotic Procedures Affected by COVID-19
Based on its survey of 623 US-based physicians across 15 specialties between April 27 and May 8, WFS notes that in general the % of robotic & laparoscopic procedures across all specialties declined compared to pre-COVID 19 levels, while the % of open procedures increased.
Decreased Robotic Ortho & Spine Procedures During COVID-19
According to WFS' physician survey w/ 49 orthopedic & 20 spine surgeons, robotic procedures during COVID-19 decreased compared to pre-COVID levels. Results were TKA 18% pre-COVID, 8% during COVID; THA 7% pre-COVID, 3% during-COVID; Spinal Fusion 5% pre-COVID, 3% during-COVID.
Impact of COVID-19 on the Spine Market
Surveyed surgeons report that 92% of their spinal fusions were performed in a hospital setting prior to COVID-19, dropping to 78% during the pandemic. ASC procedures have increased from 8% pre-pandemic to 11% during COVID-19. WFS MedTech Survey
COVID-19 Impact on Procedure Volumes
WFS reports that surveyed surgeons believe it will take 3.4 months on avg until they are performing procedures at an equal or greater rate than prior to COVID-19. WFS MedTech Survey
Wells Fargo Survey: Hip and Knee Replacement Down -97%
A Wells Fargo Survey which included 49 ortho surgeons reported hip and knee replacements were down -97% from April 27 to May 8 due to COVID-19 w/ the percentage of procedures taking place in an ASC remaining steady and surgical consults dropping by -82% and -84%, respectively.
Ortho Surgeons Expect to Regain 85%+ of Postponed Procedures
Ortho surgeons surveyed by Wells Fargo (n=49) expect 85% of knee and 89% of hip replacements postponed due to COVID-19 to be performed w/ the estimated time needed to perform surgeries at 2-3 mos. Many expect to lose pts to alternative treatments or to other surgeons.
Impact of COVID-19 Pandemic on Spine Surgeons WW
The AO Spine COVID-19 and Spine Surgeon Global Impact Survey reported that most surgeons believe the COVID-19 pandemic will lead to changes 1 year from now, including 20% predicting increased nonoperative measures prior to surgery.

Global Spine J.

A multi-dimensional survey of 902 spine surgeons WW revealed that 67.1% of respondents reported cancellation of > 75% of their surgical cases per week in late March/early April. Global Spine J.
Impact of COVID-19 on Joint Fluid Replacement & Regen Med Injectable Markets
In a new report, SmartTRAK provides estimates for COVID-19's impact on US Joint Fluid Replacement and Regen Med Injectable markets in the short term. Impact of COVID-19 on the US Joint Fluid Replacement and Regenerative Medicine Injectable Markets for Knee OA​
---
SmartTRAK is a comprehensive, easy-to-use, business intelligence solution for the Life Sciences Industry that provides breaking updates on pertinent company news, potential treatments and guidance, international survey results, statistical analysis and impact by country, studies, trial results, financial impact and more. All subscribers receive a Daily Updates email containing the latest need-to-know news curated by our expert analysts. It's the perfect way to start your day! If you would like to see more of SmartTRAK's latest COVID-19 coverage and resources, just click the button below.