Push Pull Trends in Joint Replacement Market Keep Growth Steady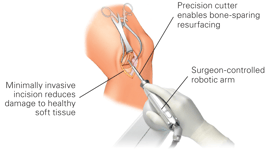 Over the next twelve months, BioMedGPS projects the US Joint Replacement Market will grow in the low single digits at approximately 3%. This slow but steady growth is consistent with past years as the push pull of market trends keeps it in check. Gaining share in this era will require companies to navigate the changing political and economic landscape and to deliver solutions beyond launching the latest widget...
Trend #1: Move from ACA to Repeal & Replace Little Impact on Procedure Volumes
Wall Street Analysts including Wells Fargo's Larry Biegelsen reported underperformance in the overall MedTech sector following the US election due to uncertainty over the future of the ACA. As the GOP moved to repeal the ACA and worked to develop a replacement plan, most analysts expected market uncertainty through mid-2017. However, with this movement repeatedly stalling out, there has been little effect on the market.
For major joint replacement companies the ACA, with the estimated 20MM lives gaining insurance through the program, did not bring a plethora of new patients to the adult joint reconstruction market. Reinforcing what BioMedGPS has heard from other Companies, Stryker CEO Kevin Lobo in an interview with CNBC reported the Company did not experience an impact in terms of increased procedure volumes even though more people were insured under the ACA. J&J CEO Alex Gorsky at JP Morgan's 2017 Healthcare Conference also commented that the ACA did not drive procedural volume increases. Given the relatively insignificant impact the ACA had on procedural volumes, don't look for a new healthcare initiative to make a significant impact either.

Trend #2: CMS's CJR Program Increasing Pricing Pressure and Delaying Surgeries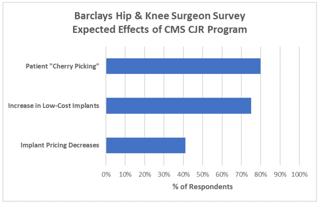 As CMS's Comprehensive Care for Joint Replacement (CJR) program was being implemented early 2016, initial theories about how the program would affect the hip and knee replacement market were mixed. In April, Bank of America's Joanne Wuensch talked with healthcare professionals who predicted providers would focus on reducing post-acute care costs, not implant pricing. This report was consistent with chatter BioMedGPS heard during discussions with surgeons and industry insiders at AAOS 2016, who also expressed concern that the program could result in "risk shedding." During an AAOS press briefing, Dr. Thomas Barber, Chair of the AAOS Council on Advocacy, also expressed concern hospitals could delay or even deny joint replacement surgery for higher risk patients, including smokers, the severely obese, and those with complications and other comorbidities. As 2016 progressed, early speculation about implant pricing pressures remaining steady became a reality with most major industry players reporting continued negative pricing in the -1% to -2% range. Fears of off-loading more difficult patients seemed to die down and there were virtually no signs the program had a major effect on procedural volumes.
However, as the program enters its second year, clinicians and others in the industry now seem to expect CJR to push implant prices even lower and to increase wait times for sicker patients. In a Barclays survey of 51 US Hip and Knee surgeons, 41% expect a -1% to -5% decrease in implant pricing, 75% believe the program will lead to increased use of low-cost implants, and 80% expect it to result in patient "cherry picking." According to a Needham report on physician preference items, David Forquer, a consultant with GPO Intalere, also believes CMS's CJR bundled payment program could cause hospitals to revisit implant pricing. He notes it would be hard to squeeze another 10% of savings from implant cost and that surgeon incentive to cooperate is low as gainsharing would only benefit them from switching to lower cost implants in the first year. With healthcare provider concern shifting to implant pricing, BioMedGPS expects pricing pressure to take the form of increased use of low-cost more "generic" implants in low demand patients with overall implant pricing to remain in the low single digits.
Trend #3: Additional Focus on Value-Based Care Initiatives Will Be New Marketing Tool
In 2016, CMS's CJR program brought additional attention to bundled payment programs and more private payors are likely to follow suit with similar economic models. As previously outlined in SmartTRAK Perspective Value Based Care: Changes, Challenges and Opportunity, several companies promoted their solutions for assisting healthcare providers respond to the challenges of value-based care including Zimmer Biomet, ConforMIS, Stryker and Medtronic. Joining the pack in January, J&J Medical Devices/DePuy Synthes announced the launch of CareAdvantage, a data-driven approach to help health systems address the shift from volume to value-based delivery models. The Company also announced its Orthopaedic Episode of Care Approach, an offering under the CareAdvantage program, to help health systems meet goals for value-based care models such as CMS's CJR and the Surgical Hip and Femur Fracture Treatment models.
BioMedGPS feels the shift away from fee-for-service payment models will continue in both private-pay and government sectors as more studies show both the economic and clinical benefits of value-based care. And, in response, additional orthopedic companies are likely to develop and launch programs to turn this trend into an opportunity for growing their business. As results from two recent studies show, bundled payment initiatives have affected change both economically and clinically:
Bundled payment initiatives at Baptist Health System reduced Medicare expenditures for episodes of total joint replacement (TJR) without complications (n=3738) by an average 20.8% from 2008 to 2015 with a 29% overall reduction in per case implant costs, according to an observational study of >3.9K pts. JAMA Internal Medicine

Mid-term results from a large, tertiary, urban academic med center participating in CMS's Bundled Payments for Care Improvement initiative for TJR demonstrated decreased LOS, discharge to inpatient post-surgery rehab facilities, and episode of care cost in year 3 compared with year 1. J Bone Joint Surg Am
Trend #4: Procedures to Continue Shifting to Outpatient Setting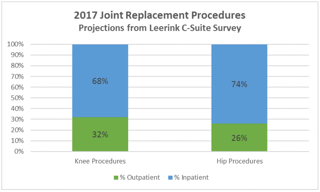 Hip and knee replacement procedures will continue their move to outpatient settings as more research shows this is an efficacious option for the right patients. A recent study published in the Journal of Arthroplasty found outpatient TJR alone did not increase risk of readmission or reoperation, and was a negative independent risk factor for complications leading researchers to conclude the outpatient setting is a safe option for select, healthier patients.
Hospital administrators also expect this trend to continue. In a Q416 Leerink poll of 43 hospital administrators, including C-suite, hospital purchasing or senior hospital administrators, respondents predicted a more gradual shift to outpatient joint surgery over the next 12 months than during the previous year. They forecasted the percentage of outpatient knee and hip procedures for 2017 at 32% and 26%, respectively. This shift could be more dramatic if CMS would begin reimbursing outpatient total joint surgery. CMS officials have declined to provide a timeline when this reimbursement policy may change.
Trend #5: Robotics Striving to Become Mainstream
n the US, Stryker, with its MAKO technology, and Smith & Nephew, with the Navio system, have gained the most attention for their joint replacement robotics. And at AAOS 2017, Zimmer Biomet previewed their plans to develop a knee application for the Medtech ROSA robotics platform it acquired last year.
Even with more companies embracing the technology, the reaction in the market seems to be mixed. Based on a survey of 51 hip and knee surgeons late last year, Barclays reported a potential mismatch between investor expectations for MAKO robotics and market reality. Surgeon respondents pushed back on cost, lack of clinical outcomes and necessity, but felt that Stryker's MAKO Triathlon total knee application would increase adoption. Jefferies also expressed concern that repeal and replace of the ACA could affect demand for capital equipment including joint replacement robotics. In contrast, Leerink believes hip and knee robotics will help companies by facilitating better outpatient care and could potentially help them capture share in this market segment.
Recent research showing improved outcomes continues to support the move to robotics. A retroactive study published in Surg Technol Int comparing robotic THA (n=100) to conventional (n=100) found rTHA patients had a significantly higher mean postop UCLA score and modified Harris Hip score versus manual THA at a minimum 1-year follow-up, with no difference in complication rates observed between the 2 groups. In a 139-patient study, robotic-assisted unicompartmental knee arthroplasty using the MAKO system resulted in improved implant positioning compared to conventional techniques. J Bone Joint Surg Am
BioMedGPS believes joint replacement robotics will continue to gain momentum in 2017, but for the technology to become the standard of care, more hard data is needed proving economic as well as clinical benefits.