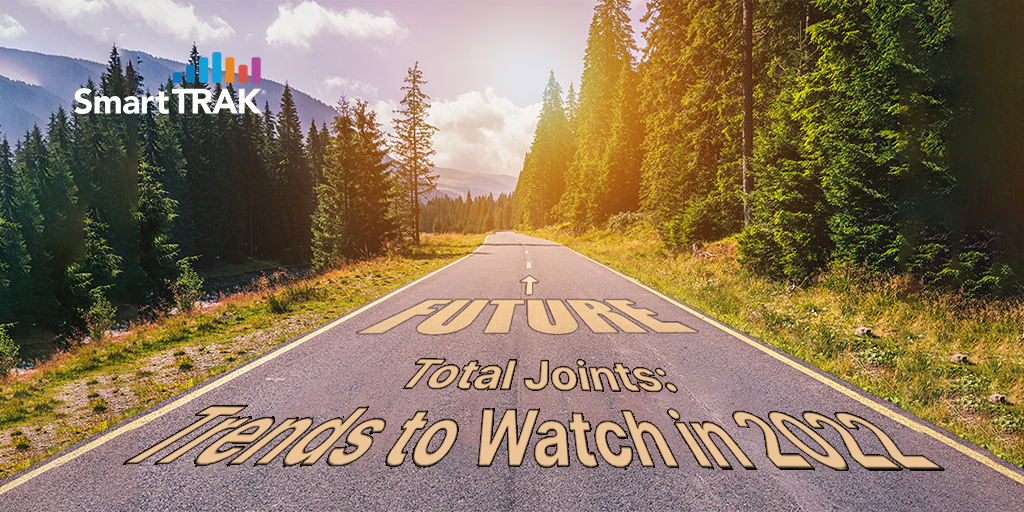 From economics to the ASC shift, SmartTRAK looks at the trends affecting the Total Joints Market
The start of the new year did not play out as so many of us had hoped. Heading into 2022, the next COVID surge reared its ugly head with the Omicron variant storming through countries around the globe. Healthcare facilities once again postponed elective procedures due to capacity issues and/or staff or patients being diagnosed with COVID. Overall inflation rose to a level that hasn't been seen since the early 1980s. Looking ahead, is there a silver lining in this dark cloud? SmartTRAK believes the forecast is not all doom and gloom. Let's look at some of the trends affecting the climate of the Total Joints market.
(Continue reading to find out how to receive FREE SmartTRAK DAILY UPDATES)
As Inflation Wanes Patients More Willing to Fund Surgery
According to a recent University of Michigan survey, consumer confidence in the economy posted a small loss in early January falling to the second-lowest level in a decade. Escalating inflation rates and the surge of Delta and Omicron COVID variants contributed to the downward shift in sentiment. Historically, consumer confidence levels are closely tied to spending especially for big-ticket items or consumption of elective healthcare services. However, a January 12th Bureau of Labor Statistics report indicates that price increases for medical services have been modest compared to food, gas and other consumer goods. Also, forecasters expect that inflation will come down in 2022 including Central Banker's projections that inflation will fall to 2.6% by year's end. As overall inflation slows, patient willingness to return for elective total joint surgery should increase.
COVID Clouds Expected to Part
Taking a quick look back to the beginning of the pandemic, Figure 1 shows that the shutdowns enacted in the US during Q220 had the single biggest effect on the US Hip and Knee Markets. COVID surges in late Q420 into 2021 slowed growth early this year. The Delta surge in Q321 followed by the Omicron surge which started in late December 2021 dampened the expected recovery of elective procedures. However, the encouraging news is that as COVID cases wane, procedures begin to return to pre-COVID levels.
With hospitals in various regions across the country postponing elective procedures again in late Q421 and into 2022 due to the Omicron surge, it can be hard to be optimistic. Add to that staffing shortages and supply chain issues, the forecast could look gloomy. But we are due for a change in the weather. The Institute for Health Metrics and Evaluation's (IHME) current projection models show that COVID cases in the US peaked in mid-January and are expected to drop off by April. IHME also forecasts hospital resource usage, which follows case trends by a few weeks, to peak before the end of January with a steep drop through March. This bodes well for the Total Joint Market in Q2 and Q3 with the likely return of elective procedures if healthcare facilities can manage staff burnout and shortages.
Looking ahead, most models only forecast cases out five to six months. But in general, many scientists expect COVID to move from pandemic to endemic during 2022 and become a disease that is managed similar to the flu. More new treatments are on the horizon which should mitigate severe cases and hospital overcrowding due to COVID. And, Pfizer reports that its new COVID-19 pill, Paxlovid, which is already on market for high-risk patients, is effective against the Omicron variant. As new treatments and vaccines come to market, recovery of elective joint replacement procedures seems inevitable. However, like the flu, COVID cases are likely to surge again next winter and could impact the market in Q422.
Effects of Ongoing Shift to Outpatient Setting
The continuing shift of hip and knee replacement procedures to the outpatient setting for appropriate patients will continue in 2022. However, the shift also influences other aspects of the market. The shift has and will continue to influence marketing and product development trends. One strategy is to cross-market products. For example, Stryker continues to be aggressive in selling its entire portfolio of products to ASCs. In addition to implants, the Company can cover the needs of an ASC from beds and stretchers, to OR equipment, instruments and robotic surgery solutions (MAKO). Moves to bundle products with reduced contract pricing can undercut competitors. Others are leveraging connections along with product offerings. For example, Smith & Nephew has brought together its Ortho and Sports Med franchises together under a single leader. The move is expected to help the Company leverage the deep relationships its Sports Med division has within ASCs to capture hip and knee business.
SmartTRAK believes the shift in site of care will continue influencing product trends. One example is the growing popularity of cementless knees. SmartTRAK currently estimates the cementless knee market is growing at a 5-year CAGR near 17%. Smith & Nephew is one company looking to leverage this growing popularity of cementless knees in 2022. The Company expects its LEGION CONELOC Cementless knees along with its SYNC Performance streamlined instruments to drive business in the ASC setting as an economic option. The focus is on reducing costs by removing the need for bone cement and shortening OR times. Smith & Nephew also plans to add an application for its cementless knees to its CORI robotics system in 2022. Another ASC-focused strategy worth watching is ConforMIS' new business model, Image-to-Implant Premium Service. Earlier this month, ConforMIS launched the offering which enables facilities to offer patients an out-of-pocket upgrade to its customized Identity knee. ConforMIS expects a full roll-out of this program, which was specifically tailored to the outpatient setting, to its existing customers by September.
If you want to Be the Ortho Expert who develops the Next Big Thing, just click the button below to sign up for 30 days of Free SmartTRAK Updates and a 15-minute Crash Course where you'll learn:
The kinds of products you should be developing

What very few people know about the world of Ortho

How you can position yourself as the Expert who develops The Next Big Thing
---
SmartTRAK
is a comprehensive, easy-to-use, business intelligence solution for the Life Sciences Industry that provides breaking updates on pertinent company news, potential treatments and guidance, international survey results, statistical analysis by country, studies, trial results, financial impact and more. All subscribers receive a Daily Updates email containing the latest need-to-know news curated by our expert analysts. It's the perfect way to start your day! If you would like to learn more about SmartTRAK, just click
here
.