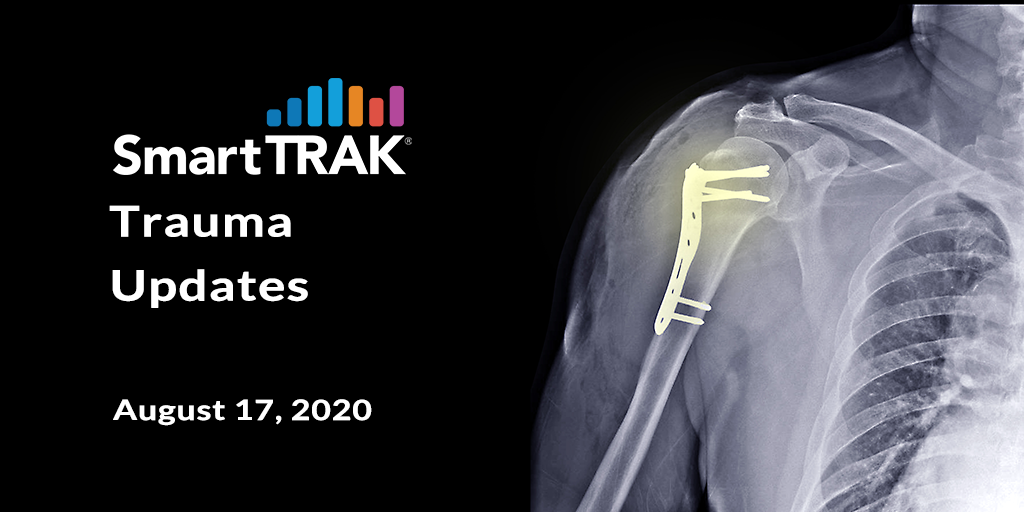 Although COVID-19 has disrupted the medical device market, with many elective procedures being postponed, SmartTRAK anticipates the Trauma market to recover in 2021 and beyond. We anticipate that US Trauma fracture fixation procedures will be only slighted impacted by COVID-19, resulting in nearly flat YoY growth from 2019 to 2020 and believe that 2021 procedures will return to normal. This will result in 2021 procedural growth rates being inflated at ~10% and 2022 experiencing normal growth trends as volumes begin to stabilize.
The following is just a small sampling of the Trauma market updates from around the world compiled, reviewed and posted in real time last week by our SmartTRAK analysts. We constantly monitor the worldwide MedTech industry, sifting through the noise to present to our subscribers the most relevant international news, trends, new products, financial data and competitor developments in the global Life Sciences industry.
Intramedullary Device w/ a Guided Growth System
A US Patent "Intramedullary device" was granted to Sydney Children's Hospitals Network of New South Wales, AU, describing a device system & method for providing stabilization of a bone & configured to allow extension of the device w/ the growth of the bone. 10,736,674
Ilizarov Method for Nonunion of the Tibia
Union was achieved at mean length of 8.3 mos in all 102 pts w/ tibial nonunion treated w/ an Ilizarov ex fix w/ 95.1% maintaining union at least 2 yrs post treatment leading a study to conclude the Ilizarov method is an excellent long-term option. Arch Orthop Trauma Surg
Inverted or Non-Inverted Triangle Configuration for Femoral Neck Fxs
A non-inverted triangular configuration of 6.5mm screws used in the fixation of femoral neck fxs carries a higher risk of bony violation than an inverted triangle configuration concluded a study of 72 cases. J Clin Orthop Trauma
The Femoral Neck System provides superior resistance vs varus deformation & is less sensitive to variations in implant placement compared to the Hansson Pin System when used in Pauwels II femoral neck fx models according to a cadaveric study. J Orthop Translat
Tibial Fixation Plate
A US Patent Application "TIBIAL FIXATION PLATE," submitted by Steris Instrument Management Services of Mentor, OH was published, describing a plate allowing for a high proximal cut in the tibia while promoting caudal purchase of the plate on the proximal tibia. 20200253653
SNN was granted US Patent "Systems and methods for using polyaxial plates," describing plates for treating periarticular fractures or other non-full body weight bearing applications which combine polyaxial fixation w/ a low profile & enhanced contouring. 10,736,680
Orthopedic Plates w/ Anti-Back-Out Feature
A US Patent "Bone fixation systems, apparatuses, and methods with anti-back-out feature" was issued to Leith Medical of Buda, TX, describing an orthopedic plate which allows screws to be inserted perpendicularly to the bone or at an angle. 10,736,679

Rail Ex Fix for Complex Non-Union of the Tibia
Acceptable functional & radiological outcomes were observed in pts w/ complex non-union of the tibia treated w/ a monolateral rail fixator which, the study of 22 pts concluded, was simple, effective & easier to apply compared to an Ilizarov ring fixator. J Clin Orthop Trauma
IMN vs MIPO in Distal Tibia Fxs
Functional outcomes were similar in pts w/ distal tibia fxs treated w/ either an IMN or MIPO, however, duration of surgery & radiation exposure was higher in the MIPO group, leading a study of 154 pts to recommend IMN for displaced extraarticular fxs. Eur J Orthop Surg Traumatol
ESIN vs Ex Fix in Pediatric Distal Third Femoral Fxs
Excellent Flynn scores in ~90% of pts following treatment w/ an elastic stable IMN (ESIN) or ex fix for distal third femur fxs led a study of 33 pediatric pts to conclude ex fix is a viable choice of treatment in resource-challenged & austere settings. Medicine (Baltimore)
Globus Medical's US Patent Application "PROXIMAL HUMERAL STABILIZATION SYSTEMS AND METHODS THEREOF" was published, describing an IMN designed to provide stabilization for proximal humeral fractures. 20200253649
*These links can only be viewed by SmartTRAK subscribers. For more information on how to receive a demo and subscribe, please click.
---
SmartTRAK is a comprehensive, easy-to-use, business intelligence solution for the Life Sciences Industry that provides breaking updates on pertinent company news, potential treatments and guidance, international survey results, statistical analysis by country, studies, trial results, financial impact and more. All subscribers receive a Daily Updates email containing the latest need-to-know news curated by our expert analysts. It's the perfect way to start your day! If you would like to learn more about SmartTRAK, just click the button below.