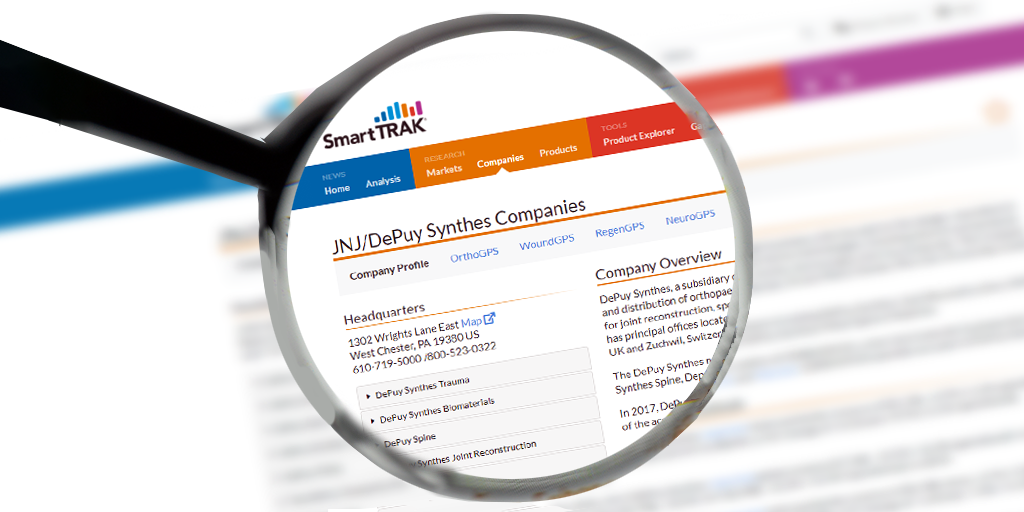 SmartTRAK highlights what's new in orthopedics, sports medicine, wound care, regenerative medicine and neuro therapies, with a spotlight on Depuy Synthes, a subsidiary of J&J. We constantly monitor the worldwide MedTech industry, sifting through the noise to present to our subscribers the most relevant international news, trends, new products, patents, research, financial data and competitor developments in the global life sciences industry.
The following is a sampling of some recent updates covering Depuy Synthes that were compiled, reviewed and posted in real-time by our SmartTRAK analysts.


New Products:
DePuy Synthes will distribute Expanding Innovations' X-Pac Expandable Lumbar Cage System in the US. The system allows for controlled expansion of both height and lordosis and post-packing of graft.
In its Q420 earnings call, JNJ touted the FDA clearance of its VELYS Robotic-Assisted Solution for use w/ the ATTUNE* knee system. The Company will launch its VELYS robot for TKA in 2021, however, specific timing was not provided. JNJ Q420 Earnings Transcript on Seeking Alpha

Market:
With regard to digital, JNJ*, CEO Alex Gorsky says US penetration rate is ~10% & only a few % points globally. But given procedure trends and the Company's global footprint, he believes J&J is well-positioned in digital for long-term. JNJ Q121 Earnings Transcript on Seeking Alpha
JNJ* said that despite knee's global 9.9% decline, they expect improvement in Q2 & Q3 as patients will begin to return for deferred procedures and hospitals will work through backlogs, including in EU as vaccine proceeds there. JNJ Q121 Earnings Transcript on

Seeking Alpha

Hips returned to worldwide growth in Q121 increasing +3.2% CC driven by a combination of market recovery, focus on anterior approach solutions and demand for the ACTIS stem aided by the Company's enabling technologies. JNJ Q121 Earnings Transcript on Seeking Alpha


Deals/Financing:
DePuy Synthes announced it entered into a co-promotion agreement w/ MedEnvision to provide tools in support of the ANTERIOR ADVANTAGE Hip platform including EsySuit surgical drapes and the Gripper retractor control tool. LinkedIn


Studies:
VA-LCP Distal Radius 2.4mm* - The potential risk of flexor tendon damage is decreased w/ the use of the Volar RIM Plate w/ its smooth profile despite the plate's prominence over the watershed line leading a recent study of 84 pts to conclude it can be applied to more challenging fxs. J Hand Surg Asian Pac Vol
PFNA* - Satisfactory results w/ no occurrence of internal fixation failure can be achieved w/ the PFNA when used in the fixation of high plane intertrochanteric femur fxs concluded a retrospective analysis of 33 pts. Zhongguo Xiu Fu Chong Jian Wai Ke Za Zhi


Patents:
DePuy

's US Patent Application "HELICAL BALLOON ASSIST DEVICE AND METHOD FOR USING THE SAME" was

published

describing a more flexible device for tracking deeper than proximal cerebral vasculature.

20210128164
In May 2021, Depuy Ireland's US Patent Application "Moment Induced Total Arthroplasty Prosthetic" was published describing a prosthetic total knee replacement system. 20210137689

In May 2021, Depuy Ireland's US Patent Application "Composite Orthopaedic Prosthesis and Method of Making the Same" was

published

describing a knee prosthesis constructed of polymeric materials. 20210137690

Clinical/Regulatory
TFNA*

-

JNJ/DePuy Synthes*

-

An interventional study

began

in May 2021 to investigate the shortening & collapse of pertrochanteric fxs following surgical treatment w/ the TFNA. Schedule for completion in May 2023, the study has an estimated enrollment of 218.

clinicaltrials.gov
Study to Compare Reverse Shoulder Humeral Components - Universitaire Ziekenhuizen Leuven, Belgium, is not yet recruiting for its 300-pt interventional clinical trial focusing on reverse shoulder humeral components to compare DePuy Synthes' Delta Xtend to Zimmer Biomet's Trabecular Metal. clinicaltrials.gov
Delta XTEND Reverse Shoulder - DePuy Orthopaedics received 510(k) clearance to extend the shelf life of the Delta XTEND Reverse Shoulder from 5 to 10 yrs.
*These links can only be viewed by SmartTRAK subscribers to this module. For more information on how to receive a demo and subscribe, please click the button below.
---
SmartTRAK is the leading source of competitive intelligence used by the top global orthopedic, wound care and neuro companies. If you would like a demo of what SmartTRAK has to offer and how we can help increase proficiency, improve productivity and reduce costs for your company, just click here.