SmartTRAK's President & CEO Sharon O'Reilly attended DKOU2017, the German Congress of Orthopedic and Trauma Surgery, in Berlin Oct. 24-27, 2017 and uncovered several new and innovative orthopedic, trauma and spine technologies on the exhibit floor.

Over the next few days, the SmartTRAK blog will feature video interviews from DKOU highlighting new companies and products emerging from Europe. Yesterday we featured Christian Calame of Naviswiss: Handheld, miniaturized navigation technology for computer-assisted orthopedic surgery

Next up ...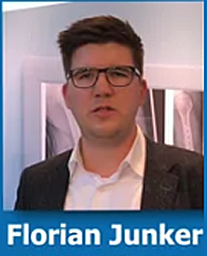 Florian Junker, Managing Director at BoneHelix: Corkscrew-shaped intramedullary rod for fixation of long bone fractures
Download PDF Transcript of Florian Junker's Interview Interview
---
Look to the SmartTRAK blog over the next few days for more fascinating videos from DKOU2017! Still to come are:

- Telos: Processing fresh bone allografts using femoral heads derived from surgical living donors
- Joline: "Quattroplasty," a novel four balloon technique for reducing vertebral compression fractures
- AgNovos Healthcare: A minimally invasive injectable technique for stabilizing osteoporotic hips
Stay tuned!
Click below to subscribe so you don't miss
any of these exciting and informative interviews.