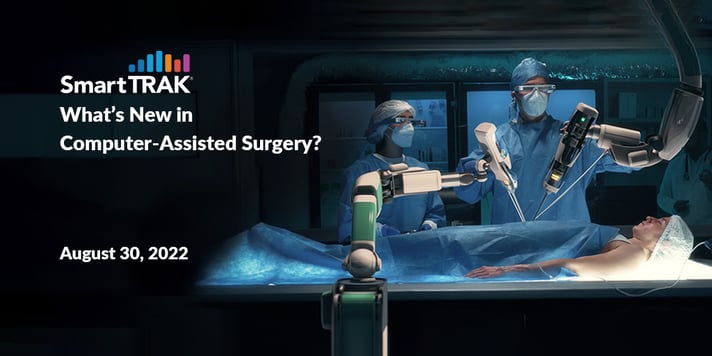 The first half of 2022 has delivered both positive and negative developments for the Computer-Assisted Surgery industry. Supply chain issues and surges of COVID-19 infections have continued to have significant impacts on revenues. At the same time, enabling tech product launches proceed at a rapid pace, with some robotic procedures accelerating. The following is a sample of recent CAS news and developments from around the world, compiled by the expert analysts at SmartTRAK.
We constantly monitor the worldwide MedTech industry, sifting through the noise to present to our subscribers the most relevant international news, trends, new products, patents, financial data and competitor developments in the global Life Sciences industry. If you'd like to receive these expert insights daily, Contact Us to learn more.
New Products:
Globus*


GMED announced completion of the first clinical cases using Excelsius3D w/ the ExcelsiusGPS platform. The surgeries were completed at MedStar Union Memorial Hospital in MD, Northwest Specialty Hospital in ID & NYU Langone Health in NY.

The FDA has published the approval re SYK's 510(k) clearance for the Q Guidance System for surgical planning & intra-op guidance in spine or pelvis screw placement. SmartTRAK previously reported the Company's announcement of the clearance on May 31.
Patents:
Medtronic*


Mazor Robotics' US Patent Application "CROSS-MODALITY PLANNING USING FEATURE DETECTION" was published describing vector-based pre-op pedicle screw & intervertebral rod planning w/ AI-based vertebrae identification to align surgical plans w/ intra-op pt images. 20220265352

MAKO Surgical's US Patent Application "SYSTEMS AND METHODS FOR GUIDING MOVEMENT OF A TOOL" was published describing a control of a surgical robotic arm based on sensors & a constraint solver to attract or repel the tool away from a target. 20220233251
Studies:
3D Modelling in Spinal Deformity Surgical Planning


A 5-surgeon, 5-pt study evaluating the effect of 3D printed models on spine deformity surgical planning concluded the 3D printed models did not influence the surgical plan, but did reduce planning time & provided some opportunities to practice w/ implants. Acta Ortop Bras

Development of a Machine-learning Based Model for Predicting Spine Outcomes

A retrospective review of 12 years of registry data (8,374 pts.) was used to develop a predictive outcome model for pts. who underwent degenerative spine surgery & confirms the AI model's ability to provide estimates to enable prediction of the surgical outcome. Eur Spine J
Deals/Financing:
THINK Surgical*


THINK Surgical announced a distribution agreement w/ CUREXO to work towards commercialization of the CUVIS-Joint surgical robot in the US and other markets in the UK & EU which could offer an alternative to the closed systems offered by competitors.

Theator Extends Series A Funding Round


Theator

announced

it has raised $24MM in an extension of its Series A funding round, bringing the round total to $39.5MM. The proceeds will be used to continue commercial expansion of the Company's Surgical Intelligence Platform in North America.




Smith & Nephew*
Smith & Nephew announced a partnership w/ Rods&Cones to provide smart surgery glasses & digital remote assistance to its UK customers allowing SNN representatives to "see" what surgeons/HCPs using the glasses see, enabling remote support throughout surgical interventions.
Clinical/Regulatory:
CORI*

-

Smith & Nephew*




Blue Belt Technologies received FDA 510(k) clearance for the Real Intelligence CORI system indications to include revision knee arthroplasty in add'n to UKR, TKA & THA.

Point Robotics MedTech


Point Robotics MedTech announced it received FDA 510(k) clearance for its MIS robot, the POINT Kinguide Robotic-Assisted Surgical System. According to the Company, it is Taiwan's first FDA-cleared surgical robot.

SurgiCase* - Materialise*
Materialise received FDA 510(k) clearance to the Materialise TKA Guide System for the add'n of Ortho Development BKS CR, Ortho Development BKS PS, Ortho Development BKS TriMax CR & Ortho Development BKS TriMax PS implants and instruments to the SurgiCase planning software.
Markets:
MAKO*

-

Stryker*




Northumbria Healthcare's Hexham General Hospital is 1 of 5 in England w/ a MAKO robot installed as part of the RACER-Hip Study, which alongside the existing RACER-Knee study will evaluate the value of robotic-assisted surgery in the NHS.

Medtronic*


Analyst Kyle Rose reports supply chain improvements, along w/ easier comps, should drive sequential improvement for MDT through FY23 & cited MDT's continued success w/ Mazor 5.0, which integrates MDT's Midas Rex instrumentation into the platform.

Canaccord Genuity Flash Update


ExcelsiusGPS*

-

Globus*
Globus Medical announced ExcelsiusGPS robotic navigation placements in 2 hospitals in Japan, Toyama University Hospital & Osaka Gyomeikan Hospital. Both sites have completed > 10 cases to date.
Revenues:
Alphatec*


KFor Q222, ATEC reported EOS generated $12MM in revenue, up +93% YoY & 15% QoQ & disclosed a global installed base of ~450 units. ATEC Q222 Earnings Presentation

NuVasive*


NUVA reported Q222 US Surgical Support net sales of $71.8MM, up +6.2% YoY, noting the Company's overall performance was driven by higher procedure volume & new product introductions. NUVA Q222 Earnings Presentation

SeaSpine*
SPNE reported Q222 US spinal implants & enabling technologies revenue of $25.0MM, up +17% YoY & noted spinal implants and $1.1MM of capital sales revenue from 7D Surgical drove international revenue of $6.8MM, up +39% YoY. SPNE Q222 Earnings Press Release
* These links can only be viewed by SmartTRAK subscribers. For more information on SmartTRAK, including how to receive a demo and subscribe, please click here.

---
SmartTRAK is a comprehensive, easy-to-use, business intelligence solution for the Life Sciences Industry that provides breaking updates on pertinent company news, potential treatments and guidance, international survey results, statistical analysis and impact by country, studies, trial results, financial impact and more. All subscribers receive a Daily Updates email containing the latest need-to-know news curated by our expert analysts. It's the perfect way to start your day! If you would like to learn more about SmartTRAK, just click the button below.