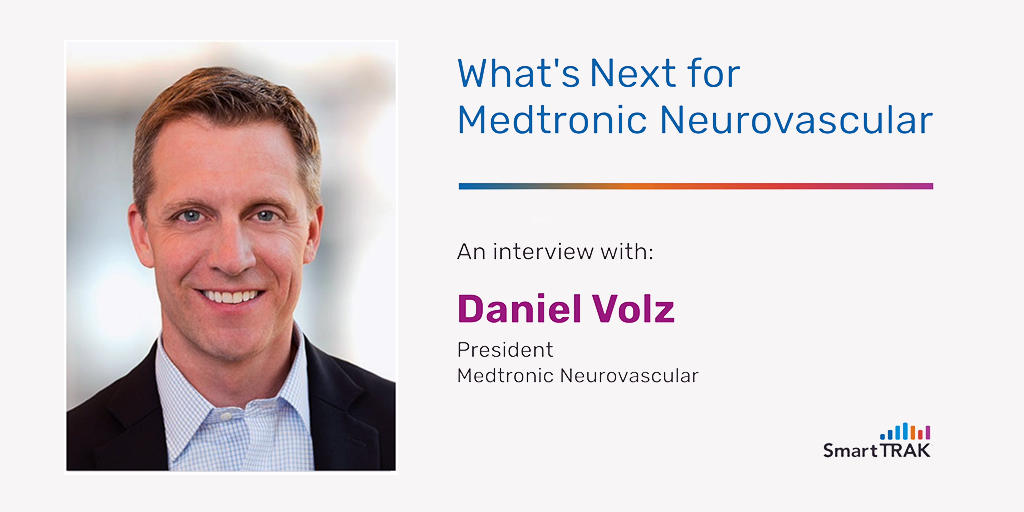 Dan Volz, President of Medtronic Neurovascular, discusses what's next for Medtronic Neurovascular in an interview with SmartTRAK.
Dan Volz, President of Medtronic Neurovascular, discusses the Company's latest research, innovation and plans for growth in an interview with SmartTRAK. To listen to the interview, recorded live via Uberconference, click on the following video. A link to download the transcript of the interview is also provided below.
SmartTRAK: Hi, this is Anne Staylor. Today, I have the pleasure of talking with Dan Volz, President of Neurovascular at Medtronic. Hi Dan, thanks for talking with me today.
Dan Volz: It's my pleasure, Anne. Thanks for having me.
Well, let's start by talking a little bit about you. From what I understand you've been with Medtronic for over 20 years and recently became President of Neurovascular as part of the recent reorganization.

DV: Yeah, that's right. Celebrate 22 years actually this summer. I started with a company called US Surgical, which was out of Norwalk, Connecticut that became a part of Tyco Healthcare. Tyco Healthcare then became a standalone organization named Covidien. And Covidien was acquired by Medtronic about four or five years ago. So 22 years in total, about 17 of those with Covidien and the last few with our new parent company Medtronic.
So you came over from the Minimally Invasive Therapies Group, correct?

DV: That's correct. Yes.

So in terms of the market, it's a fast-growing market growing in the double-digits, what do you anticipate for Medtronic in 2021?

DV: Anticipate in terms of what you can expect from us in this space?

Yes. What do you anticipate in terms of your growth? I know that there have been a lot of competitive devices that have entered the market. And from what I understand, Medtronic has lost some share. How are you going to address that?

DV: Well, obviously with our portfolio, I would say there are two ways. We have to continue to ,,,

To read Daniel Volz's answers to these and other questions, you can download a complete transcript of the entire interview by just clicking the button below.
---
SmartTRAK has recently launched five new modules for 2021, including Arthroscopic Technologies, Pediatric Extremities, Pediatric Spine and Pediatric Trauma. Click here to see details of the exciting new content now available on SmartTRAK.