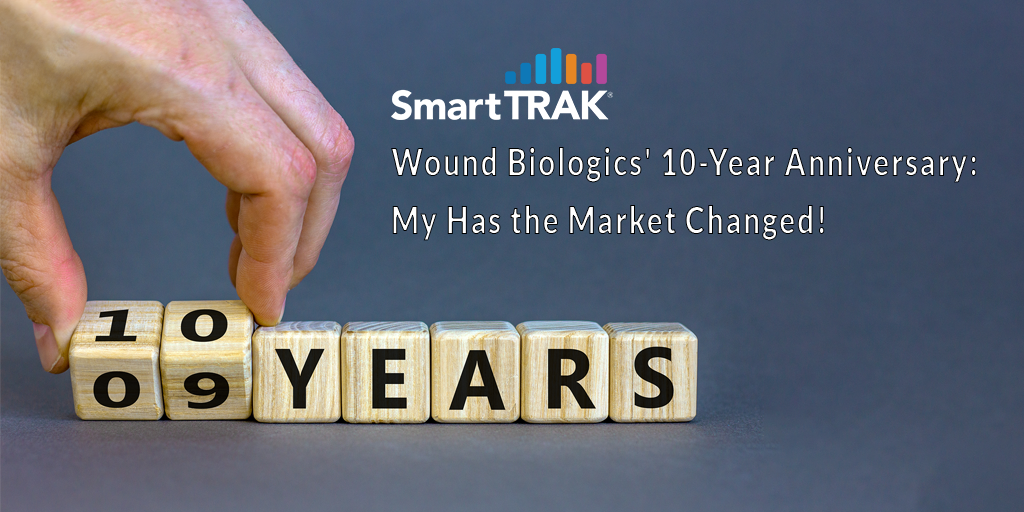 Changing market dynamics over the past ten years has not held back the robust Skin Substitute/CTP market.
As SmartTRAK celebrates its 10-year anniversary covering AWC and the Biologics area, we look back at the market drivers, products and players to see how the US Skin Substitute market has changed over the last decade. We also look ahead to see what is in store for the Skin Substitute market, which is projected to reach $1.64B in 2025E.
The following is a preview of our Wound Biologics market retrospective. The full article, available on SmartTRAK, features our industry experts discussing and analyzing these changes and trends in detail.
Over the last ten years four market drivers have significantly shaped the skin substitute/CTP market:
Packaged Payments -

In 2014, CMS changed the reimbursement for skin substitutes/CTPs with a new Hospital Outpatient Prospective Payment (HOPP) Rule that packaged reimbursement for the skin substitute product and the procedure.

Pass-Through Payment Status - Products allowed "pass-through" status were not subject to the bundled payment guidelines and as a result hospital outpatient departments (HOPDs, e.g., wound clinics) could be reimbursed separately for the procedure and the product.

Amniotic Tissue Products - The success of the amniotic tissue products from MiMedx and Osiris, led to an explosion of amniotic tissue companies entering the market hoping to experience the same success.

Acquisitions - With the growth in the market and the success of amniotic tissue products, several significant acquisitions took place over the last ten years totaling over $3B.

Products and Market Leadership Changes
There have been significant changes in market leadership and the types of products used in Wound Biologics since 2012, when SmartTRAK began tracking Wound Biologics quarterly revenues in SmartTRAK Financial Dashboard, and Market leadership has also experienced changes over the years. SmartTRAK has all the revenue and market share current and historical data.

A Look Ahead
The past year has provided a glimpse into market dynamics that may impact the future of skin substitutes/CTPs, including:
Shifting Site of Care - The restricted access to HOPD wound clinics due to COVID-19 restrictions in 2020 accelerated a change in the site of care. After seeing success in the physician's office,

New Technology-based Products that are Starting to Boost Revenue - A new Cell-based Bioengineered product from Avita - ReCell, autologous skin cells in a spray format to treat burns, grew over 85% in the US in 2020 reaching $17.7MM in sales.

Growth Opportunities in CTPs - Although the overall skin substitute/CTP market has grown significantly over the past ten years, there is still opportunity for growth.

Limited Regulatory Impact - Regulatory impact on the skin substitute/CTP market will be limited.

Uncertainty Regarding CMS Payment Plan - CMS reimbursement in the HOPD wound clinic is experiencing some uncertainty as CMS delayed its HCPCS Q code recommendations in its July meeting and the upcoming OPPS Proposed Rule for 2022 is expected in the July/August time frame which could change payment in the HOPD wound clinic.


All the details, and our expert market analysis, including revenues, shares, data, charts and graphs are included in the complete Wound Biologics' 10-Year Anniversary: My Has the Market Changed! article that is accessible only to SmartTRAK subscribers. For information on how to subscribe to SmartTRAK, or to request a demo, please click the button below.

---
SmartTRAK

is a comprehensive, easy-to-use, business intelligence solution for the Life Sciences Industry that provides breaking updates on pertinent company news, potential treatments and guidance, international survey results, statistical analysis by country, studies, trial results, financial impact and more. All subscribers also receive a Daily Updates email containing the latest need-to-know news curated by our expert analysts. It's the perfect way to start your day! If you would like to learn more about

SmartTRAK

, just click here.