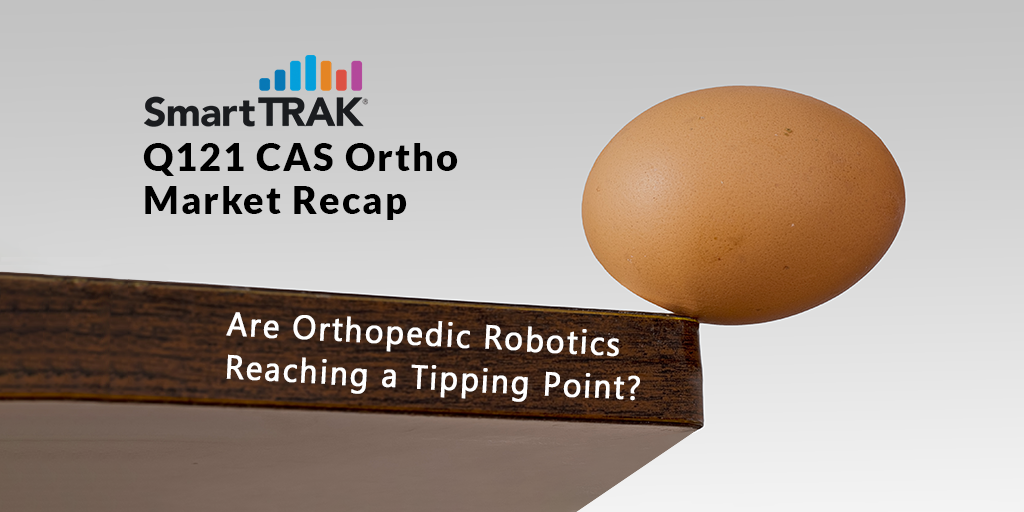 Despite an ongoing slowdown in elective procedures due to COVID, enabling technology continued to experience strong demand in orthopedics in Q121. Since the vast majority of patients who put off elective procedures due to the pandemic are expected to come back into the funnel, SmartTRAK anticipates that robotic and other technologies will continue to gain traction well into next year and beyond.
According to companies in the orthopedic robotics space, increasing competition continues to validate that robots are here to stay and lends more credibility to the use of robotics in joint replacement. These dynamics are pushing orthopedic robotics further toward a tipping point on the pathway to becoming the standard of care.
Among the many topics covered in detail in our comprehensive Q121 Computer Assisted Surgery Ortho Market Recap* are:
Complete Q121 CAS Ortho Market Overview and Highlights
SmartTRAK's Expert Analysis and Insights
Robots Continue to Get Closer to Tipping Point
Expanding Applications in Orthopedic Robotics on the Horizon
Robotic Competitors Targeting ASCs
Smart Implants are Fast Approaching
Digital Ecosystems and Patient Monitoring
Other Highlights from Q121 including:


Navigation and Surgical Planning
Augmented Reality
Artificial Intelligence
In Q121, MAKO* was among Styker's* high-performing franchises, posting double-digit growth vs 2019, a trend that the Company expects to continue despite the ongoing slowdown in elective procedures due to COVID. Stryker CEO Kevin Lobo said Q121 was a banner quarter for MAKO with ...



Read the entire Q121 CAS Ortho Market Recap including news, data, company revenues, shares, products and our expert analysis*
---
SmartTRAK
has recently expanded it's coverage to include five new modules.
Click
to see details of all the exciting new additions to the
SmartTRAK
platform in 2021.