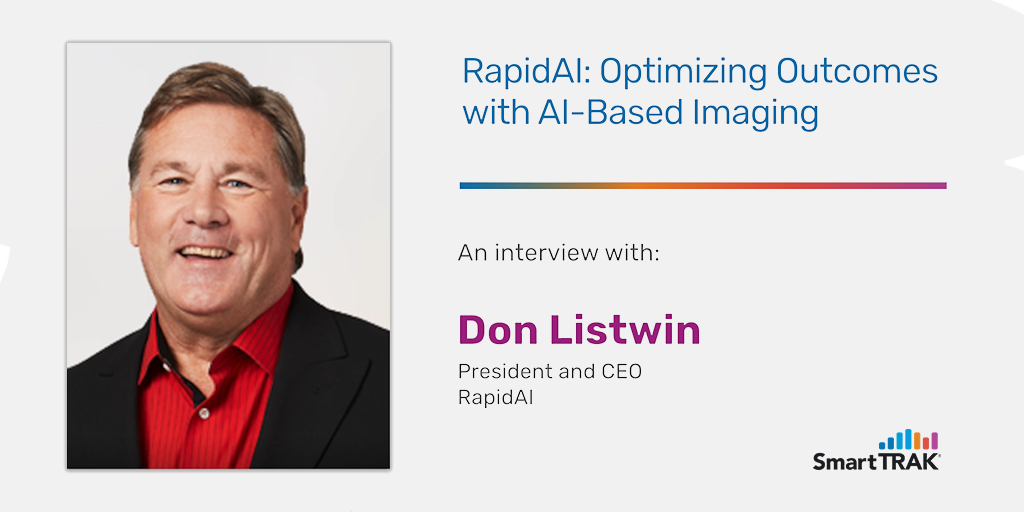 RapidAI President and CEO Don Listwin discusses how advances in AI-based imaging, workflow and products are improving stroke care in an interview with SmartTRAK
RapidAI, the market leader in brain imaging analysis, processed more than 1MM stroke imaging scans in 2020 alone, up 100% year-over-year, despite COVID-19. Using AI-based software and decision support tools, the Company is helping stroke professionals identify and diagnose more cerebrovascular disorders than ever before, driving double-digit growth in stroke procedures for some hospitals. Although challenges remain in getting the right patient to the right hospital in a timely fashion, RapidAI is working to improve outcomes and the stroke systems of care through improved workflow and messaging technologies, AI-based analytics and new products, such as non-contrast scans that will improve decision-making at some of the smaller spoke hospitals and prevent unnecessary transfers to comprehensive stroke centers.
To find out more, including RapidAI's plans for indications outside of stroke care, SmartTRAK interviewed RapidAI President and CEO Don Listwin. To listen to the interview, recorded via Uberconference, click on the following video (25:40 min). A link to download a transcript of the interview is also provided below.

SmartTRAK: Anne Staylor here with BioMedGPS. Today, I'm talking with Don Listwin, who is the president and CEO of RapidAI. Hi, Don, thanks for talking with me today.
Don Listwin: My pleasure.

RapidAI is a pioneer and market leader in AI-based cerebrovascular imaging. And from what I understand, 2020 was quite a year for the company. Your AI-based cerebrovascular imaging technology is now in more than 1800 hospitals worldwide. You're in 60 countries, and you processed more than a million stroke imaging scans in 2020 alone. Very impressive statistics. So this type of volume gives you a unique perspective and insight into what's going on in stroke care. Can you start by discussing some of the trends you're seeing in stroke care and how did COVID impact stroke imaging and procedure volumes?
DL: Sure. In 2018 was, as you know, probably the seminal event when, at the International Stroke Conference, Dr. Albers, our co-founder, announced the result of studies on late-stage windows for stroke. As a consequence, again, as I think your readers know that window opened up from six hours to 24 hours if you were to use software such as Rapid or others equivalent. So that was probably the biggest change. It allowed for more ...

To download the complete transcript of the "RapidAI: Optimizing Outcomes with AI-Based Imaging" interview with RapidAI President and CEO Don Listwin, just click the button below.
---
SmartTRAK has recently expanded it's Neuromodulation coverage, launching the Deep Brain Stimulation module. Subscribers will now have access to US market revenues and shares, procedure volumes and market trends. Click here to see details of this and all the other exciting new modules recently added to SmartTRAK platform.