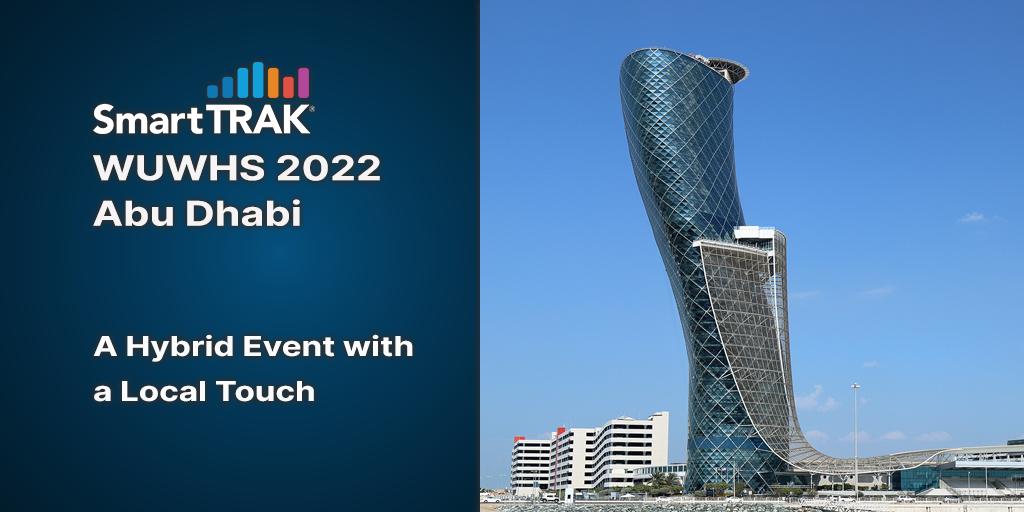 WUWHS – a hybrid event with a local touch
Back Into the Water
After having been postponed several times, the World Union of Wound Healing Societies (WUWHS) finally took place in Abu Dhabi in early March and SmartTRAK was there. Mölnlycke* came in hot, launching Avance Solo* in the region, whereas most other companies were represented by local distributors. SmartTRAK noted that the hybrid format was an interesting concept, unfortunately, impacted by technical issues.
The Olympics of Wound Care
WUWHS is similar to the Olympics in the sense that it is an event with a global focus held every fourth year, every time by a new organizer. Like the Olympics, the WUWHS was postponed in 2020 due to COVID-19, the last one was held six years ago, and the pandemic also impacted both attendance and format. A negative COVID test was required both to enter and leave Abu Dhabi, which likely made attendees participate online rather than in person. SmartTRAK estimates that 20% to 30% of the participants were there in person and 70% to 80% participated online. Unfortunately, the event was full of technical issues and there were also many speakers missing when they were supposed to present, which brought down the overall experience for those who attended in person.
Mölnlycke Launches Avance Solo in the Region
Mölnlycke overshadowed all other companies at the event. It had the largest exhibition, an Innovation Area lounge, a high international presence, held the most lunch symposia and was the only company doing a major product launch.
The Company launched its ... single-use negative pressure wound therapy (NPWT) device Avance Solo in the Middle East region. In 2021, Mölnlycke launched the product in several pilot markets, with the aim to do a global rollout in 2022. SmartTRAK participated in the launch event at WUWHS and noted that Avance Solo seems to be effective in handling excessive moisture, compared to similar devices on the market. It is single-use and delivers -125mmHg continuous negative pressure. A video from the launch event can be found here.
Some Interesting Products Showcased
Although companies did not launch many products at the meeting, there were some interesting products showcased from emerging companies.
In NPWT, 3M* did not participate in the conference but Smith+Nephew* (SNN) celebrated 10 years of PICO*. Despite the Company's longevity in this space, it's clear that SNN needs to watch out for the competition. Apart from Mölnlycke's Avance Solo, another Swedish company, S2Medical*, had its new single-use NPWT device, ivaQ, available but not displayed at their booth. Turkish company Confort showcased Confort NPWT C300, a Traditional NPWT pump with dressing and installation kits.
Other companies and devices worth mentioning were Piomic, showcasing their COMS One therapy system, a portable device combining optical light and magnetic stimulation to improve the healing of leg ulcers and diabetic foot ulcers (DFUs). COMS One is CE marked, but not approved for sale in the US. Germany-based, neoplas med showcased its cold plasma device, Plasma Jet kINPen MED, which is CE marked as Class IIa.
Aroa's Myriad Matrix, an engineered extracellular matrix (ECM) for soft tissue repair, reinforcement and complex wounds, won a gold medal in the Journal of Wound Care's WUWHS Awards in the category of "Most Innovative Dressing or Device." From a local company perspective, Gem International showcased Nanoskin, a nanofiber dressing available in three versions Nanoskin, Nanoskin ACT, and Nanoskin ACT Soft. Medclick displayed MedCu, their antimicrobial dressings with copper oxide. Both companies are based in the United Arab Emirates (UAE).
Wound care companies continue to focus on digital solutions and SmartTRAK noted that Hartmann introduced their "Simply Wound Care" application at the meeting, for assisting clinicians in selecting the most suited Hartmann dressing to treat a patient's wound. The Middle East is one of the two regions where they are pioneering the application for healthcare professionals. The Company also showed its' new Virtual Reality (VR) Training experience which currently has two modules and will be further developed step by step. The Company announced the global launch of the HARTMANN Virtual Reality Wound Care Training in early March, which allows trainees to work through real-life situations including examining the wounds, choosing the best treatment option and the correct way to apply the dressings. According to the Company, VR educational training improves accuracy in medical and nursing practice as well as the actual physical actions of wound care, develops clinical reasoning and therapeutic decision-making skills and can be used to test a treatment decision before taking any direct action on real patients.
SmartTRAK looks forward to covering the next WUWHS meeting, which will be held in 2026 in Kuala Lumpur, Malaysia.
*These links can only be viewed by SmartTRAK subscribers. For more information on how to receive a demo and subscribe, please click the button below.
---
SmartTRAK now offers Skin Substitutes (CTP) Site of Care. This module will make you an expert in Site of Care information for the Skin Substitutes market. Receive market shares, 5-Year Growth Projections and Company & Product Performance across multiple sites of care. Download our PDF to get a preview of what's available.