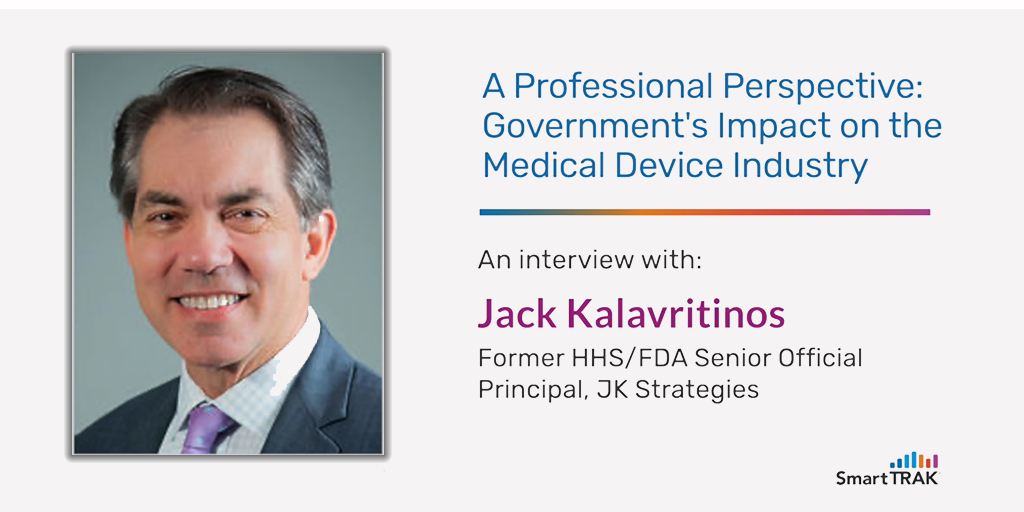 Jack Kalavritinos, Former HHS/FDA Senior Official and Principal of JK Strategies, discusses the importance and benefits of government affairs in medtech
Jack Kalavritinos is the Founder and Principal of JK Strategies, a communications and public policy firm that helps organizations develop winning communication and policy strategies. Jack is also a former senior government official and appointee in HHS, FDA and DOL. Jack has decades of Washington, DC government, political and business experience including in the medtech sector with Covidien.
In this interview with SmartTRAK, Jack shares his thoughts on the benefits to medtech commercial leaders of developing collaborative relationships with their government affairs colleagues. Specifically, SmartTRAK's interview with Jack covers the next phases of the COVID-19 public health emergency, the potential impact of the midterm elections and ways companies can work with the FDA.
To find out more, including Jack's take on how medtech commercial leaders can develop relationships with their Representatives and Senators, click on the following video recorded live via Zoom. Outlined below are specific interview topics by the minute. To download a complete transcript of the interview, click here.

Interview Topics by Timecode:
11:26 Hear Jack's perspective on what MedTech firms can do to advocate for the continuation of policies (ie telehealth) borne out of the COVID-19 public health emergency.
18:16 Learn about developing a collaborative relationship with MedTech government affairs teams.
20:22 FDA reviews and timelines are inconsistent now at best, hear Jack's view on working with the FDA to mitigate delays.
23:49 Hear Jack's thoughts on what results of the November midterm elections may have on MedTech.
28:56 Learn Jack's top interview takeaways on leveraging your government affairs team for business success.
To get into contact with Jack please go to: https://www.jkstrat.com
To download the complete transcript of the interview with Jack Kalavritinos, just click the button below.
---
SmartTRAK is a comprehensive, easy-to-use, business intelligence solution for the Life Sciences Industry that provides breaking updates on pertinent company news, potential treatments and guidance, international survey results, statistical analysis by country, studies, trial results, financial impact and more. All subscribers receive a Daily Updates email containing the latest need-to-know news curated by our expert analysts. It's the perfect way to start your day! If you would like to learn more about SmartTRAK, just click here.