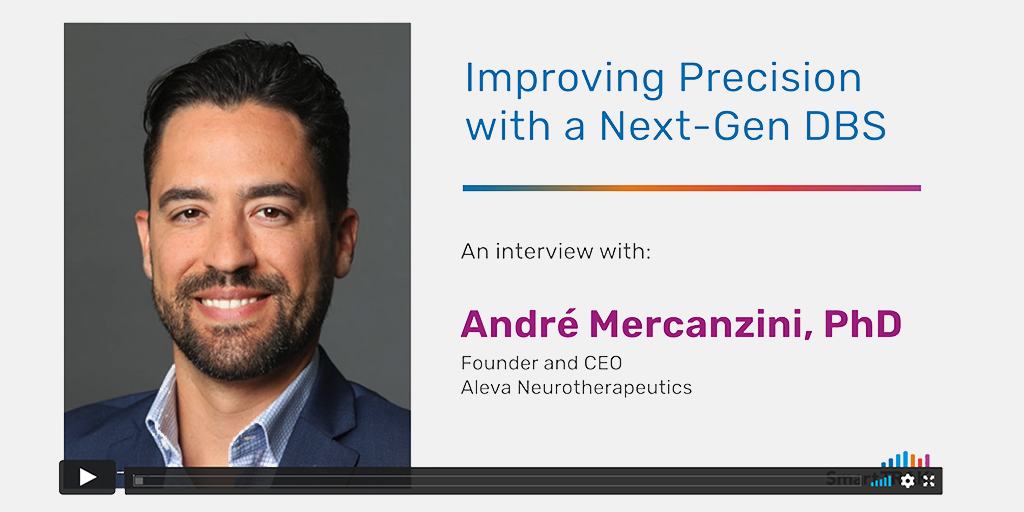 In an interview with SmartTRAK, André Mercanzini, founder and CEO of Aleva Neurotherapeutics, discusses the Company's next-gen DBS System and improving outcomes via miniaturization and MEMS-based technologies.
André Mercanzini, founder and CEO of Aleva Neurotherapeutics, discusses the Company, its next-generation directSTIM Deep Brain Stimulation (DBS) System and how MEMS-based technology can improve outcomes in DBS and in other types of neurostimulation in an interview with SmartTRAK.
Specific interview topics by timecode are outlined below. To find out more, including Aleva's plans for bringing the directSTIM DBS System to the US market, you must be a current SmartTRAK subscriber.

SmartTRAK subscribers can access a recording and transcript of the interview here. If you are not a current subscriber and are interested in accessing this content, as well as information on the US Market for Deep Brain Stimulation, click here to reach out about subscribing.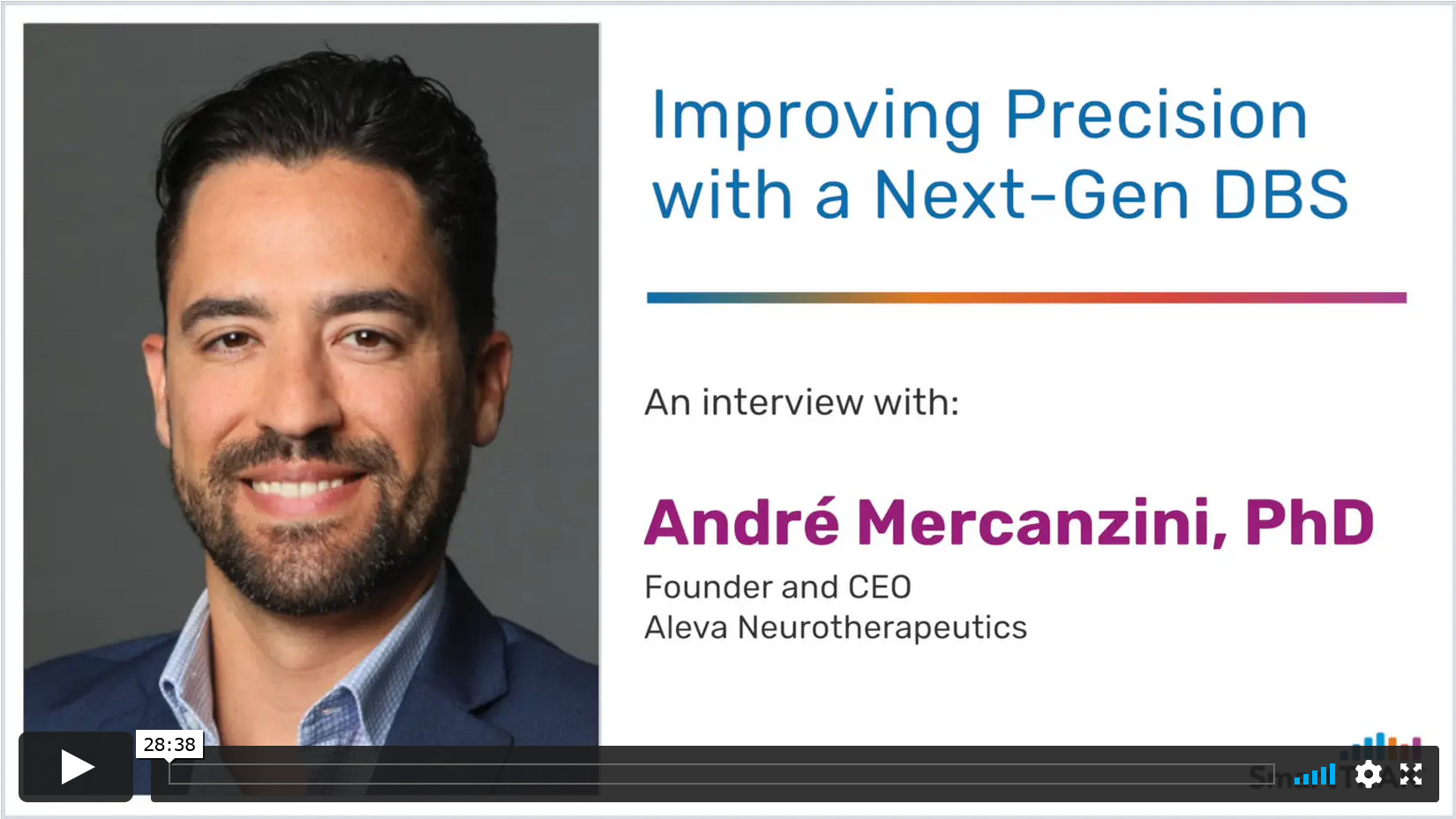 This interview is only available to SmartTRAK subscribers. To learn more, click here.
Interview Topics by Timecode:​
00:20 Introduction, background about the company, its founders, developing and manufacturing miniaturized brain implants, identifying important clinical needs, securing early financing and focusing on deep brain stimulation.

03:25 Overview of the directSTIM DBS System, what differentiates the Company's system compared to existing DBS systems in improving outcomes, the importance of directional leads and MEMS-based technology and the why behind rounded vs rectangular-shaped contacts on electrodes.

09:40 Development of a new biomaterial, new materials for MEMS and long-term brain implantation, regulatory submissions and the safety/reliability of a new biomaterial, animal testing and a new paradigm using MEMS to very precisely and inexpensively produce these devices at a larger scale.

11:04 Obtaining CE mark for directSTIM DBS, the European market launch, adapting during COVID-19, launching clinical studies and financing.

14:32 Status of clinical trials, regulatory strategy, submitting an IDE to the FDA, plans for a US pivotal trial and potential timeline for bringing directSTIM DBS to the US market.

15:54 Strategies for competing against the big neuromodulation companies, current and future plans for distribution, total patients implanted with the directSTIM DBS system, novel product features (e.g., IPG, programming, etc.).

21:40 What's in the pipeline? The focus on miniaturization, new indications and improved IPGs, leads, software and merging with surgical imaging data. Working on directional local field potential recordings, looking beyond DBS and using MEMS to miniaturize SEEGs electrodes. Partnership with DIXI Medical on neuromonitoring and epilepsy.

24:29 Other potential applications, use of MEMS technology for cranial-mounted DBS systems and what's next for Aleva Neurotherapeutics.
To listen to the interview with André Mercanzini, you must be a SmartTRAK subscriber. To learn more about SmartTRAK and how to subscribe, please click here.
---
To learn more about SmartTRAK's module on the US Market for Deep Brain Stimulation, just click the button below.