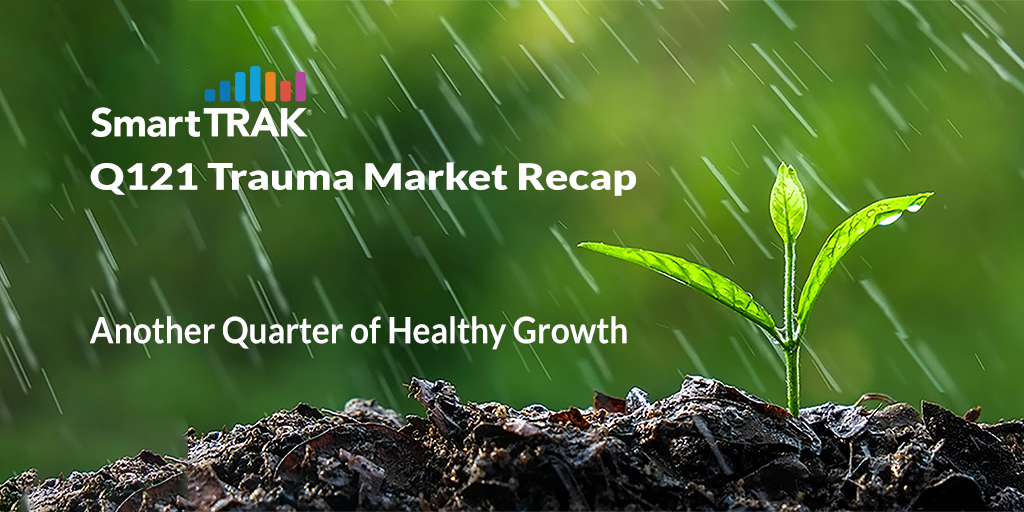 Inclement weather, strong product performances and the impact of M&A all help to drive another quarter of healthy growth for the Trauma Market.
The Trauma Market experienced the third sequential quarter of increasingly healthy growth as both the WW and US Trauma Markets were up YoY. New product introductions, along with inclement weather in the US and EU drove trauma procedures during the first quarter of 2021.
During the Stryker Q121 earnings call, management noted that their trauma business, which is less elective in nature, benefited from inclement weather in the US and Europe in February.
Among the many topics covered in detail in our comprehensive Q121 Trauma Market Recap* are:
Complete Trauma Market Overview
SmartTRAK's Expert Analysis and Insights
How Weather Impacts the Trauma Segment
Top Trauma Players' Results
M&A Activity Makes an Impact
Q121 Regulatory Highlights and Events
According to the Weather Channel, Feb. 2021 proved to be a record-breaking month with regards to extreme cold, warmth and precipitation. Weather-related studies have demonstrated a direct correlation between weather and trauma admission volumes with a past level 1 retrospective trauma center study determining that daily temperature and precipitation were valid predictors of trauma admission volumes. SmartTRAK will continue to monitor and report on possible weather pattern impacts on the trauma segment and ...
Read the entire Q121 Trauma Market Recap including news, data, charts, company revenues, shares and our expert analysis*
---
SmartTRAK has recently launched five new modules for 2021, including Pediatric Trauma, Pediatric Extremities, Arthroscopic Technologies and Pediatric Spine and . Click here to see details of all the exciting new content now available on SmartTRAK.