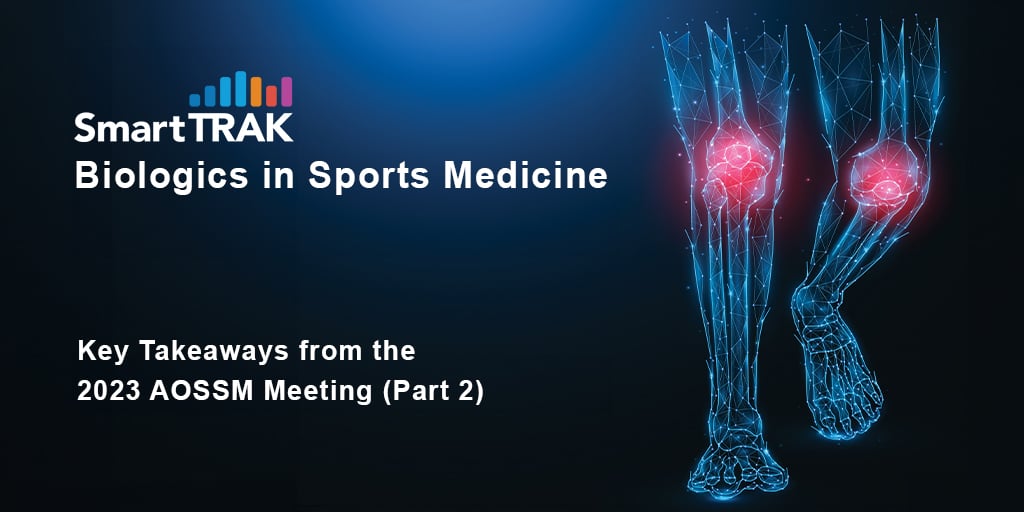 SmartTRAK highlights key takeaways from the 2023 AOSSM Meeting
As the number of patients seeking treatment for musculoskeletal conditions increases, the orthobiologic market continues to grow, resulting in physicians and companies offering more innovative treatment options. At the 2023 American Orthopaedic Society for Sports Medicine (AOSSM) Annual Meeting in Washington, biological healing was a hot topic. In this article, SmartTRAK identifies the latest market developments and innovations that will drive growth in the market for sports medicine-related orthobiologics.
This article is Part Two in a two-part series highlighting the key takeaways from this meeting. To download and read Part One, click Biologics in Musculoskeletal Medicine.
To download Part Two of the series "Biologics in Musculoskeletal Medicine," by Kimberly French, SmartTRAK's GM, Orthobiologics and Regenerative Medicine, just click the button below.
---
SmartTRAK
is the Medtech industry's only global Insights-as-a-Service solution for the Orthopedics, Wound Care, Regenerative Medicine and Neuro Therapy markets.
SmartTRAK
's propriety methodology turns disparate data from hundreds of sources into powerful insights customers can rely on as the trusted source for strategic decision-making. The SmartTRAK enterprise platform includes rich daily updates, comprehensive market coverage and simple-to-use tools and dashboards for market, product and financial analysis. Customers leveraging the
SmartTRAK
platform also have direct access to market experts for inquiries and advisory services. If you would like a demo of what
SmartTRAK
has to offer and see how we can help increase proficiency, improve productivity and reduce costs for your company, just click
here
.