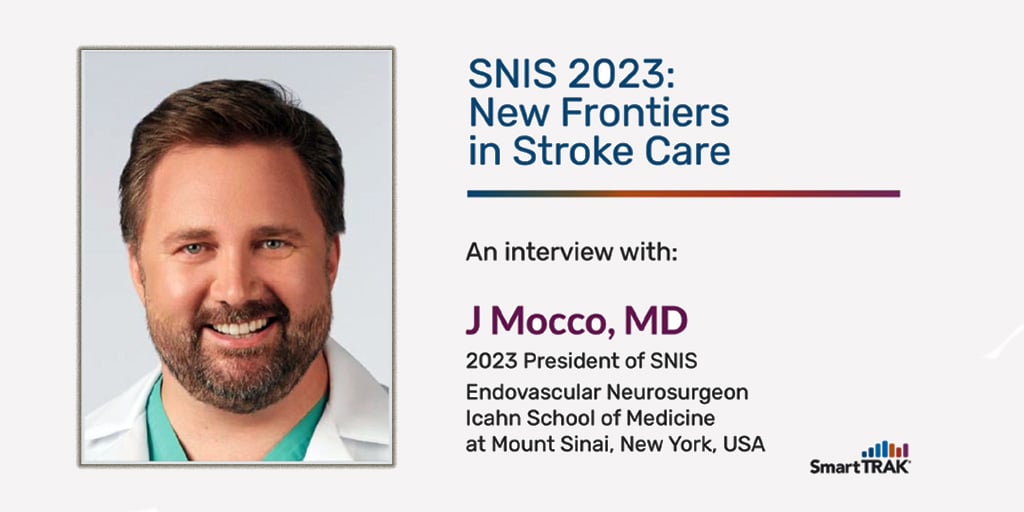 SNIS President J Mocco, MD, discusses emerging technologies and new frontiers in neurointervention in an interview with SmartTRAK.
J Mocco, MD, President of the Society of Neurointerventional Surgery (SNIS), discusses the latest research and innovation in stroke care in an interview with SmartTRAK at the 20th Annual Meeting of the SNIS recently held in San Diego, CA. To find out more regarding important research, emerging technologies and new frontiers in stroke care, listen to the following video. (27:12 min). A complete transcript of the interview can be downloaded below.

SmartTRAK: Hi, this is Anne Staylor with SmartTRAK. Today I'm covering the Society of Neurointerventional Surgery annual meeting here in San Diego, and I have the pleasure of speaking to J Mocco, MD, president of the SNIS. Dr. Mocco, thank you for talking with me today.
J Mocco, MD: Thank you very much for having me.

Well, this year I felt a lot of energy and vibrancy at the meeting, particularly when I walked into the exhibit hall, which is nice after some of the years we've had with COVID. One of the things I wanted to ask you is what are some of the exciting research studies at SNIS this year? Maybe you could just highlight some of the key research that is presented here at the meeting.

JM: Absolutely. I have to say this year was truly spectacular. The depth and breadth of new and exciting research and reports on technology and studies. This year we saw presentations on completely new technologies to treat brain aneurysms, multiple leap forwards in technologies to better remove clots from brains and cure people with stroke. Had very robust discussions on systems of care and how best to evaluate stroke patients. Is the current standard adequate? Should we have different methods of evaluating patient success? They're just examples of the really amazing things that are happening in this space in general, and particularly ...

To download the complete transcript of the interview with J Mocco, MD, President of SNIS, conducted by Anne Staylor, SmartTRAK Executive Editor, VP & GM of Neuro Therapies, just click the button below.
---
SmartTRAK
is the Medtech industry's only global Insights-as-a-Service solution for the Orthopedics, Wound Care, Regenerative Medicine and Neuro Therapy markets.
SmartTRAK
's propriety methodology turns disparate data from hundreds of sources into powerful insights customers can rely on as the trusted source for strategic decision-making. The
SmartTRAK
enterprise platform includes rich daily updates, comprehensive market coverage and simple-to-use tools and dashboards for market, product and financial analysis. Customers leveraging the
SmartTRAK
platform also have direct access to market experts for inquiries and advisory services. If you would like a demo of what
SmartTRAK
has to offer and see how we can help increase proficiency, improve productivity and reduce costs for your company, just click
here.