Irvine, CA (PRWEB) September 12, 2017

BioMedGPS, the leading provider of real-time analytics and strategic intelligence of the orthopedic/spine, wound care, regenerative medicine and neuro therapies markets, announces expanded coverage of SmartTRAK Business Intelligence for the European market with the addition of modules in SmartTRAK EU Extremities and EU Trauma.
SmartTRAK EU Extremities and EU Trauma provide up-to-date market data — each including reports for Europe and five of the largest EU markets: UK, Germany, France, Italy and Spain — with market and procedural projections, markets forecasts, competitive overviews, and more. SmartTRAK EU Extremities covers the $1.03B extremity fixation and joint arthroplasty markets including shoulder, elbow, wrist, finger, ankle, and toe replacement. The $687 million SmartTRAK EU Trauma market delves into IM nailing, plates & screws, cannulated screws and external fixation devices.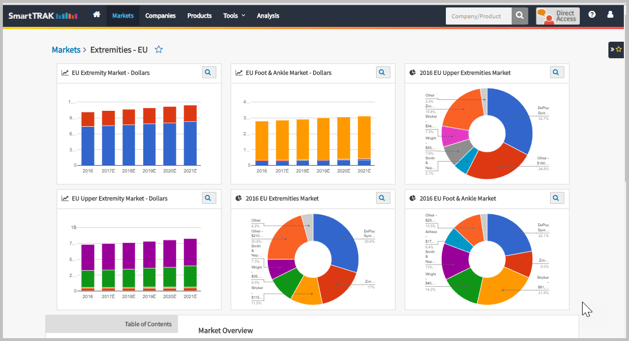 SmartTRAK EU Extremities graphs.
Presentation ready charts, just a click away!
"The EU Trauma & Extremities markets represent 23% of the global market," reports Lisa Mahan, Vice President, Content Development – Orthopedics. "The four largest companies represent approximately 70% of the WW Extremities Market and 80% of the WW Trauma market, with the remainder split between low cost local suppliers and specialist niche companies." SmartTRAK covers all players in the orthopedic markets including both the large dominant firms such as Stryker, DuPuy Synthes, Zimmer Biomet, Smith & Nephew, and Medtronic as well as the emerging firms such as 4WEB. Medical, Paragon, and Tissue Regenix Group and much more.

SmartTRAK has become an integral resource for some of the largest medical device companies currently used by the top ten orthopedic/spine implant manufacturers and nine of the top ten wound care companies. A key differentiator for SmartTRAK is its team of industry experts who are all former marketing, business development, and competitive intelligence professionals at leading medical device firms. The lead analysts for the EU SmartTRAK Extremities and Trauma modules previously held positions with DePuy Synthes and Stryker.

Please read, with our compliments, an in-depth article by Natasha Weeks, Managing Editor/Sr. Analyst Trauma & Extremities, regarding "New Products and Acquisitions in the Foot and Ankle Market."