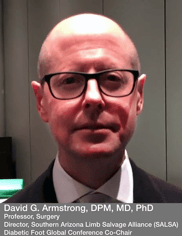 Reducing the recurrence of diabetic foot ulcers (DFU) or increasing ulcer free days is critical for patients with diabetes, as recurrence rates are 40% at one year, 66% at three years, and 75% at five years. At the DF Con meeting in Houston in March, BioMedGPS interviewed David G. Armstrong, DMP, MD, PhD, regarding his research on the use of fat grafting as a means to reduce recurrence of DFUs. Today, fat grafting is being rapidly adopted in plastic and reconstructive surgery, but is now being explored for care of the diabetic foot.
David G. Armstrong, DPM, MD, PhD Professor Surgery Director, Southern Arizona Limb Salvage Alliance Diabetic Foot Global Conference (DF Con) Co-Chair
Interview Questions By Timecode:
00:20: What prompted you to explore fat grafting for diabetic foot care?
2:00: It's been well adopted in plastic surgery and breast reconstruction. Do you think it will be used for wound healing in addition to delaying recurrence?
03:06: How do you look at adoption going forward?
04:14: How widespread is the use of fat grafting? Are there other people experimenting in this area?