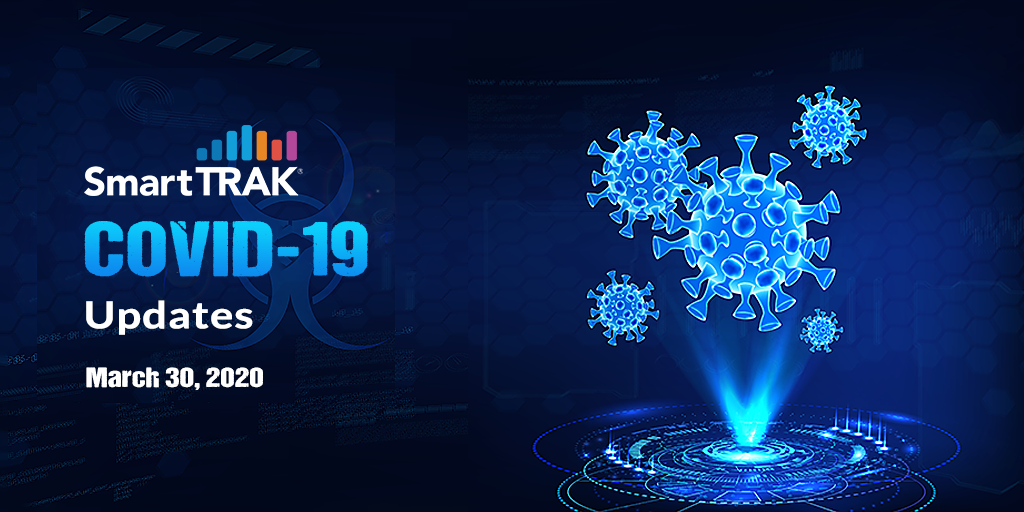 As the COVID-19 pandemic progresses, the MedTech industry is continuing to see a multitude of changes and disruptions worldwide. SmartTRAK's analysts continue to monitor the effect COVID-19 is having on the Life Sciences industry, sifting through the noise to present the most relevant news to its subscribers and report on the impact the global healthcare crisis is having on the industry at large.
Following is a selection of the COVID-19 updates from the past week as compiled by SmartTRAK:
Surgeon Survey: COVID-19 Impact
A survey of 50 orthopedic surgeons reported ~40% are still seeing both new and existing pts, while a third is only seeing pts for emergency or urgent issues. Telemedicine adoption has accelerated w/ 32% of survey takers noting some recent use. Canaccord Genuity Industry Report
According to a 50-surgeon survey, postponements of orthopedic procedures have led to a sharp decline in pt volumes, w/ respondents indicating a 58% avg decline in March and an anticipated 77% avg decline in April. Canaccord Genuity Industry Report
According to a 50-surgeon survey, 60% indicated that their organizations had already made formal decisions to defer or postpone orthopedic procedures, w/ ~33% indicating that over 90% of their entire practice was deferrable. Canaccord Genuity Industry Report


COVID-19: NV Procedure Impact
SmartTRAK physician checks suggest elective procedure volumes for aneurysm cases will pick up in H219, assuming social isolation and other non- pharmaceutical interventions effectively reduce the spread of COVID-19 and healthcare demand.
SmartTRAK is hearing from neurointerventionalists that COVID-19 is affecting elective procedure volumes for aneurysm cases, but those patients are being rescheduled—not canceled. Mechanical thrombectomy procedures have not been impacted to date.
COVID-19: Testing in California
Verily is ramping up drive-thru COVID-19 testing in CA. The Company's efforts are considered small though given the lack of available tests in the state. Verily's chief medical and scientific officer is not ruling out self-ministered home testing-approaches. CNBC.com
A Critical Crossroads for COVID-19: An Interview with Krishnan Chakravarthy
Krishnan Chakravarthy, MD, PhD discusses the COVID-19 pandemic, methods for containing/treating the virus, how it's changing the practice of pain medicine and its impact on industry in an interview with SmartTRAK. See the podcast/article A Critical Crossroads for COVID-19.
COVID-19: Pain Practice Updates

SmartTRAK contacted 5 neuromodulation KOLs in the US and Europe regarding how COVID-19 is impacting their practices, including Todd Sitzman, MD, PhD; Tim Deer, MD; Simon Thomson, MBBS; Corey Hunter, MD; and Krishnan Chakravarthy, MD, PhD.




SmartTRAK learned some KOLs are still performing trials & SCS cases, but many hospitals/ASCs have canceled elective procedures, including SCS and Vertiflex cases. Most expect COVID-19 to affect pt volumes and that SCS cases will be down dramatically in Q1 and Q2 2020.
Pain physicians can still perform pain procedures in private clinics and offices and most KOLs said they have not seen any impact on those procedures to date. However, some are starting to see pt cancellations due to economic reasons and social distancing concerns.
Pain practitioners are going to be impacted economically due to the volume of pts they're seeing, the ability of pts to pay copays/account balances and the ability to perform elective interventional therapies at ASCs or hospitals. Todd Sitzman, MD, PhD told SmartTRAK.
Simon Thomson, MBBS told SmartTRAK there will be no SCS activity in the UK for ~3mos. Pts will not disappear but will be txed conservatively until they can schedule their procedure. He expects pump pts will need refilling and SCS pts will be re-programmed if urgently required.
Some pain physicians are starting to institute telemedicine for pts who don't want to come in or who may be symptomatic, but there are restrictions for pts on opioids who require a physical exam, drug screen, etc.
COVID-19: US Outbreak Timing Differs by Location
On a Canaccord Genuity KOL webcast, George Rutherford, III, MD, UCSF School of Med professor, stated that it would be unlikely the US would be "back to business" by Easter. He noted there are 100s of COVID-19 epidemics across the US which will have different curves of subsidence.
ASCs During COVID-19
The Ambulatory Surgery Center Association advises its ASC members to postpone all surgeries that can be delayed for 6 to 8 weeks and to prepare for potential forthcoming gov't directives to use ASCs to support the healthcare system in new ways during the pandemic.
COVID-19 Rallies the Orthopaedic Community
In the first of what will be a series of fast-tracked JBJS articles about how orthopaedic surgeons are helping mitigate the pandemic, Liang et al. describe early experiences in Singapore, where the first case of COVID-19 was confirmed in a tourist from Wuhan, China on 1/23/20.
---
The top 15 global Advanced Wound companies depend on SmartTRAK to provide up-to-date intel on industry trends, news, financial data and competitor developments. All subscribers receive a Daily Updates email containing the latest need-to-know news from earnings calls, conferences, studies, patent filings, new products and more, all curated by our analysts. It's the perfect way to start your day! If you would like a demo of all SmartTRAK has to offer, just click the button below.