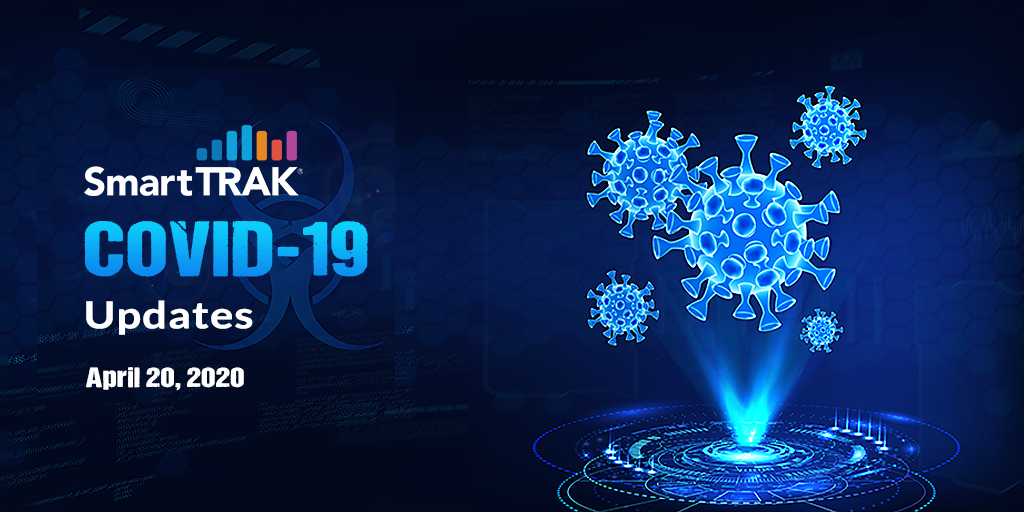 As the Covid-19 epidemic continues, the medical community world-wide struggles to cope with its impact. SmartTRAK's analysts are constantly monitoring the effect COVID-19 is having on the Life Sciences industry, sifting through the noise to present the most relevant news to its subscribers. Our analysts continue to publish real-time updates throughout the day, detailing what you need to know about the impact the international healthcare crisis is having on the industry at large.
Following is a selection of the COVID-19 updates from the past week as compiled by the analysts at SmartTRAK:
New CMS Guidelines for Providing Non-COVID-19 Care
CMS issued guidance on providing a gradual process for restarting non-COVID-19 care in areas w/ low incidence of the disease including coordination w/ local and state public health officials and readiness assessment in terms of staff, supply and testing capabilities. CMS.gov
AHA & Others Develop Joint Guidelines for Resuming Elective Procedures
AHA, ACS, ASA and AORN have developed joint guidelines to help providers determine their readiness to resume elective procedures including a sustained reduction in COVID-19 cases in their geographic area for at least 14 days and having the appropriate resources. AHA.org
Switzerland Easing Restrictions While Others Extend Theirs
Switzerland announced a 3-step plan for easing restrictions due to COVID-19 including allowing hospitals to perform elective procedures. The UK, however, extended its lockdown for 3 more weeks similar to extensions in Italy, Spain, and France. CIDRAP
AHA/ASA Temporary Emergency Guidance for US Stroke Centers
In April 2020, the AHA/ASA Stroke Council Leadership published Temporary Emergency Guidance to US Stroke Centers During the COVID-19 Pandemic offering provisional guidance regarding treatment guidelines, PPE, telemedicine, personal health and safety and teamwork. Stroke
McKinsey Warns 1 in 4 Jobs in Europe "At Risk"
McKinsey warns that the EU unemployment rate could increase from ~6% to > 11% and remain elevated for yrs if COVID-19 is not quickly contained. The consulting firm estimates 60MM Europeans are at risk for furloughs, layoffs or wage cuts. CNN

COVID-19: Survey Estimates 60% Decrease in Pt Volume
Medical Group Management Association reports, on avg, medical group practices have experienced a 55% decrease in revenue and 60% decrease in pt volume since the beginning of the COVID-19 crisis in the US. Numbers of layoffs are projected to reach 36% w/ 60% furloughed. MGMA.com

WFS COVID US Tracking Report #2
Surveyed physicians (N=436) expect a high % of procedures to be postponed, but the vast majority say most will be rescheduled w/in 6 mos. Procedures hardest hit by postponements include THR (94%), TKR (94%), cataract surgeries (93%) and SNM (91%). Wells Fargo Securities
Surveyed physicians (N=436) say rescheduled procedures will be accommodated by: (1) adding add'l cases to each surgery day (87%); (2) adding add'l surgery days (69%); and (3) referring pts to other facilities (9%). Wells Fargo Securities. Since the COVID-19 pandemic, pain management physicians' (N=50) average weekly consults for SCS procedures are down from 22.8/wk to 3.0/wk according to the results of an online survey of 436 multispecialty physicians conducted btwn 3/24/20-4/2/20. Wells Fargo Securities
Pain management physicians' (N=50) weekly SCS procedures are down 91% after the start of the COVID-19 pandemic according to the results of an online survey of 436 multispecialty physicians conducted btwn 3/24/20-4/2/20. Wells Fargo Securities
Precautions for OR Team Members
In conjunction w/ infectious disease experts, an institutional decision-tree algorithm was developed to protect OR team members during COVID-19 for optimal healthcare worker safety and to conserve personal protective equipment (PPE). J Am Coll Surg

Impact of COVID-19 on Adv Wound Care
SmartTRAK's analysis of COVID-19 on the US Advanced Wound Care market shows skin substitutes (or CTPs) will take the biggest hit followed by NPWT and then advanced dressings. CTPs are hit hardest because their primary site-of-care has been the HOPD wound clinic.

COVID-19: Canaccord Genuity Ortho Survey
Canaccord Genuity reports its recent survey shows a sharp decrease in Ortho practice volumes of ~70% w/ expected improvement in May and flattening out in June but still down 49%. Most respondents expect to makeup postponed procedures w/in 6 mos.
Based on its Ortho survey, Canaccord Genuity expects to see a sharp acceleration of procedure volumes in H220 weighted to Q4. Survey results showed 86% of respondents expect a return to normalized volumes by year-end w/ 46% expecting a Q4 recovery.
Use of telemedicine by Orthopods seems to be up based on Canaccord Genuity's recent survey w/ 22% of respondents saying they are now using the technology up from 14% in Mar.

---
SmartTRAK

is a comprehensive, easy-to-use, business intelligence solution for the Life Sciences Industry that provides up-to-date intel on trends, news, financial data and competitor developments. All subscribers receive a Daily Updates email containing the latest need-to-know news from earnings calls, conferences, studies, patent filings, new products and more, all curated by our analysts. It's the perfect way to start your day! If you would like a demo of all

SmartTRAK

has to offer, just

click

the button below.