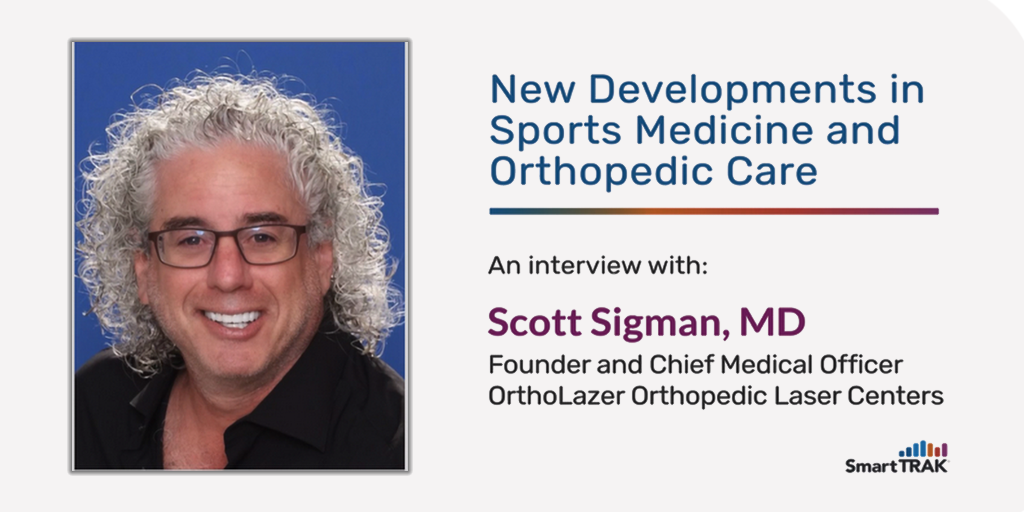 Dr. Scott Sigman, founder and chief medical officer of OrthoLazer Orthopedic Laser Centers and host of the Ortho Show podcast, discusses current trends in arthroscopic sports medicine and orthopedic care in an in-depth interview with SmartTRAK.
In an interview with SmartTRAK, Scott Sigman, MD discusses many trends in arthroscopic technologies and soft tissue fixation including advancements in anterior cruciate ligament (ACL) repair with the BEAR Implant, graft selection in ACL reconstruction, the Stryker InSpace Balloon for massive rotator cuff tears, advancements in Latarjet, needle arthroscopy and more. Dr. Sigman is the chief medical officer and founder of OrthoLazer Orthopedic Laser Centers and the host of the Ortho Show podcast.
To find out more about Dr. Sigman's insights on sports medicine and arthroscopy, click on the following video to watch Andy Knapik, SmartTRAK's Sr. Analyst, Soft Tissue Fixation and Arthroscopic Enabling Technologies, interview Dr. Sigman (49:55 min). A complete transcript of the interview is available here. For more details, interview topics by timecode are provided below.
Interview Topics By Timecode:
1:18 The BEAR Implant by Miach Orthopaedics, his background with the device, how it works, his indications for use, post-op protocol and pros and cons.
13:45 ACL reconstruction graft selection, the popularity of quadriceps tendon autograft and his use of allograft vs autograft.
19:15 The InSpace Balloon, how it works and his use of it for his patients.
24:00 Insights into shoulder anchors and biological implants for rotator cuff repair including Regeneten, and BioBrace.
29:12 Latarjet advancements, trends and insights.
35:48 Needle arthroscopy and advancements in arthroscopic technologies.
43:10 Augmented reality in arthroscopy.
To download and read the a complete transcript of the "New Developments in Sports Medicine and Orthopedic Care" interview with Dr. Scott Sigman. Founder and CMO of OrthoLazer Orthopedic Laser Centers, just click the button below.
---
SmartTRAK

is a comprehensive, easy-to-use, business intelligence solution for the Life Sciences Industry that provides breaking updates on pertinent company news, potential treatments and guidance, international survey results, statistical analysis and impact by country, studies, trial results, financial impact and more. All subscribers receive a Daily Updates email containing the latest need-to-know news curated by our expert analysts. It's the perfect way to start your day! If you would like to learn more about

SmartTRAK

, just click here.