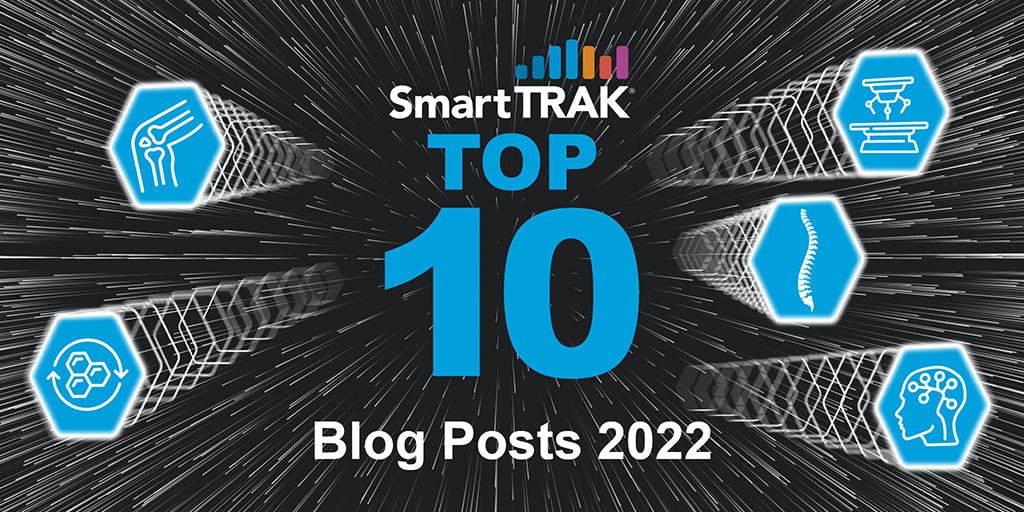 As the COVID-19 epidemic waned and companies got back to business as usual, SmartTRAK continued to keep you informed of everything that transpired in the MedTech industry in 2022. Here are SmartTRAK's Top 10 blog posts of the past year that garnered the most attention from you and your colleagues, plus 4 bonus posts, because at SmartTRAK we always strive to deliver more than what's expected!
As the leading provider of real-time market data and analysis for the orthopedic, wound, regenerative medicine and neuro therapies markets, SmartTRAK is uniquely suited to make you the expert on all the latest developments. Our knowledgeable analysts covered a lot of ground, everything from breaking medical device event coverage to interviews with some of the industry's top thought leaders.

Medtronic: The Future of Neuromodulation in 2022 and Beyond
by Anne Staylor

Dave Anderson, Medtronic's President Neuromodulation, and Charlie Covert, Vice President and General Manager of Pain Therapies, discuss the Company, the pandemic and the future of neuromodulation in a wide-ranging interview with SmartTRAK.
Solving Healthcare Issues with Blockchain Technology: An Interview with John Bass
by Nick Fitzpatrick
In an interview with SmartTRAK, Hashed Health CEO John Bass discusses the Company and the use case of blockchain and distributed ledger technology in the medical device industry.
What's New in Wound Care Reimbursement 2022: An Interview with Kathleen Schaum
by Gary Delhougne
In this interview with SmartTRAK, Kathy shares her thoughts on the impact of COVID-19 on the delivery and reimbursement of wound care and the advancements in remote monitoring, diagnostics and sensors.
SmartTRAK's 2022 Outlook for the US Skin Substitute/CTP Market
by Gary Delhounge
The Skin Substitute/CTP (Cellular and/or Tissue-based Products) market is undergoing significant growth and change. Reimbursement motives, COVID-19 and clinician site of care decisions had a profound impact on the market in 2020 and 2021. From Site of Care Migration to the Impact of Reimbursement Changes, SmartTRAK evaluates market trends to watch for in 2022.
Trends & Technologies in Total Joints: AAOS 2022
by Lisa Mahan
While at the AAOS, SmartTRAK met with industry professionals from clinicians to company representatives identifying key takeaways, from market drivers and limiters, to new product introductions.
Digital Solutions in the Wound Care Arena: An Interview with Sofia Heddson Fransén
by Anikó Szekér
Sofia Heddson Fransén, Essity's Global Solution Owner, Intelligent Medical Solutions discusses the Company's recent digital app launch as well as current and future trends in the digital field in an interview with SmartTRAK at SAWC Fall 2022.
NASS 2022: Emerging Markets and Trends in Spine
by Courtney Sheedy
SmartTRAK identified several trends at NASS 2022 that have the potential to improve patient care and drive advancement in the spine market, including the shift of fusion procedures to the ASC setting, a potential tipping point for the adoption of endoscopic spine care and emerging innovations within the interbody space.


The Future of Biosensors and Smart Dressings in Wound Care Diagnostics
by Kris Flinn
Could biosensors and smart dressings be the final frontier in wound diagnostics? SmartTRAK explores the current progress of this market and how it could develop.
Trends To Watch in 2022: Injectable Regenerative Medicine Therapies
by Freddy Buntoum
From the impact of stringent regulations to the shift toward new indications and rising market segments, SmartTRAK explores some of the trends to watch for in 2022 and beyond.
Trends in Neurovascular Innovation 2022
by Shelly Caruso
In the market for mechanical thrombectomy devices, the pace of innovation shows no signs of slowing down in 2022. Improved aspiration systems, large-bore catheters, balloon-guide catheters and radial access top the list of neurovascular device trends that will continue in 2022.
Trends & Advancements in Sports Medicine & Arthroscopy: SmartTRAK at OSET 2022
by Andy Knapik
The Orthopedic Summit Meeting (OSET) found itself in a new location and time this year as meeting organizers moved a long-time December meeting in Vegas to fall in Boston at the Encore Hotel and Casino. SmartTRAK highlights new products and company strategies for penetrating the ASC market at OSET 2022.
Economics and the Shift to ASCs: SmartTRAK at AAHKS 2022
by Lisa Mahan
At the American Association of Hip and Knee Surgeons (AAHKS) 2022 Annual Meeting in Dallas, SmartTRAK identified economics as a leading conversation theme under the guise of other topics.
Key Trends in Enabling Technology for Spine: NASS 2022
by Elise Wolf

For the first time in recent years, robotics was not a main headline in the academic program at NASS 2022, but SmartTRAK notes that the exhibit floor was buzzing with exciting new developments in enabling technology..
Trends and Advancements in Foot & Ankle: AOFAS 2022
by Natasha Weeks
SmartTRAK identified several key themes and takeaways from the American Orthopaedic Foot & Ankle Society (AOFAS) 2022 meeting held recently in Quebec City, Canada. Manufacturers showcased product introductions with a continued focus on hallux valgus solutions and are investing in solutions beyond implants to differentiate themselves and gain share in the US Foot & Ankle Market.
---
SmartTRAK is the leading source of competitive intelligence used by the top ten global wound care & orthopedics companies. If you would like a demo of what SmartTRAK has to offer and how we can help increase proficiency, improve productivity and reduce costs for your company, just click the button below.